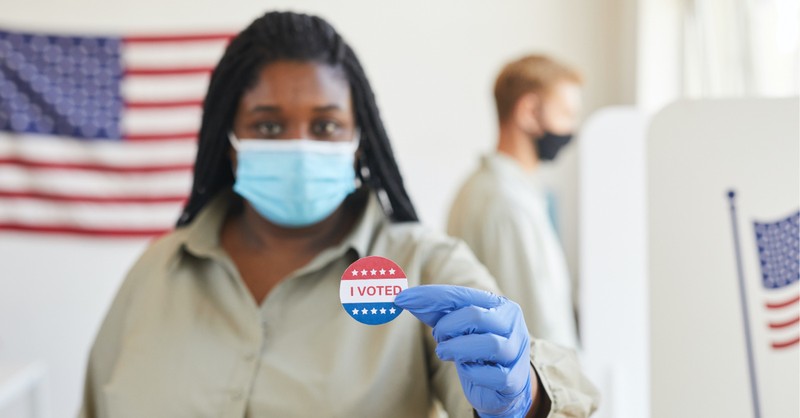 10 Verses and Prayers to Lean on as you Vote
Michelle Rabon

iBelieve Contributor
These ten verses and prayers for you to lean on in this election season is not exhaustive. Let the truth we gain from Scripture drive us to vote in a way that honors and glorifies God and not man.
The pressure and tension from this election feels higher than ever. It seems the pressure has gradually each year as well as the emotions that surround the issues on the table. What we have failed to recognize is that every election for all of time has come with the same weighty issues.
Every political party wants their candidate or issue to take center stage. More than ever, thanks to social media, we have unfiltered access to those very thoughts and opinions, and we have sacrificed our friends and family to make them known.
We are a divided nation, allowing our differences to undermine the fabric of who we are. For what? A flawed and sinful human who cannot truly fix any of our problems?
We have removed our eyes from God and placed our hope in man. We are so fearful and hurt that our relationships are shattered. We have broken the greatest command from the very mouth of Christ, to love God and love people.
"And he said to him, "You shall love the Lord your God with all your heart and with all your soul and with all your mind. This is the great and first commandment. And the second is like it: You shall love your neighbor as yourself." (Matthew 22:37-39)
We cannot deny we are a broken and sinful people in need of a Savior. We are in need of revival and a fresh out pouring from God. Now more than ever before we cast our vote we need to align our hearts and minds with the Creator of all.
We need to seek His opinion above our own. We need to stop speaking for God and start speaking to God.
Maybe you are like me and are just tired. Tired of the noise and the anger. Tired of the hate rising. Tired and burned out. I want to give us something to cling to, a change in direction from the everyday racket we hear.
These ten verses and prayers for you to lean on in this election season is not exhaustive. God's word approaches this subject in more ways than one. Let the truth we gain from Scripture drive us to vote in a way that honors and glorifies God and not man.
10 Verses and Prayers to Lean on as You Vote
1. Pray: Father, lead me by your Holy Spirit to vote in a way that honors your name.
2. Proverbs 22:28 — "For kingship belongs to the Lord, and he rules over the nations."
3. Pray: Father, clear my heart of fleshly desire and align my heart with yours.
4. Psalm 146:3-10 — "Put not your trust in princes, in a son of man, in whom there is no salvation. When his breath departs, he returns to the earth; on that very day his plans perish. Blessed is he whose help is the God of Jacob, whose hope is in the Lord his God, who made heaven and earth, the sea, and all that is in them, who keeps faith forever; who executes justice for the oppressed, who gives food to the hungry. The Lord sets the prisoners free; the Lord opens the eyes of the blind. The Lord lifts up those who are bowed down; the Lord loves the righteous. The Lord watches over the sojourners; he upholds the widow and the fatherless, but the way of the wicked he brings to ruin. The Lord will reign forever, your God, O Zion, to all generations. Praise the Lord."
5. Pray: Father, ease the fears of my heart over the outcomes of the election.
6. Matthew 6:27, 30-34 — "And which of you by being anxious can add a single hour to his span of life? But if God so clothes the grass of the field, which today is alive and tomorrow is thrown into the oven, will he not much more clothe you, O you of little faith? Therefore do not be anxious, saying, 'What shall we eat?' or 'What shall we drink?' or 'What shall we wear?' For the Gentiles seek after all these things, and your heavenly Father knows that you need them all. But seek first the kingdom of God and his righteousness, and all these things will be added to you. "Therefore do not be anxious about tomorrow, for tomorrow will be anxious for itself. Sufficient for the day is its own trouble."
7. Pray: Father, give my heart and mind your mighty and supernatural peace.
8. John 14:27 — "Peace I leave with you; my peace I give to you. Not as the world gives do I give to you. Let not your hearts be troubled, neither let them be afraid."
9. Pray: Father, help me to fully trust you and cling to you no matter what happens in the election. Remind me a person in the White House can never change who you are.
10. Jeremiah 17:7-8 — ""Blessed is the man who trusts in the Lord, whose trust is the Lord. He is like a tree planted by water, that sends out its roots by the stream, and does not fear when heat comes for its leaves remain green, and is not anxious in the year of drought, for it does not cease to bear fruit."
I encourage you in these days ahead to pray with me for our decisions, for God's wisdom and peace. Pray with me for our leaders on every side of the isle who seek to guide our country. Pray for your brothers and sisters in Christ that they too would seek God and vote in a way that honors His name. Pray for those who are confused and grieved by what they see that God would protect their hearts and minds from the damage being done. Join with me as we "seek the Lord and his strength; seek his face always" (1 Chronicles 16:11).
Photo Credit: © Getty Images/Seventy Four
Michelle Rabon is a wife and homeschooling mom of three who feels called to help women thrive in their walk with Jesus every day. In 2012, she started Displaying Grace, a ministry that is focused on helping women engage with God's Word. Michelle has also served in women's ministry for the past five years seeking to equip women in the local church through Bible study. When she is not writing or teaching, she enjoys reading, being close to the ocean, and drinking a lot of coffee.
---
This article is part of our larger Prayer resource meant to inspire and encourage your prayer life when you face uncertain times. Remember, the Holy Spirit intercedes for us and God knows your heart even if you can't find the words to pray.
Prayer for God's Help
Prayer for Strength
Prayer for Protection
Morning Prayers
Good Night Prayers
Now available is our new Daily Prayer devotional! An easy way to find start your day with prayer, read today's prayer and sign up to receive by email.
Comments
---
---