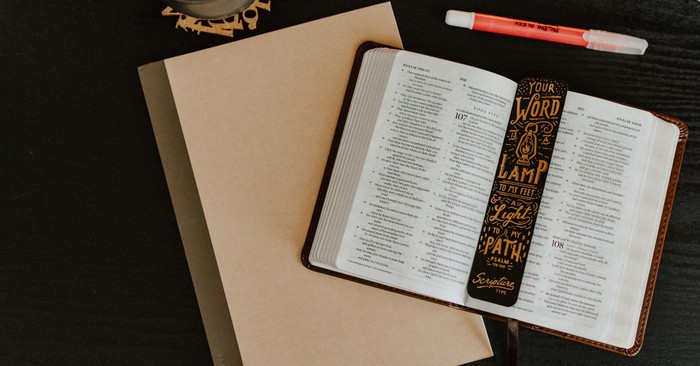 When was the last time we prayed for the desires of our heart, studied more about Him in His Word, and worshiped Him through song at the kitchen sink?
How do you start your day? A cup of coffee or maybe tea, exercise or a brisk walk in nature, eat breakfast or enjoy a nutrition-packed shake, or maybe plan your day? Where does time with God fit into your plan for the day?
We've all been there; days or weeks have passed since we've spent intentional, purposeful time with the Lord in His Word. The Bible app no longer has a streak of our visits. Our personal, physical Bible has been left in the car for the next church day for a week or more. The devotional for today, or last week, wasn't what we needed to hear. The kids woke up too early, so we'll try again tomorrow morning. We just have too many things weighing on us. One more day won't hurt, and one day turns into multiple days. We can all come up with a million excuses for why we are not in the Word of God. Some of them even sound like very convincing, reasonable excuses. But, at the end of the day, it is still an excuse to skip out on time with the Lord.
Something I thought of recently was how available God is for us and how unavailable we can be for Him. We can talk to Him any time of the day because He is omnipresent, present everywhere. If He is everywhere, why is it so hard for us to carve out time in our day to spend with Him? Not just check our devotion off the list, but really spend one-on-one time with Him. When was the last time we prayed for the desires of our heart, studied more about Him in His Word, and worshiped Him through song at the kitchen sink?
Our time with the Lord doesn't have to look a certain way to be worthy of His presence. We just have to be willing to make time for Him. We can't foster a relationship with the Father if we never spend time with Him past a prayer in desperation.
The last study that I worked on, I never could enjoy my quiet time. I did my best to understand, but some days I just could not connect the dots. I love to read God's Word, followed by a lengthy devotion. I want to study it, learn from it, absorb it, and understand it. I want to do more than just read the Word of God and check it off for the day. This particular study was not creating a desire for growth, so I decided to change it up. Once I made a change, I looked forward to reading God's Word again.
Here are some tips that have worked for me when I'm caught in a Bible-reading rut:
Deciding Your Bible Format
For longer than I care to admit, my physical Bible stayed in my car for the next church day. I'm a note-taker, so I kept a journal in my Bible bag. I never wanted to go to church without it, so I kept my Bible in the car. In the days in between, I would just read the Bible on my phone. This was the first time I noticed I was in a Bible-reading rut. When I started bringing my Bible inside and sitting down in my favorite spot, I noticed how much more I loved reading my physical, personal Bible over the digital Bible on my phone. There is just something about a physical Bible in your hands and turning the delicate pages. Mine is a teal and brown leather Bible. What does your Bible look like? Where is it resting today?
Deciding Your Preference for Bible Translation
Before purchasing my Bible, I researched many different translations. I spent time reading each of them within the digital Bible app until I made a decision on which translation I enjoyed reading the most and understood. I chose the New Living Translation. Although I do find this translation easiest to read and understand, I do enjoy comparing translations when I am studying the Bible or to help further my understanding. I enjoy comparing NLT, KJV, ESV, and AMP. These are my favorite to go back and forth between on the Bible app alongside studying with my physical Bible.
Personalize Your Bible for You
Growing up, I was taught that you do not mark in your Bible. I am a notetaker and a highlighter, so when I saw an IG page filled with images of a highlighted Bible, I was intrigued and fearful all at the same time. The first time I marked in my Bible, I felt a huge relief. I wasn't damaging the Word of God; I was studying it. Instead of skimming pages or turning to the front of my Bible for the table of contents, I purchased Bible tabs. Yes, I was called lazy for adding tabs to my Bible, but it made my Bible even more personal to me and easier to navigate.
Listen to the Audible Bible
Do you remember those days of taking turns reading aloud to a classroom of your peers? As one person finished reading, we would be on the edge of our seats in anticipation of whether it was our chance to read aloud to the class or not. (I was the one who would read ahead to practice just in case it was my turn to read aloud. Anyone else?) Another perk to using a digital Bible is that you can listen to the Word of God being read to you, you can read the Bible along with the audio, or, as I have, you can listen to the Bible while reading along with your physical Bible.
Follow a Bible Reading Plan or Devotional
There are so many resources out there at your fingertips. The Bible app has lots of reading plans available to go through for free. You can search online for certain subjects. Another resource I love to use is a monthly reading plan with She Reads Truth. Seriously, friend, there are so many resources out there to help you understand and absorb the Word of God.
Pray
In those moments that we are sitting in front of our Bible, unsure of where to even start, we can pray for God to show us. Prayer is our direct connection to the Father. There is no prayer too small or too big for God. If you want to be intentional in your time with the Lord, ask Him to help you. Ask Him to reveal what you need.
Bible Concordance
At the back of your Bible, there is an alphabetical list of words used in the Bible. It will have the definition of the word in its context and other verses where this word is used in the same meaning. Search for a word that you need more understanding or clarity on and read through the different passages where it is used.
Scripture Memorization
Take a week to memorize a passage of scripture. Spend time daily journaling the scripture, praying it over your life, and reading the scripture in different translations.
Prayer Journal
Journaling my prayers changed how I view prayer. Like I said before, I am a note-taker. I love to jot things down and highlight them. When I began journaling, the words just flowed out of me. All the things bubbling up to the surface were now out of my mind and on the paper in front of me. It helped me to physically see how I can give my anxieties and worries to God. I have prayer journaled on my own and along with a guide.
Reach Out to a Friend
A trusted friend will be more than happy to encourage you in your Bible reading time. Maybe they have a favorite study that you haven't read, or maybe they know what you are going through and can help you find a devotional or study. Maybe y'all can work through a study together for accountability.
God cannot speak to us through a closed Bible. We will have ruts to work through from time to time, but we can equip ourselves now for when those times come. Our relationship with God can weather the storms of life when we fix our eyes and our hearts on Him. When we find ourselves in the rut, we will have a plan for how to weed our way out of it. God's presence is always with us, but the time we spend with Him should be intentional and not just habit-forming.
Photo Credit: ©Unsplash
Laura Spurlin is a Christian, wife to her high school sweetheart, mama to her kiddos, nurse, and writer that has a passion for sharing what the Lord puts on her heart about motherhood, mental health, and all things in the Word of God.
LISTEN: Being Complete in Jesus (Understanding Matthew 5:21-48)
Hearing Jesus is a devotional journey through the gospels, where we explore the teachings of Jesus chapter by chapter. If you're seeking to live a life that reflects God's, this podcast is for you.
The views and opinions expressed in this podcast are those of the speakers and do not necessarily reflect the views or positions of Salem Web Network and Salem Media Group.
WATCH: 10 Sins Christians Downplay (and Why They're So Destructive)
Stock Footage & Music Courtesy of Soundstripe.com Thumbnail by Getty Images

---
---