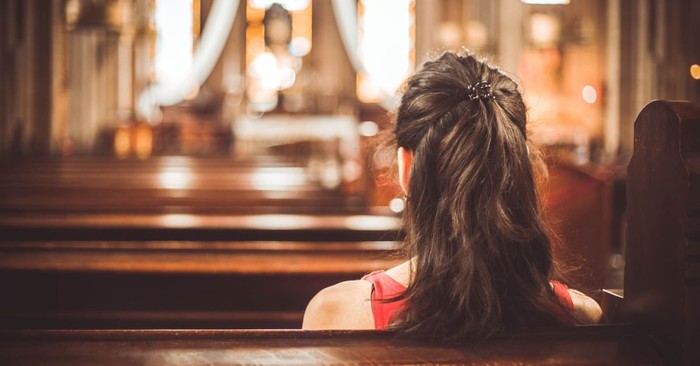 When you find yourself in search of a new church, there are several important areas of biblical significance to look for when making a move. Here is a list of crucial questions to ask yourself before committing to a church for your spiritual growth.
When you find yourself in search of a new church, there are several important areas of biblical significance to look for when making a move. Here is a list of crucial questions to ask yourself before committing to a church for your spiritual growth.
1. Is the church equipping parents?
Instead of being passive consumers looking to fill our needs and comfort level, we should find a church that takes the role of parental discipleship to heart. We become members of a church so that we may serve the Lord in word and deed—including our families.
Parents are accountable for equipping their children to engage a spiritually hostile world. Don't abdicate this responsibility to the church leadership. Deuteronomy 6:5-7 teaches parents concerning this:
"And thou shalt teach them ordinances and laws, and shalt shew them the way wherein they must walk, and the work that they must do." (Exodus 18:20)
"And, ye fathers, provoke not your children to wrath: but bring them up in the nurture and admonition of the Lord." (Ephesians 6:4)
2. Is the pastor personally shepherding his flock?
A shepherd must smell like his sheep. A pastor is never too preoccupied to seek the lamb that went astray or to tend to the needs of the flock the Lord has given him to steward.
Unfortunately, some flocks don't have a shepherd as a pastor, but rather a celebrity preacher who is inaccessible to his congregation. They may preach a good sermon but sadly, they may not have a deep knowledge about each families' needs, trials, or talents.
Shepherding a flock is not synonymous with managing a staff, let alone delegating the pastoral duties to others. The Bible says in Ephesians 4 that believers are given gifts and their purpose is clearly stated in verses 12-14:
"For the perfecting of the saints, for the work of the ministry, for the edifying of the body of Christ: Till we all come in the unity of the faith, and of the knowledge of the Son of God, unto a perfect man, unto the measure of the stature of the fulness of Christ. That we henceforth be no more children, tossed to and fro, and carried about with every wind of doctrine, by the sleight of men, and cunning craftiness, whereby they lie in wait to deceive." (Ephesians 4:12-14)
3. Is it multi-generational?
Examine the composition of the congregation you are seeking to join. If the congregation is primarily a single age group, young or old, one can deduce that it's not multi-generational — where the young lean into the teachings and wisdom of older, and the older are refreshed and inspired by the young, with their questions and wonder. Ultimately, the demographics of who comes to church is not something people can control, but if a generation is missing from a church body, alarm bells should sound. Where there is age segregation, the practice of what we read in Deuteronomy 6 and Titus 2 is hardly available:
"The aged women likewise, that they be in behavior as becometh holiness, not false accusers, not given to much wine, teachers of good things. That they may teach the young women to be sober, to love their husbands, to love their children, to be discreet, chaste, keepers at home, good, obedient to their own husbands, that the word of God be not blasphemed." (Titus 2:3-5)
4. Does the church preach against sin?
The early church was indeed a place of learning, prayer, and encouragement; however, many churches today seek to redefine their biblical models to accommodate and attract unbelievers. When the preaching becomes compromised in the name of appeasing the critics or skeptics, it begs the question of whether the church is preaching against sin at all.
"Preach the word; be instant in season, out of season; reprove, rebuke, exhort with all long suffering and doctrine. For the time will come when they will not endure sound doctrine; but after their own lusts shall they heap to themselves teachers, having itching ears. And they shall turn away their ears from the truth, and shall be turned unto fables." (2 Timothy 4:2-4)
Beware of a church that compromises the maturity and sanctification of its saints, and the consecration of the work of the church body, in its effort to be culturally relevant, appealing to the unbeliever. The church's mission should never be to attract numbers, but rather to make disciples (Matthew 28:19), to bring light to the world (Matthew 5:14-16), and to reach out to the surrounding community as the hands and feet of Christ, holding out the truth in love.
"Rather, we have renounced secret and shameful ways; we do not use deception, nor do we distort the word of God. On the contrary, by setting forth the truth plainly we commend ourselves to everyone's conscience in the sight of God." (2 Corinthians 4:2)
5. Is the Bible the authority for the church?
If the church is designed to attract the unbeliever with entertaining music or gimmicky programs, we must question its priority. Man's systems for church growth can override the sufficiency of scripture.
Instead of easy "believism" and "formulism," we ought to look for the fruit of the Holy Spirit that regenerates and transforms lives. Otherwise, we will see a church body that is stagnant due to systemic programming.
"For our gospel came not unto you in word only, but also in power, and in the Holy Ghost, and in much assurance; as ye know what manner of men we were among you for your sake." (1 Thessalonians 1:5)
"And I was with you in weakness, and in fear, and in much trembling. And my speech and my preaching was not with enticing words of man's wisdom, but in demonstration of the Spirit and of power:" (1 Corinthians 2:3-4)
6. Does the church handle matters according to the law?
Sadly, we are hearing more and more about churches covering up sexual crimes. Offenders are merely removed from where they commit their crimes and are welcomed elsewhere. Those in church leadership often justify this removal as a move to help 'restore' the perpetrator.
Removal is no different than cover-up. We must check if the church has been embroiled in a scandal of any sort to ensure that we're making the wisest decision before joining.
If a crime has been committed in the church you are seeking to join, you need to ask if the church handled matters according to the law. If the church only suggests their members not speak out or press charges, it should sound an alarm.
"Behold, I send you forth as sheep in the midst of wolves: be ye therefore wise as serpents, and harmless as doves." (Matthew 10:16)
7. How does the church exercise discipline?
Church discipline, while biblical, is scarcely practiced. It's meant to address sin among members of the church body, in order to encourage repentance, to restore sinners, and to renew fellowship. In Matthew 18:17, we read:
"And if he shall neglect to hear them, tell it unto the church: but if he neglect to hear the church, let him be unto thee as an heathen man and a publican."
The words of Jesus are clear. Because the church is the bride of Christ, He certainly desires it to be without blemish. A church should practice this effectively when necessary.
8. Are the spiritual functions for men and women distinct?
God created man and woman equally, but God has ordained distinct and separate spiritual functions for men and women in the home and in the church body.
The husband is to be the leader of the home, and men are to be the leaders (pastors and deacons) of the church. The Bible teaches this in 1 Timothy 3:4-5; 1 Timothy 3:12; and in the following:
"Wives, submit yourselves unto your own husbands, as it is fit in the Lord." (Colossians 3:18)
"Let the woman learn in silence with all subjection. But I suffer not a woman to teach, nor to usurp authority over the man, but to be in silence." (1 Timothy 2:11-12)
The culture may have a differing opinion about the roles of men and women, but the Bible remains timeless in its principals and precepts. God's word is complete and requires no revision in order to transform lives.
9. Do the members of the church have hearts for each other?
For the sake of unity and edification, a church family who holds each other accountable and who exemplifies humility can only be strong. Therefore, transparency is necessary in order to fully contribute to the church body. Being deeply rooted in Christ, practicing repentance, praying together in the house of God, visiting, and admonishing one another is crucial for believers' edification. Romans 12:15-16 addresses how we are to treat one another in the church:
"Rejoice with them that do rejoice, and weep with them that weep. Be of the same mind one toward another. Mind not high things, but condescend to men of low estate. Be not wise in your own conceits."
A church's size could make a difference in whether this is possible. If you are looking for a small group in a megachurch, consider a small church to begin with. We have the opportunity to walk in the light with the brethren, to break bread in the Lord's supper, to maintain accountability, to work through conflicts, and to forgive each other seven times seven.
10. Is it evangelistic with a global vision for the lost?
For God so loved the world, is how John 3:16 begins. Thus, we should have a heart for those on the foreign field. An evangelistic church will have a heart for those beyond the local church body. Whether it evangelizes through street preaching as John the Baptist did, or whether missionaries are sent overseas. 
"Go ye therefore, and teach all nations, baptizing them in the name of the Father, and of the Son, and of the Holy Ghost." (Matthew 28:19)
"And he said unto them, Go ye into all the world, and preach the gospel to every creature." (Mark 16:15)
It is the Great Commission after all, and we should find ourselves in a church that places significant importance on this commandment.
Final Reminders: 
We need to know who our teachers are. We need to build our families and our homes on the firm foundation of God's word by hearing the word of God taught and preached, proclaimed faithfully to the body of believers.
---
Erendira's work has been featured in various publications. She writes fiction, essays, poetry, and book reviews. She is co-founder and editor of Burning Bush Press. You can find her at erortega.com.
Photo Credit: Getty Images/kadirdemir
---
---