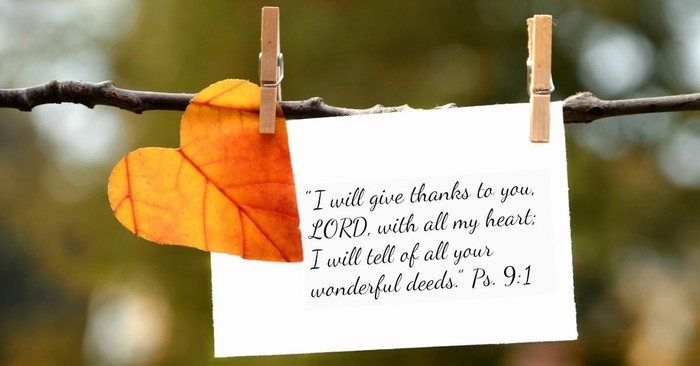 We have a choice every day, to focus on our problems, or to lift our eyes to God. There's great power in gratitude, here's what can happen...
We have so much to be grateful for in this life. Each and every day. But reality is that sometimes constant life demands, struggles, and worries give more room to defeat than to a heart of thanks. Or we forget, in the midst of busyness and pressures, just to pause and give thanks, for all that God has done, and continues to do in our lives.
Sometimes it really is a sacrifice to offer praise and thanks. We may not feel like it. We're struggling. We're weary. Or maybe, we feel like He let us down. We think God seems distant, like he's far away, or doesn't really care about what's troubling us. Painful life blows and losses might have recently sent us spiraling.
But here's what can make a lasting difference. We have a choice, every day, to give him thanks. And with a heart of thanksgiving, we realize that no matter what we face, God doesn't just work to change our situations and help us through our problems. He does more. He changes our hearts. His power, through hearts of gratitude and focused minds on Him, releases the grip our struggles have over us. We're strengthened by His peace, refueled by His joy.
God's Word is filled with many reminders of how powerful and vital a thankful heart can be in this world. Here are my favorite Bible verses about gratitude that stir up a heart of thanks and release the power of a thankful heart into our lives.
21 Gratitude Bible Verses of Thanks from God's Word:
"O Come, let us sing for joy to the Lord; Let us shout joyfully to the rock of our salvation. Let us come into his presence with thanksgiving; let us make a joyful noise to him with songs of praise! For the Lord is a great God, and a great King above all gods." Ps. 95:1-3
"Enter his gates with thanksgiving, and his courts with praise! Give thanks to him; bless his name! For the Lord is good; his steadfast love endures forever, and his faithfulness to all generations." Ps. 100:4-5
"Give thanks to the Lord for he is good, his love endures forever." Ps. 118:29
"I will give thanks to you, LORD, with all my heart; I will tell of all your wonderful deeds." Ps. 9:1
"I will give to the Lord the thanks due to his righteousness, and I will sing praise to the name of the Lord, the Most High." Ps. 7:17
"Let your roots grow down into him, and let your lives be built on him. Then your faith will grow strong in the truth you were taught, and you will overflow with thankfulness." Col. 2:7
"And let the peace of Christ rule in your hearts, to which indeed you were called in one body; and be thankful." Col. 3:15
"Devote yourselves to prayer, being watchful and thankful." Col. 4:2
"Every good gift and every perfect gift is from above, coming down from the Father of lights with whom there is no variation or shadow due to change." James 1:17
"Do not be anxious about anything, but in everything by prayer and supplication with thanksgiving let your requests be made known to God." Phil 4:6
"Bless the Lord, O my soul, and all that is within me, bless his holy name! Bless the Lord, O my soul, and forget not all his benefits, who forgives all your iniquity, who heals all your diseases, who redeems your life from the pit, who crowns you with steadfast love and mercy, who satisfies you with good so that your youth is renewed like the eagle's." Ps. 103:1-5
"Give thanks in all circumstances; for this is the will of God in Christ Jesus for you." 1 Thess. 5:18
"Oh give thanks to the Lord, for he is good, for his steadfast love endures forever!" Ps. 107:1
"Giving thanks always and for everything to God the Father in the name of our Lord Jesus Christ," Eph. 5:20
"The Lord is my strength and my shield; My heart trusts in Him, and I am helped; Therefore my heart exults, And with my song I shall thank Him." Ps. 28:7
"I will praise the name of God with song, and shall magnify Him with thanksgiving." Ps. 69:30
"Give thanks to the Lord, for he is good, for his steadfast love endures forever. Give thanks to the God of gods, for his steadfast love endures forever. Give thanks to the Lord of lords, for his steadfast love endures forever; to him who alone does great wonders, for his steadfast love endures forever; to him who by understanding made the heavens, for his steadfast love endures forever; ..." Ps. 136:1-5
"Therefore, since we are receiving a kingdom that cannot be shaken, let us be thankful, and so worship God acceptably with reverence and awe, for our "God is a consuming fire." Heb. 12:28-29
"Thanks be to God for his inexpressible gift!" 2 Cor. 9:15
"We give thanks to you, Lord God Almighty, the One who is and who was, because you have taken your great power and have begun to reign." Rev. 11:17
"Amen! Praise and glory and wisdom and thanks and honor and power and strength be to our God for ever and ever. Amen!" Rev. 7:12
Use our 30 Days of Gratitude Prayer and Scripture Guide to refocus your life in thanksgiving to God! Save this PDF and share it with your loved ones!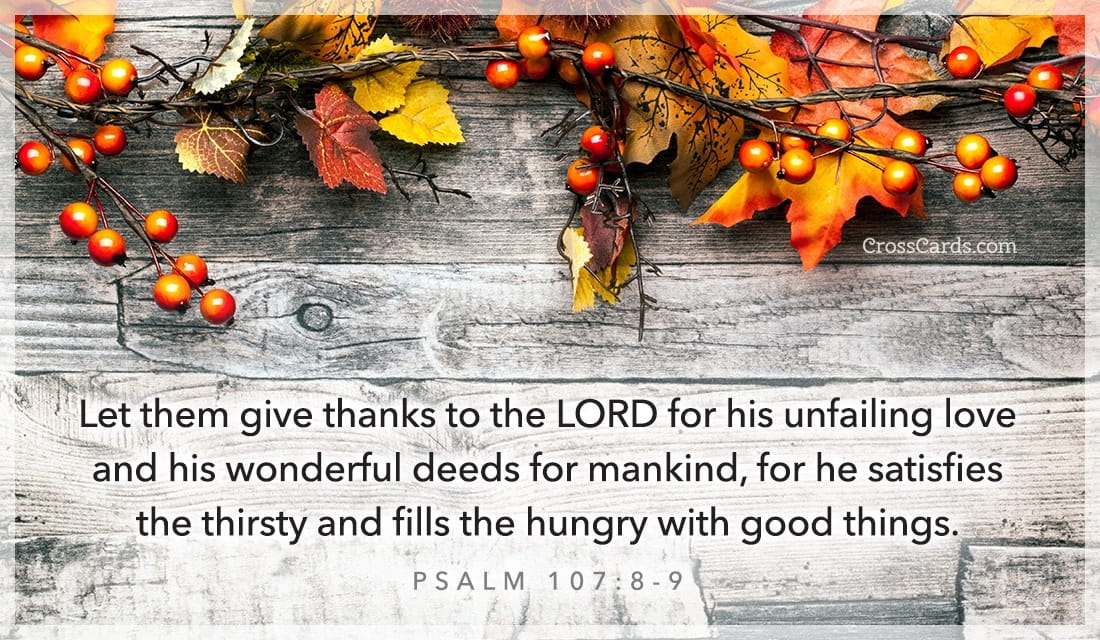 The Power of a Grateful Heart, 7 Things It Can Do:
It gets our eyes off ourselves, and helps us to focus back on God.
It reminds us we're not in control, but that we serve a Mighty God who is. It keeps us in a place of humility and dependency on Him, as we recognize how much we need Him.
It helps us to recognize we have so much to be thankful for, even all of the little things, which often we may forget to thank Him for...but they really are the biggest, most important things in this life. It takes our attention off of our problems and helps us instead to reflect on, to remember, the goodness of His many blessings.
It reminds us that God is the Giver of all good gifts. We were never intended to be fully self-sufficient in this life. A grateful heart reminds us that ultimately God is our Provider, that all blessings and gifts are graciously given to us by His hand.
A heart of gratitude leaves no room for complaining. For it is impossible to be truly thankful and filled with negativity and ungratefulness at the same time.
It makes the enemy flee. The forces of darkness can't stand to be around hearts that give thanks and honor to God. Our praise and thanksgiving will make them flee.
It opens up the door for continued blessings. It invites His presence. Our spirits are refreshed and renewed in Him. God loves to give good gifts to His children. He delights in our thankfulness and pours out His Spirit and favor over those who give honor and gratitude to Him.


A Prayer of Gratitude
Dear God,
Thank you for your amazing power and work in our lives, thank you for your goodness and for your blessings over us. Thank you that you are Able to bring hope through even the toughest of times, strengthening us for your purposes. Thank you for your great love and care. Thank you for your mercy and grace. Thank you that you are always with us and will never leave us. Thank you for your incredible sacrifice so that we might have freedom and life. Forgive us for when we don't thank you enough, for who you are, for all that you do, for all that you've given. Help us to set our eyes and our hearts on you afresh. Renew our spirits, fill us with your peace and joy. We love you and we need you, this day and every day. We give you praise and thanks, for You alone are worthy!
In Jesus' Name,
Amen.
Debbie McDaniel is a writer, pastor's wife, mom to three amazing kids (and a lot of pets). Join her each morning on Fresh Day Ahead's facebook page, DebbieWebbMcDaniel, for daily encouragement in living strong, free, hope-filled lives. Find her also at Twitter and Web Site.
Stock footage Soundstripe.com & Photo Canva.com
---
---