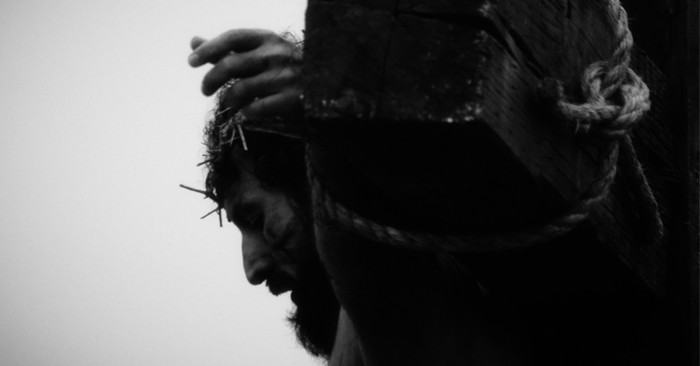 Plus
Pain, abandonment, fear, loneliness, and sadness—none of these things can intimidate our Lord, who triumphed over them all.
I love etymology, the study of the origins of words. It has given me a deeper insight into the nature and meaning of so many words, including the greatest Word ever: the Word of God.
Among the many words in the Bible that I have studied, one of the most intriguing to me is compassion.
Cropping up dozens of times in the Bible, the word compassion derives from the Latin word compati, meaning "to suffer with." No other word better describes the Savior's mission. After all, Jesus is the One who "took up our pain and bore our suffering" (Isaiah 53:4) and experienced the trials and tribulations of human existence.
In fact, to save us from the powers of hell, death, and sin and to demonstrate God's great love for us, Jesus became a man—a real man—and suffered one of the harshest forms of executions at the time: "death on a cross!" (Philippians 2:8). He is literally the incarnation of compassion. Hebrews 4:15 sums it up perfectly:
"For we do not have a high priest who is unable to empathize with our weaknesses, but we have one who has been tempted in every way, just as we are—yet he did not sin."
As followers of Jesus, we, too, are called to be ambassadors of compassion, loving one another just as Jesus loved us. As the twentieth-century American pastor Harry Emerson Fosdick explains, "To keep the Golden Rule we must put ourselves in other people's places, but to do that consists in and depends upon picturing ourselves in their places."
Moved with Compassion
Many places in the Gospels say that Jesus was prompted to perform many miracles because of compassion. We are told in Matthew 9:35-36, for example, that Jesus is "moved with compassion" when He travels to Galilee and sees a crowd of exhausted people waiting for Him.
"But when He saw the multitudes," writes Matthew, "He was moved with compassion for them, because they were weary and scattered, like sheep having no shepherd." (NKJV)
The phrase "moved with compassion" is a favorite of Matthew, who uses it more than one time to describe Jesus' motivation for ministering to the people of Israel. In fact, elsewhere, in Matthew 14:14-21, when Jesus sees another weary multitude, He is so "moved by compassion" that He immediately heals their sick and feeds them (NKJV). I appreciate Charles Spurgeon's commentary on this beloved phrase:
"While he tarried in the world, a man among men, and we beheld his glory, the glory as of the Only Begotten of the Father, full of grace and truth, he was constantly moved with compassion; for he felt all the griefs of mankind in himself. He took our sicknesses and carried our sorrows: he proved himself a true brother, with quick, human sensibilities. A tear brought a tear into his eye; a cry made him pause to ask what help he could render. So generous was his soul, that he gave all he had for the help of those that had not."
Compassion is ultimately at the very center of Jesus' ministry, prompting Him to work countless wonders. In one episode, while He is visiting the city of Nain, Jesus sees a large funeral procession for a man, the only son of a widow, and raises him from the dead when He takes pity on his mother. Luke 7:13-15 recounts the poignant episode:
"When the Lord saw her, He had compassion on her and said to her, 'Do not weep.' Then He came and touched the open coffin, and those who carried him stood still. And He said, 'Young man, I say to you, arise.' So he who was dead sat up and began to speak. And He presented him to his mother." (NKJV)
The Father—and Mother—of Compassion
Compassion is a major attribute of God. As Lamentations 3:22-23 beautifully states: "Because of the Lord's great love we are not consumed, for his compassions never fail. They are new every morning; great is your faithfulness."
In Zechariah 10:6, God promises that "I will strengthen Judah and save the tribes of Joseph. I will restore them because I have compassion on them. They will be as though I had not rejected them, for I am the Lord their God and I will answer them."
Indeed, divine compassion is at the heart of God's character. Throughout the Old Testament, He is shown to be a deeply compassionate Parent who cares for Israel with all His heart. Scripture thus compares Him to both a loving Father and Mother who seeks only to protect and nurture Israel.
In Malachi 3:17, God refers to Himself as a father who compassionately looks out for the well-being of his child: "On the day when I act," He says, "they will be my treasured possession. I will spare them, just as a father has compassion and spares his son who serves him." Similarly, the Psalmist proclaims that "As a father has compassion on his children, so the Lord has compassion on those who fear him" (Psalm 103:13).
Moreover, in his Second Letter to the Church at Corinth, Paul the Apostle refers to God as "the Father of compassion": "Praise be to the God and Father of our Lord Jesus Christ, the Father of compassion and the God of all comfort, who comforts us in all our troubles, so that we can comfort those in any trouble with the comfort we ourselves receive from God" (2 Corinthians 1:3-4). As Paul suggests, God is with us in our suffering, comforting and strengthening us during times of trouble—just like a good father would.
God further likens Himself to a mother to illustrate His deep love and pity for His people. In Isaiah 49:15, He powerfully proclaims: "Can a mother forget the baby at her breast and have no compassion on the child she has borne? Though she may forget, I will not forget you!"
God's compassion is richly demonstrated throughout Scripture, reinforcing that God is a God of love, kindness, and mercy. He's an empathetic Savior and Deliverer who will stop at nothing to rescue His children, even going as far as to become a human and die for His people.
Living with Compassion
Each and every one of us is called to be beacons of compassion, following Jesus' blessed example. As Paul so poignantly advises us: "Be kind and compassionate to one another, forgiving each other, just as in Christ God forgave you" (Ephesians 4:32). Later, in Colossians 3:12, Paul adds that "as God's chosen people, holy and dearly loved," we should strive to "clothe yourselves with compassion, kindness, humility, gentleness and patience." Similarly, Paul's contemporary, Peter the Apostle, encourages us to "be sympathetic, love one another, be compassionate and humble" (1 Peter 3:8).
Following Jesus' lead, we are called to show compassion to our neighbors, forgiving others of the grievances we may have against them and "Rejoic[ing] with those who rejoice [and] mourn[ing] with those who mourn" (Romans 12:15). When we join others in their suffering, comforting and encouraging them amid despair, we are doing exactly what Paul urged us to do in Galatians 6:2: "Carry each other's burdens, and in this way you will fulfill the law of Christ."
Compassion is therefore the key to making the world a more loving, peaceful, and hopeful place. When we look out for our neighbors, caring for and loving them, we can demonstrate the love of Jesus and remind others that God loves them with every fiber of His being. I love what Henri J.M. Nouwen, a twentieth-century Dutch priest, has to say about compassion:
"Compassion asks us to go where it hurts, to enter into the places of pain, to share in brokenness, fear, confusion, and anguish. Compassion challenges us to cry out with those in misery, to mourn with those who are lonely, to weep with those in tears. Compassion requires us to be weak with the weak, vulnerable with the vulnerable, and powerless with the powerless. Compassion means full immersion in the condition of being human."
Compassion means full immersion in the condition of being human. And that's exactly what God did two thousand years ago. He left His heavenly throne, came down to earth, and became a human—fully and unashamedly. He immersed Himself in our world, walking barefoot in the dirt beside us, and underwent great suffering so that we could be saved. No better demonstration of compassion comes to mind, and, as Paul reminds us, we ought to "Be kind and compassionate to one another, forgiving each other, just as in Christ God forgave you" (Ephesians 4:32).
So, whenever you feel alone, know that Jesus is with you. He understands exactly what you're feeling because He was once there too. Pain, abandonment, fear, loneliness, and sadness—none of these things can intimidate our Lord, who triumphed over them all.
Photo Credit: ©Sparrowstock
Roma Maitlall fancies herself a bit of a logophile (from the Greek, meaning "lover of words"). Her lifelong passion for writing—combined with her love of Jesus—inspired her to study English and theology at St. John's—a university located in Queens, New York, her hometown, where she always dreamed of becoming a writer. Now a full-time writer, Roma enjoys spending time with her wonderful sisters and family, learning everything there is to know about history, literature, art, and Christianity, and using her words to give glory to Jesus.
---
---