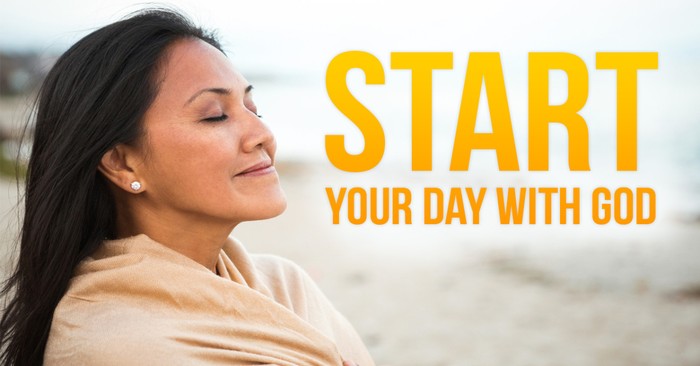 Begin each day by giving thanks to God and be joyful in His love for us!
May God bless you each and every day! Subscribe to the iBelieve channel for new videos of Christian prayers, scriptures, and spiritual inspiration.
Follow along this video with the transcript below:
"Let your roots grow down into him, and let your lives be built on him. Then your faith will grow strong in the truth you were taught, and you will overflow with thankfulness." Colossians 2:7
"And let the peace of Christ rule in your hearts, to which indeed you were called in one body; and be thankful." Colossians 3:15
"Devote yourselves to prayer, being watchful and thankful." Colossians 4:2
"Every good gift and every perfect gift is from above, coming down from the Father of lights with whom there is no variation or shadow due to change." James 1:17
"Do not be anxious about anything, but in everything by prayer and supplication with thanksgiving let your requests be made known to God." Phil 4:6
How Great Are Your Works Oh Lord ~ Psalm 92
It is good to give thanks to the LORD, to sing praises to your name, O Most High; to declare your steadfast love in the morning, and your faithfulness by night, to the music of the lute and the harp, to the melody of the lyre. For you, O LORD, have made me glad by your work; at the works of your hands I sing for joy. How great are your works, O LORD! Your thoughts are very deep! The stupid man cannot know; the fool cannot understand this: that though the wicked sprout like grass and all evildoers flourish, they are doomed to destruction forever; but you, O LORD, are on high forever. For behold, your enemies, O LORD, for behold, your enemies shall perish; all evildoers shall be scattered. But you have exalted my horn like that of the wild ox; you have poured over me fresh oil. My eyes have seen the downfall of my enemies; my ears have heard the doom of my evil assailants. The righteous flourish like the palm tree and grow like a cedar in Lebanon. They are planted in the house of the LORD; they flourish in the courts of our God. They still bear fruit in old age; they are ever full of sap and green, to declare that the LORD is upright; he is my rock, and there is no unrighteousness in him.
Let Us Sing Songs of Praise ~ Psalm 95:1-6
Oh come, let us sing to the LORD; let us make a joyful noise to the rock of our salvation! Let us come into his presence with thanksgiving; let us make a joyful noise to him with songs of praise! For the LORD is a great God, and a great King above all gods. In his hand are the depths of the earth; the heights of the mountains are his also. The sea is his, for he made it, and his hands formed the dry land. Oh come, let us worship and bow down; let us kneel before the LORD, our Maker!
Faithful Instruction and Blessing ~ 1 Thessalonians 5:12-28
We ask you, brothers, to respect those who labor among you and are over you in the Lord and admonish you, and to esteem them very highly in love because of their work. Be at peace among yourselves. And we urge you, brothers, admonish the idle, encourage the fainthearted, help the weak, be patient with them all. See that no one repays anyone evil for evil, but always seek to do good to one another and to everyone. Rejoice always, pray without ceasing, give thanks in all circumstances; for this is the will of God in Christ Jesus for you. Do not quench the Spirit. Do not despise prophecies, but test everything; hold fast what is good. Abstain from every form of evil. Now may the God of peace himself sanctify you completely, and may your whole spirit and soul and body be kept blameless at the coming of our Lord Jesus Christ. He who calls you is faithful; he will surely do it. Brothers, pray for us. Greet all the brothers with a holy kiss. I put you under oath before the Lord to have this letter read to all the brothers. The grace of our Lord Jesus Christ be with you.
Prayer for a Heart of Thanksgiving
Lord, teach me to offer you a heart of thanksgiving and praise in all my daily experiences of life. Teach me to be joyful always, to pray continually, and to give thanks in all my circumstances. I accept them as Your will for my life. I long to bring pleasure to Your heart daily. Break the power of the enemy in my life. Defeat Him through my sacrifice of praise. Change my outlook and attitude into one of joyful contentment with my present circumstances. Amen.
Daily Prayer of Peace
O Lord, grant that we may meet the coming day in peace.
Help us in all things to rely upon Your holy will.
In each hour of the day, reveal Your will to us.
Bless our dealings with all who surround us.
Teach us to treat all that shall come to us throughout the day with peace of soul, and with the firm conviction that Your will governs all.
In all our deeds and words, guide our thoughts and feelings.
In unforeseen events, let us not forget that all are sent by You.
Teach us to act firmly and wisely, without embittering and embarrassing others.
Give us the strength to bear the fatigue of the coming day, with all that it shall bring.
Direct our wills.
Teach us to pray.
Amen.
Strengthen Us to Praise and Serve
Lord God, our heavenly Father,
we give praise and thanks
for your gracious gifts
which you provide so faithfully.
Help us enjoy these blessings
with gratitude and reverence,
that we may be strengthened
to praise you and serve our neighbors;
through Jesus Christ our Lord.
Amen.
A Prayer for Gratitude
Dear God, Thank you for your amazing power and work in our lives, thank you for your goodness and for your blessings over us. Thank you that you are able to bring hope through even the toughest of times, strengthening us for your purposes. Thank you for your great love and care. Thank you for your mercy and grace. Thank you that you are always with us and will never leave us. Thank you for your incredible sacrifice so that we might have freedom and life. Forgive us for when we don't thank you enough, for who you are, for all that you do, for all that you've given. Help us to set our eyes and our hearts on you afresh. Renew our spirits, fill us with your peace and joy. We love you and we need you, this day and every day. We give you praise and thanks, for You alone are worthy! In Jesus' Name, Amen.
Prayer of Thanks
Lord, I see your heavens sparkling with stars. How glorious you are, radiant with light! Eternity watches me by the rays of the distant stars. I am small, insignificant, but the Lord is at my side. your right arm guides me wherever I go.
Glory to you for constantly watching over me.
Glory to you for the encounters you arrange for me.
Glory to you for the love of parents, for the faithfulness of friends.
Glory to you for the humbleness of the animals which serve me.
Glory to you for the unforgettable moments of life.
Glory to you for the heart's innocent joy.
Glory to you for the joy of living and being able to return your love.
Glory to you, O God, forever and ever! Amen.
Originally published Thursday, 27 May 2021.