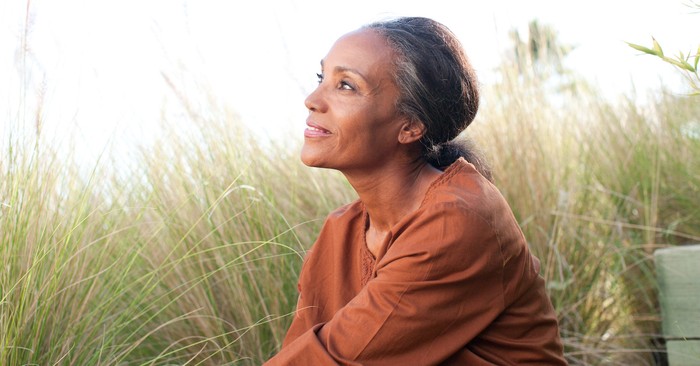 In fact, His was not a kingdom founded on the bloodshed of others but on the shedding of His own blood on the cross. Isn't that so powerful?
We're living in unprecedented times. (I know, I know. What an understatement!)
After all, in just the past few years, we've fought off a global pandemic, heard news of a war brewing overseas, endured a struggling economy, and so much more. Life has changed permanently, for better and for worse, and has—without a doubt—made us experience a lot of fear and anxiety.
But, lucky for us, ours is the God who is the "Prince of Peace" (Isaiah 9:6). He is the Sovereign Lord who always brings calm and rest to disconcerted souls and whose loving presence is a constant reminder that peace is never far.
In His own reassuring words, Jesus says: "Peace I leave with you; my peace I give you. I do not give to you as the world gives. Do not let your hearts be troubled and do not be afraid" (John 14:27).
So, friend, taking the advice of the Lord of Peace, let not your heart be troubled. Take a deep breath, drawing in the peace of Jesus, willing to carry your every burden on His shoulders, and now exhale, breathing out all your worries. As Peter the Apostle advises, "Cast all your anxiety on him because he cares for you" (1 Peter 5:7).
The Prince of Peace: A Biblical Background
In Isaiah 9:6, Isaiah prophesies of the Messiah, whom he refers to as "Wonderful Counselor, Mighty God, Everlasting Father, Prince of Peace." The word Isaiah uses for Peace is shalom, a Hebrew word that has a wide array of meanings, including completeness, wholeness, rest, safety, soundness, tranquility, prosperity, fullness, harmony, lack of worry, the absence of agitation or discord, etc. (The list goes on and on.)
Jesus, therefore, as Prince of Peace, encapsulates all meanings of shalom. He is the One in whom we can find rest, safety, tranquility, prosperity, and so on.
The title "Prince of Peace" also sets Jesus apart from the human rulers whose reigns depended on bloody conquest. While human rulers established and maintained their reigns by violence, Jesus established and maintained His reign through peace. In fact, His was not a kingdom founded on the bloodshed of others but on the shedding of His own blood on the cross. Isn't that so powerful?
The name "Prince of Peace" also helps to explain the shock the Israelites felt when Jesus identified Himself as the Messiah. They were not looking for a peaceful ruler. Rather, they wanted a warrior-king who would lead a revolt against the Romans and reestablish the glory Israel once knew by force.
But Jesus did not encourage violence against Rome. On the contrary, He encouraged the Jews to live in peace. "Blessed are the peacemakers," He famously said in His Sermon on the Mount, "for they will be called children of God" (Matthew 5:9).
In his letters, Paul the Apostle reinforces this message of peace, writing:
"But now in Christ Jesus you who once were far away have been brought near by the blood of Christ. For he himself is our peace, who has made the two groups one and has destroyed the barrier, the dividing wall of hostility... . His purpose was to create in himself one new humanity out of the two, thus making peace, and in one body to reconcile both of them to God through the cross, by which he put to death their hostility. He came and preached peace to you who were far away and peace to those who were near." Ephesians 2:13-17
As Paul explains, Jesus reconciled God and man, separated by original sin, by dying on the cross. His message was of peace ("He came and preached peace to you who were far away and peace to those who were near"), and His act of self-sacrifice was entirely peaceful, bridging the gap between heaven and earth ("But now in Christ Jesus you…have been brought near by the blood of Christ. For he himself is our peace, who has made the two groups one and has destroyed the barrier, the dividing wall of hostility").
Followers of Jesus are likewise called to be ambassadors of peace, choosing reconciliation over discord. As Paul the Apostle declares in his Letter to the Colossians: "Let the peace of Christ rule in your hearts, since as members of one body you were called to peace. And be thankful" (Colossians 3:15).
Even the Wind and the Waves Obey Him
We've all heard this powerful story sometime or another. Told in all three of the Synoptic Gospels, it tells of one fateful evening when Jesus and His disciples cross the Sea of Galilee in a boat. While Jesus is taking a nap, a storm starts to rage, and the boat is tossed violently by the waves.
Scared for their lives, the disciples wake Jesus, crying: "Teacher, don't you care if we drown?" (Mark 4:38). Unfazed, Jesus arises and rebukes the wind, firmly telling the waves: "Quiet! Be still!" (Mark 4:39). And, to everyone's shock and wonder, the wind dies down, and the storm subsides.
Turning to His disciples, Jesus then asks, "Why are you so afraid? Do you still have no faith?" The disciples are awestruck. "Who is this?" they ask incredulously. "Even the wind and the waves obey him!" (Mark 4:41).
Other versions of the Bible have translated Mark 4:39 ("Quiet! Be still!") as "Peace, be still!" (NKJV). Jesus ultimately acknowledges His identity as Prince of Peace by commanding nature to obey Him and miraculously calming a storm.
Jesus thus demonstrates that even amid life's metaphorical storms, He is always with us, bringing peace and calm to our troubled souls. I love this quote from Thomas Watson, the seventeenth-century English preacher: "If God be our God, He will give us peace in trouble. When there is a storm without, He will make peace within. The world can create trouble in peace, but God can create peace in trouble."
Walking in Peace
As followers of Jesus, we are called to be peaceful, never sowing strife or discord. According to Scripture, people who make peace will be richly rewarded: "Peacemakers who sow in peace reap a harvest of righteousness" (James 3:18).
Peace is ultimately our end goal—something God wants us to strive for and achieve. The Psalmist says: "Turn from evil and do good; seek peace and pursue it" (Psalm 34:14), and the writer of Hebrews adds: "Make every effort to live in peace with everyone and to be holy; without holiness no one will see the Lord" (Hebrews 12:14).
But how do you find this peace? Where should you look? What do you do? The Bible tells us that following God's commandments and trusting Him are key. The Psalmist declares in Psalm 119:165: "Great peace have those who love your law, and nothing can make them stumble," and Paul drives the point home in Philippians 4:9: "Whatever you have learned or received or heard from me, or seen in me—put it into practice. And the God of peace will be with you."
Peace is ultimately a goal we must actively work toward and pursue. I appreciate this quote from Eleanor Roosevelt: "It isn't enough to talk about peace. One must believe in it. And it isn't enough to believe in it. One must work at it."
Moreover, peace is a fruit and gift of the Holy Spirit, whom we must trust and look to for guidance when following Jesus. "The fruit of the Spirit is love, joy, peace, forbearance, kindness, goodness, faithfulness, gentleness and self-control," writes Paul in Galatians 5:22-23. And in Romans 8:6, he adds, "The mind governed by the flesh is death, but the mind governed by the Spirit is life and peace." Scripture thus explains that peace is a higher state of being—and one that brings us closer to God.
Blessed Are the Peacemakers
Let every day be an opportunity for you—as the Psalmist encourages us in Psalm 34:14—to "seek peace and pursue it." Bury the hatchet with someone with whom you are at odds. Ask for forgiveness from someone you have hurt. And, taking the blessed advice of Pope John Paul II: "Do not be afraid to take a chance on peace, to teach peace, to live peace… Peace will be the last word of history."
Jesus, after all, is an emissary of perfect peace. He is the very One to whom the Psalmist was referring when it was said: "In peace I will lie down and sleep, for you alone, LORD, make me dwell in safety" (Psalm 4:8) and "The LORD gives strength to his people; the LORD blesses his people with peace" (Psalm 29:11).
Walking in peace will surely fill you with immeasurable joy, strengthen your faith, and give you hope and courage to face the new day. I leave you with one of Paul the Apostle's heartwarming, final greetings: "Finally, brothers and sisters, rejoice! Strive for full restoration, encourage one another, be of one mind, live in peace. And the God of love and peace will be with you" (2 Corinthians 13:11).
Photo Credit: ©GettyImages/TomMerton
Roma Maitlall fancies herself a bit of a logophile (from the Greek, meaning "lover of words"). She's loved writing ever since she could hold a pencil, and this passion inspired her to study English at St. John's University, her alma mater. Now an editor for an NYC-based publisher, Roma spends most of her days dreaming of becoming a published author and obsessing over her favorite people in the world: her sisters. She enjoys exploring museums on the weekends, getting in touch with her heritage, and learning everything there is to know about history, literature, religion, pop culture, and art. She lives in Queens, New York.
Related podcast:
The views and opinions expressed in this podcast are those of the speakers and do not necessarily reflect the views or positions of Salem Web Network and Salem Media Group.
So when sin is not being confronted, or even viewed as sin at all, it's time to address it with the hope of gently helping to restore believers caught in its web. Here are 10 sins that often go overlooked in Christian community.
Stock Footage & Music Courtesy of Soundstripe.com Thumbnail by Getty Images
---
---