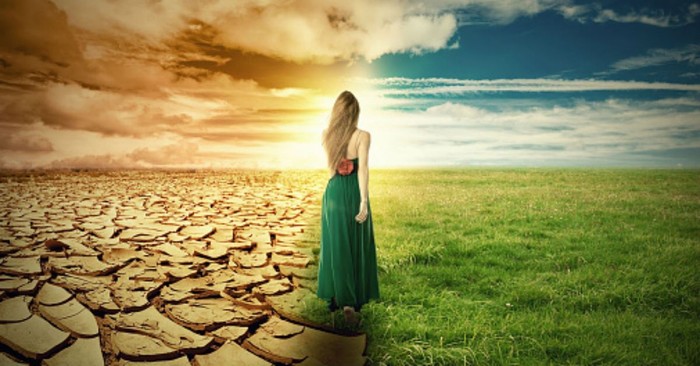 My bed-rest quickly became a spiritual desert, and in that hard season, God searched me and knew my heart. All that unfilled, unoccupied time became a crowbar used by God to pry open my heart.
People always say that if you want to get pregnant, buy a dog. I say give away all that baby furniture moldering in the garage. Little did I know in that moment of surrender that a miracle was already growing in my belly. In some ways, I believe that the moment we surrender, some kind of creative miracle is already gestating.
Soon after we discovered the baby's gender, we had quite a scare. At twenty weeks, I discovered I was in trouble. After an emergency surgery, I minded the doctor's orders: bed rest for three months.
My bed-rest quickly became a spiritual desert, and in that hard season, God searched me and knew my heart (Ps. 139:23).
All that unfilled, unoccupied time became a crowbar used by God to pry open my heart. Things leaked out that I had not taken time to look at. Not in a really long time.
Quite often, the desert is all about the heart …
Jesus used the desert to reveal my heart.
Jesus used the desert to restore my heart.
Jesus used the desert to release my heart.
Reveal
The primary thing I had to deal with on that desert couch was the unexpressed contents of my burdened and sinful heart. God wanted me to come face-to-face with the forces that were warring against my heart. My Heavenly Father wanted heart revelation, and He used the desert to get it.
Some of us are lugging around beliefs that we would promise to the tips of our pedicured toes are undyingly true—they feel true, they seem true, they even ring true—but when put through the trying circumstances of the desert, our little t truths are often unmasked as counterfeit.
There is nothing quite like the harsh desert climate to reveal what is truly real.
Restore
Therefore, I am now going to allure her; I will lead her into the desert and speak tenderly to her. (Hos. 2:14 Oxford NIV)
Little in my life has been as restorative for my heart as the uninterrupted seasons of conversation with Christ in the desert. There, in the desert, I finally had time to truly hear His tender voice speaking to my broken heart. I understood that God wanted to bless my heart – not in a Southern way, but in a sovereign way. How beautiful.
Release
There I will give her back her vineyards, and will make the Valley of Achor a door of hope. There she will respond as in the days of her youth, as in the day she came up out of Egypt. (Hos. 2:15 Oxford NIV)
In a desert season, we must press into grace to take the next step. I think of Paul and Silas in the Philippian jail. There they were … in chains, making music at midnight, interceding in their incarceration, when suddenly a great quake occurred. God blew the doors off, and Paul and Silas got to walk out of the city, fully free. Though my desert experience was different from the story in Acts, God used the desert to release me from a jail I didn't even know I was imprisoned in.
Rest
Elijah was afraid, so he got up and fled for his life to Beer Sheba in Judah. He left his servant there, and went a day's journey into the desert. He went and sat down under a shrub and asked the Lord to take his life: "I've had enough! Now, O Lord, take my life. After all, I'm no better than my ancestors." He stretched out and fell asleep under the shrub. All of a sudden an angelic messenger touched him and said, "Get up and eat." He looked and right there by his head was a cake baking on hot coals and a jug of water. He ate and drank and then slept some more. The Lord's angelic messenger came back again, touched him, and said, "Get up and eat, for otherwise you won't be able to make the journey." So he got up and ate and drank. That meal gave him the strength to travel forty days and forty nights until he reached Horeb, the mountain of God. (1 Kings 19:3–8 NET)
When we are struggling as deeply as the prophet Elijah did, we need to search for and submit ourselves to the unique ways God brings heart restoration in the desert:
Heavenly Touch
The angel touched Elijah in his desert.
When Jesus came down from the mountain, large crowds followed Him. And a leper came to Him and bowed down before Him, and said,
"Lord, if You are willing, You can make me clean." Jesus stretched out His hand and touched him, saying, "I am willing; be cleansed."
And immediately his leprosy was cleansed. (8:1–3 NASB)
Human touch roots us in reality. I cannot tell you the number of things Jesus touched—things that had bowed me into spiritual exhaustion and spiritual sleep. Things no human hand could ever reach, so hidden were they in the dark soil of my heart and the tangled knot of my mind.
When you are in the desert, don't run from the touch of Jesus.
Heavenly Sleep
For he gives to his beloved sleep. (Ps. 127:2 ESV)
When Elijah rose the first time to eat and drink and promptly fell back into a deep slumber, we see that the angel waited and allowed Elijah to sleep it off. I am learning, in large part due to the ministry of the desert, the truth of this passage:
"Return to your rest, my soul, for the LORD has been good to you" (Ps. 116:7).
Yes, soul, return to your desert rest.
"And the angel of the LORD came again a second time and touched him and said, 'Arise and eat, for the journey is too great for you'" (v.7 ESV).
Jesus knows when the journey ahead will exact from us a price we cannot pay. He knows.
My greatest prayer is that you would listen to him and the messengers he sends. Jesus is trustworthy with the rhythms of your life, even when those rhythms seem simple.
In the desert, God restores our hearts and gives us a reinvigorated and refreshed heart of worship.
He—who presses us into his grace—beckons us to the barren land of blessings with an invitation to experience bounty and abundance of life.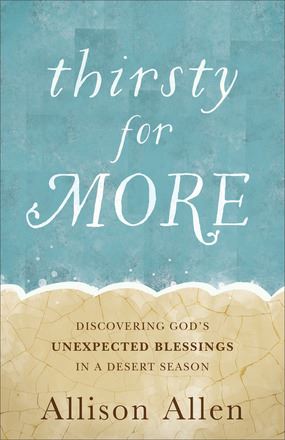 Adapted from Allison Allen new book, Thirsty for More, Revell, a division of Baker Publishing Group; Sept. 4, 2018. Used by permission.

Allison Allen is the author of Shine. A graduate of the prestigious Carnegie Mellon University, she appeared in approximately 650 performances of the Broadway production of Grease. Current Bible teacher and former Women of Faith dramatist, she speaks to women at conferences and retreats around the country, exploring themes of purpose, value and identity in original and unexpected ways. She lives with her family in Tennessee. Learn more at AllisonAllen.net

Photo Credit: Thinkstock/SIphotography
---
---