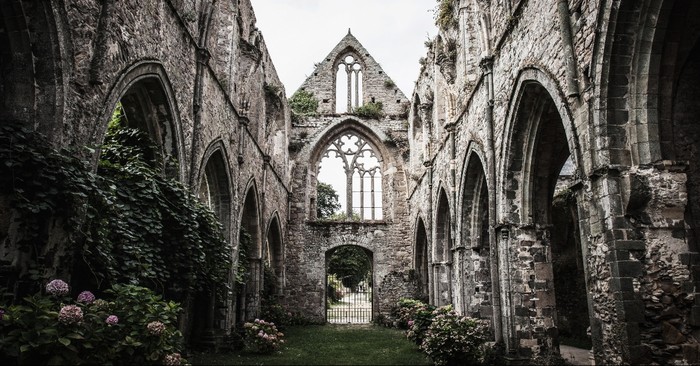 The cultural standard of being a woman isn't the only voice we have to listen to. There are centuries of women in church history who have paved the way and brought meaning to being a godly woman.
The conversation about women is center stage in our culture today. Opinions on women, their role, their bodies, and their everything are a dime a dozen. Today, women are even fighting to maintain their status as women rather than just "birthing people."
In the pursuit of defining and sharing these opinions, women have lost what it means to actually be a woman.
What Happened to the Glory of Womanhood?
The "burn your bra" agenda, in fact, removed all the glory of womanhood.
I can glory in who I am as a woman because God has set my purpose before the beginning of time. I am beautifully made to glorify His name! The cultural standard of being a woman isn't the only voice we have to listen to. There are centuries of women in church history who have paved the way and brought meaning to being a godly woman.
Long before feminist movements, women in the church were making great strides, not for their glory, but for God's.
Over this series, we will examine sixteen women and their impact on the church and its history. In many respects, their influence was profound and far-reaching. These women were historically significant for many reasons. Throughout time and context, there was always work to be done for the gospel, oppressors to stand against, and people who needed to hear about Jesus—and women stepped up to fulfill these revolutionizing roles.
Different Agendas for Women
The difference between the women's agenda of today and the women of Church history is Christ.
In the sixteenth century, a pivotal moment took place that shaped the modern church. This event was known as the Protestant Reformation. The fire of the Reformation was lit when Martin Luther nailed his Ninety-five Theses to the door of the Castle Church in Wittenberg in 1517, proclaiming two foundational truths: the Bible is our foremost source of authority, and salvation is obtained through faith.
The Theses outlined what was wrong within the church and what desperately needed reform.
The Reformation was the beginning of a vital move in church history. It brought to the forefront of Christianity the five solas (Latin for "alone" or "by oneself") on which the Christian faith hinges. These five solas pointed directly at what was wrong with the church itself.
The Reformation allowed people to receive the Scriptures in a common language rather than relying solely on church leaders for interpretation. It also freed many from the works-based faith that had been heavily circulated and pointed people to faith alone, in Christ alone. (At this time, the Catholic Church sold "indulgences," documents that promised the common person their loved one would receive partial or full forgiveness and be released from purgatory into heaven. This scandal led many astray and warped the gracious gift of salvation through Christ's work on the cross.)
Four women played important roles in the Reformation. While there are many more voices we may not know about, these four women made it their mission to aid in the movement and proclaim the gospel:
Katharina Von Bora
Katharina was born in 1499 in Germany. When she was five, her father sent her to a Benedictine cloister among nuns to further her education. It is no surprise to find that she became a nun several years later. Katherine's life and time in the monastery were against a tumultuous backdrop of the Protestant Reformation.
While a nun, Katharina was moved by the teachings of the Reformation and, in response, sought to leave the monastery. In this day and time, leaving the monastery or helping someone leave was a criminal act. In 1523, she reached out to a former monk named Martin Luther in hopes he would aid in the rescue of her and her friends.
Luther agreed and aided in their escape from the monastery. In 1525, Katharina married Martin Luther, raised six children, and had four adopted children. She was a partner in the ministry of Martin Luther and, as Luther often called her, his "better half." She was not afraid to debate with him theologically and often challenged him on the matter of the Scriptures. We can easily dub her the "First Lady of the Reformation."
Argula Von Grumbach
Known as the first female reformer, Argula Van Grumbach made history for women during a time when women's opinions were overlooked. Born in 1492, Argula came of age during the rising tide of the Reformation.
She was a woman of nobility. This status would later be useful as she helped establish Lutheranism in the rural areas her family oversaw. However, she is most famously known for challenging theological scholars to a debate. This was no small task. Her letter requesting a debate was ignored. Theological scholars did not debate with church members, much less a woman.
Argula's efforts were not unnoticed. The ignored letter made its way to the printing press and was quickly spread around Germany and into Switzerland. Her involvement in the Protestant debate and impressive ability to memorize the Scriptures earned her the title of "first female reformer."
Marie Dentiere
Marie Dentiere was a predominant voice in setting up the Reformation in Geneva, Switzerland. She even worked alongside her husband and the great reformer John Calvin.
Women were encouraged to be a part of the Reformation movement and for their voices to be heard. However, as the Reformation gained acclaim, the voices of the females of the Reformation were suddenly shut down.
Of the countless written works that Marie contributed to the Reformation, it was not until the 19th century that these writings were brought forward. To this day, Marie Dentiere is the only woman to have her name on the Reformation Wall, and it was not added until 2002.
Anne Locke
At the height of the Reformation, Anne Locke fled to Geneva when Mary became Queen of England. After Mary's death, when Elizabeth rose to power, those exiled to Geneva found their way back to England.
In 1560, Anne published a book. The first section was four sermons by John Calvin on Isaiah 38, and the second was twenty-six poems on Psalm 51. In the sixteenth century, it was considered immoral for a woman to publish their original work. Anne became known as the first English poet to write a sonnet sequence. This was a glass ceiling for women. Why? Because when English history books are consulted, Anne Locke is barely mentioned. Men are often credited for this feat rather than Anne.
Anne Locke was another woman deeply rooted in the Reformation and close to its leaders. Her written works found their inspiration in the Scriptures and sermons of those seeking to bring change within the Protestant movement.
In a culture and time when women were to be seen and not heard, many took the risk for Christ.
Each of these women, in their unique way, made an impact for the gospel of Christ during the time of the Reformation. In some cases, they fought for their voices to be heard and their writings to be read.
Women such as Anne Locke, Katharina Von Bora, Marie Dentiere, and Argula Von Grumbach helped give women a voice in church history.
For more, read parts 2, 3, and 4.
Photo Credit: ©iStock/Getty Images Plus/Nicolas Garrat
Michelle Rabon is a wife and homeschooling mom of three who feels called to help women thrive in their walk with Jesus every day. In 2012, she started Displaying Grace, a ministry that is focused on helping women engage with God's Word. Michelle has also served in women's ministry for the past five years seeking to equip women in the local church through Bible study. When she is not writing or teaching, she enjoys reading, being close to the ocean, and drinking a lot of coffee.
LISTEN: Being Complete in Jesus (Understanding Matthew 5:21-48)
Hearing Jesus is a devotional journey through the gospels, where we explore the teachings of Jesus chapter by chapter. If you're seeking to live a life that reflects God's, this podcast is for you.
The views and opinions expressed in this podcast are those of the speakers and do not necessarily reflect the views or positions of Salem Web Network and Salem Media Group.
WATCH: 10 Sins Christians Downplay (and Why They're So Destructive)
Stock Footage & Music Courtesy of Soundstripe.com Thumbnail by Getty Images

---
---