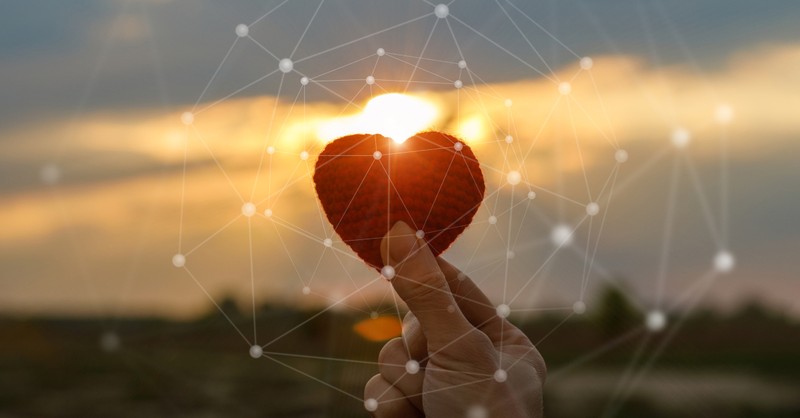 Do You Believe Your Heart Has Been Changed by Christ?
Andrew Farley

Author of The Perfect You: God's Invitation to Live from the Heart
You're sitting in church enjoying the worship. The music leader is at his best, the backup singers are crooning, the smoke is rolling out, and the music is in full swing. Then mid-song, the leader pauses for emphasis, looks up to Heaven, and groans, "God, we've got wicked, wicked hearts, Lord!" The congregation erupts with applause and a big "Amen!"
"We're sinners, Lord, desperate for more of You, God!" he continues.
"Yes, Jesus!" everyone responds.
"Purify our hearts today, God, make us clean!" he begs. "Yes, Lord…" you start to say along with everyone else.
Then something in the back of your mind makes you stop and wonder: How many Sundays must I try to get my heart right? How long will I plead for purity? And why are we begging for more of God's presence when He never leaves us?
You're right to hesitate. Those petitions don't reflect what God actually says about who you are or how to relate to Him.
So, is your heart bad or good? Or maybe half good and half bad? Are you part darkness and part light? Perhaps you have two hearts? Two natures, two selves, two sets of desires?
The Heart of the Matter
Ask a hundred Christians about the current condition of their heart and answers will vary wildly. Some will shout, "Wicked!" Meanwhile, others claim, "Corrupt and deceitful but in process!" But could it be that your spiritual heart has been made new and perfect?
The state of the believer's heart is central to Christianity itself. After all, Jesus comes to live in our hearts. Isn't that what we believe? So why are our answers all over the place? Why is the subsequent condition of our hearts so unclear? Who's right? How do we know?
Some of the songs we sing in church only stoke confusion. Here's one example—a verse from a hymn written in the 1700s that we've sung hundreds of times over the years:
Let that goodness like a fetter
Bind my wandering heart to Thee
Prone to wander, Lord, I feel it
Prone to leave the God I love
Here's my heart, Lord,
take and seal it
Seal it for Thy courts above
(from "Come Thou Fount of Every Blessing" by Robert Robinson)
Is your heart still prone to wander? Do you still need it to be "taken" and "sealed"? This hymn is based on Psalm 119, in which David is concerned about wandering from the Lord's commandments. But remember that David also pleaded, "Create in me a clean heart" and "do not cast me away from Your Presence" and "do not take your Holy Spirit from me" (Psalm 51).
Why don't Paul or Peter or James or John seem to be concerned about getting their hearts clean or losing God's presence? Because as a New Testament believer, you enjoy something better than what David experienced so long ago (Hebrews 11:39-40).
And what about more modern music? Is it more carefully written to reflect the truth of the gospel? No—in fact, it actually seems the problem may be getting worse over time. Overall, most hymns from centuries ago remain truer to the gospel than a lot of more contemporary music. Here's one example from just a few decades ago:
Now I grow and breathe in freedom
With each breath of life I take
I'm loved and forgiven backed with a living
I'm just a sinner saved by grace
Not worthy to be in God's presence
(from "Sinner Saved by Grace" by the Gaither Vocal Band)
Are you nothing more than "just a sinner" but "saved by grace"? Are you "loved and forgiven" but "not worthy to be in God's presence"? It's this dirty-worm theology that has kept the truth hidden for far too long.
It's not just our music. This message is pervading Christian culture as a whole. We proudly slap the Christian bumper sticker on our vehicle that says, "I'm not perfect, just forgiven."
Sure, we get what this means. We don't perform perfectly. But isn't the whole point of the gospel that we've been made perfect apart from our performance? Weren't we made perfect by God's performance?
Spiritual Heart Surgery
At salvation, God carried you through a spiritual heart surgery of sorts:
But thanks be to God that though you were slaves of sin, you became obedient from the heart to that form of teaching to which you were entrusted. (Romans 6:17)
…just as Christ was raised from the dead through the glory of the Father, so we too may walk in newness of life. (Romans 6:4b)
As a result of this heart surgery and newness of life, God doesn't merely look at you through special "Jesus glasses." No, He's looking right at you, and He likes what He sees. You're not merely "clothed with Christ" like a wolf in sheep's clothing. You're actually a Grade A sheep, through and through.
In short, you're not half and half. You're not good and bad. You're not new and old. You're not righteous and wicked-hearted. Many living out this duality think they are their own worst enemy. You've probably said it yourself: "I'm my own worst enemy." But think about it: If the Bible calls you "a friend of God", then how can you be your own worst enemy?
If your new-hearted self is from God, then what kind of self is it? Would God cause you to be born of Him as someone who is bad, good, or somewhere in the middle
Jesus said that if even earthly fathers are givers of good gifts, how much more is your heavenly Father a giver of goodness (Luke 11:11–13)? Every good and perfect gift comes from Him (James 1:17). So, if God gave you a new-hearted self, then you must be amazingly good!
God could've chosen to live anywhere, and He chose you. You're a perfect home for the Spirit of God Himself. Once you realize you have a brand-new heart, you start to put the pieces together: Does your new-hearted self truly desire sin? No, God is not asking you to go against your very self in order to act godly. Jesus said a house divided against itself cannot stand (Mark 3:25). You are not a house divided!
If we're not careful, our "Christian" message becomes: You're utterly sinful but you need to act righteous. You're wicked, but you need to act holy. How's that for setting someone up for failure, not to mention the rejection of their own self?
Think about it: If you're re-created in Christ Jesus for good works (Ephesians 2:10), then what does that say about your design? You are good. And what does this say about your desire? You want good. You want what God wants. Here's what Jesus had to say about how your heart connects to your desire:
No good tree bears bad fruit, nor does a bad tree bear good fruit. Each tree is recognized by its own fruit. People do not pick figs from thorn bushes, or grapes from briers. A good man brings good things out of the good stored up in his heart, and an evil man brings evil things out of the evil stored up in his heart. For the mouth speaks what the heart is full of. (Luke 6:43–45 NIV)
Jesus Himself says there are indeed "good trees." If you are in Christ, that's what you are. He goes on to say the "good man" does exist, and there is good in his heart. If you are in Christ, there is good stored up within your heart.
Because you're new in Jesus, you have a loving heart. Because you're new in Jesus, you have a kind heart. Because you're new in Jesus, you have a patient heart. You're a loving and kind and patient person now by nature. You carry within you all the qualities needed for life and godliness. All of this is true, because you're the new-hearted self and bonded to Jesus Christ, who is your life!
Seeing that His divine power has granted to us everything pertaining to life and godliness, through the true knowledge of Him who called us by His own glory and excellence. (2 Peter 1:3)
And in Him you have been made complete, and He is the head over all rule and authority. (Colossians 2:10)
When Christ, who is our life, is revealed, then you also will be revealed with Him in glory. (Colossians 3:4)
Your new heart was God's great gift to you. So, this Valentine's Day, rest assured that God loves you and He transformed you into His new-hearted, loving child!
Photo Credit: © Getty Images/Natali_Mis
Andrew Farley is a pastor, author, and host of Andrew Farley Live! on Sirius XM. His latest book, The Perfect You: God's Invitation to Live from the Heart—co-authored with Tim Chalas—releases March 16 from Salem Books. Learn more about Andrew at AndrewFarley.org.
Comments
---
---