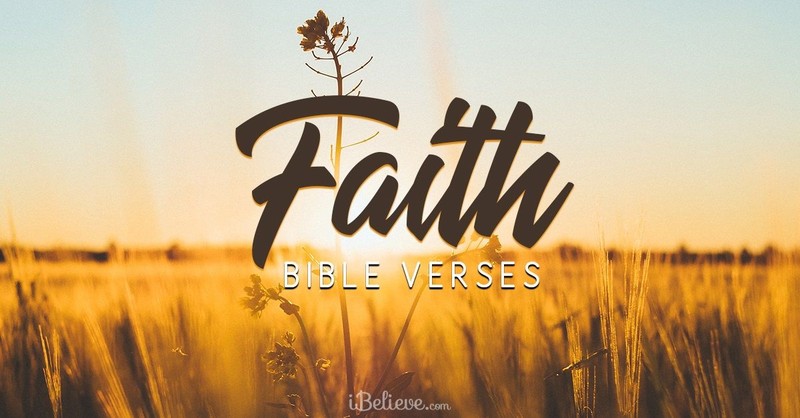 Bible Verses about Faith - Scriptures to Strengthen Faith

What does the Bible teach us about having faith? Faith is defined as a complete trust or confidence in someone or something. Having faith in the love and sovereignty of God is arguably the most prevalent idea of the Bible. Scripture compels us to have faith in God and the commandments of his Word, following the teachings of the Old and New Testaments. In this collection of scripture passages, you will discover the most significant Bible verses about faith!
It's easy to "lose faith" in life. Undoubtedly we are hit with devastating news, difficult situations, and worries. The storms that come can cause us to doubt God really loves us and knows best for us. It is in these difficult times that it's vital we recall God's promises from Scripture for those who believe. As followers of Christ, those who have faith are promised blessings and a prosperous future. The Bible verses listed below can offer you strength and hope today and for tomorrow. May these be a source of growing faith in your life.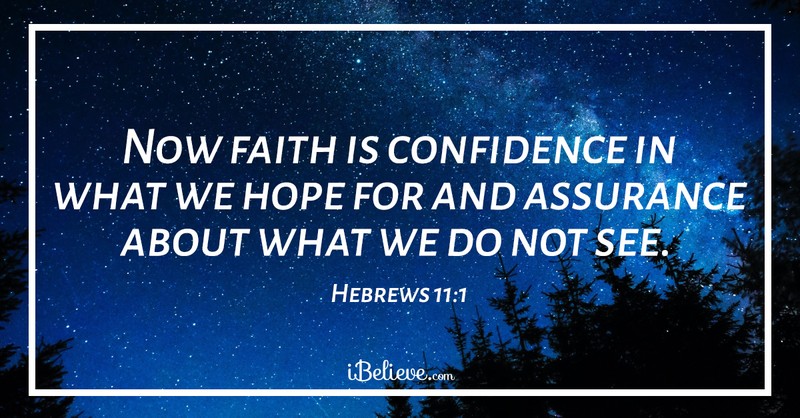 Bible Verses About Power of Faith
Now faith is the assurance of things hoped for, the conviction of things not seen.
And whatever you ask in prayer, you will receive, if you have faith.
So faith comes from hearing, and hearing through the word of Christ.
And Jesus answered them, "Have faith in God. Truly, I say to you, whoever says to this mountain, 'Be taken up and thrown into the sea,' and does not doubt in his heart, but believes that what he says will come to pass, it will be done for him. Therefore I tell you, whatever you ask in prayer, believe that you have received it, and it will be yours.
That your faith might not rest in the wisdom of men but in the power of God.
Take on our 30 Day Prayer Challenge: Fighting Fear and Anxiety with the Promises of God or save this PDF as a reminder of faith through prayer!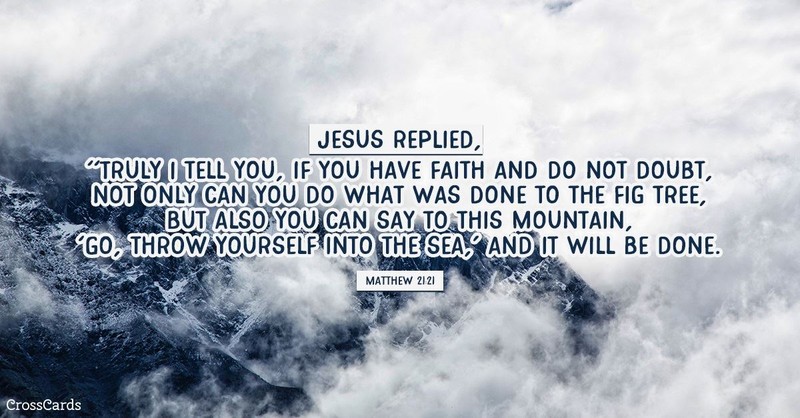 Scripture Quotes on What it Means to Have Faith
For by grace you have been saved through faith. And this is not your own doing; it is the gift of God, not a result of works, so that no one may boast.
Jesus replied, "Truly I tell you, if you have faith and do not doubt, not only can you do what was done to the fig tree, but you can also say to this mountain, 'Go, throw yourself into the sea,' and it will be done."
You believe that God is one; you do well. Even the demons believe—and shudder!
For nothing will be impossible with God.
Trust in the Lord with all your heart, and do not lean on your own understanding. In all your ways acknowledge him, and he will make straight your paths.
For we walk by faith, not by sight.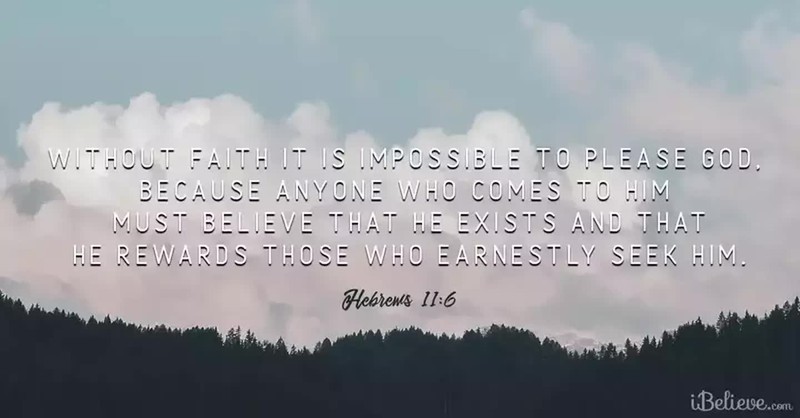 Bible Verses about Having Faith
And without faith it is impossible to please him, for whoever would draw near to God must believe that he exists and that he rewards those who seek him.
What good is it, my brothers, if someone says he has faith but does not have works? Can that faith save him? If a brother or sister is poorly clothed and lacking in daily food, and one of you says to them, "Go in peace, be warmed and filled," without giving them the things needed for the body, what good is that? So also faith by itself, if it does not have works, is dead. But someone will say, "You have faith and I have works." Show me your faith apart from your works, and I will show you my faith by my works. ...
You see that a person is justified by works and not by faith alone.
If any of you lacks wisdom, let him ask God, who gives generously to all without reproach, and it will be given him. But let him ask in faith, with no doubting, for the one who doubts is like a wave of the sea that is driven and tossed by the wind. For that person must not suppose that he will receive anything from the Lord; he is a double-minded man, unstable in all his ways.
I can do all things through him who strengthens me.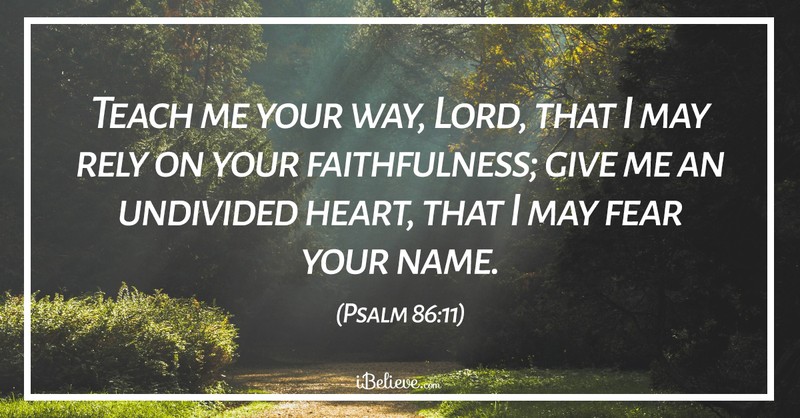 Faith Scripture Quotes
For by the grace given to me I say to everyone among you not to think of himself more highly than he ought to think, but to think with sober judgment, each according to the measure of faith that God has assigned.
I told you that you would die in your sins, for unless you believe that I am he you will die in your sins."
"Be still, and know that I am God. I will be exalted among the nations, I will be exalted in the earth!"
And Jesus said to him, "'If you can! All things are possible for one who believes."
And Jesus answered them, "Truly, I say to you, if you have faith and do not doubt, you will not only do what has been done to the fig tree, but even if you say to this mountain, 'Be taken up and thrown into the sea,' it will happen. And whatever you ask in prayer, you will receive, if you have faith."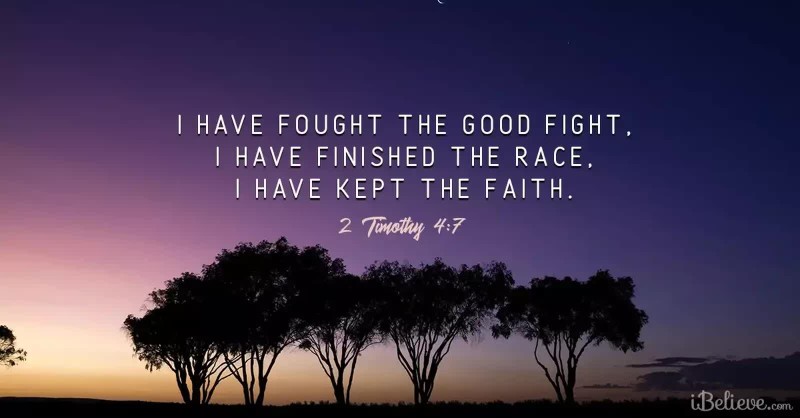 Bible Verses About a Living a Faith-Filled Life
I have fought the good fight, I have finished the race, I have kept the faith.
Yet we know that a person is not justified by works of the law but through faith in Jesus Christ, so we also have believed in Christ Jesus, in order to be justified by faith in Christ and not by works of the law, because by works of the law no one will be justified.
I have been crucified with Christ. It is no longer I who live, but Christ who lives in me. And the life I now live in the flesh I live by faith in the Son of God, who loved me and gave himself for me.
So now faith, hope, and love abide, these three; but the greatest of these is love.
The apostles said to the Lord, "Increase our faith!"
---
---