A Prayer to Help You Know God's Delight in You
I pray you will choose to see the truth about God's feelings toward you -- that he loves and delights in you.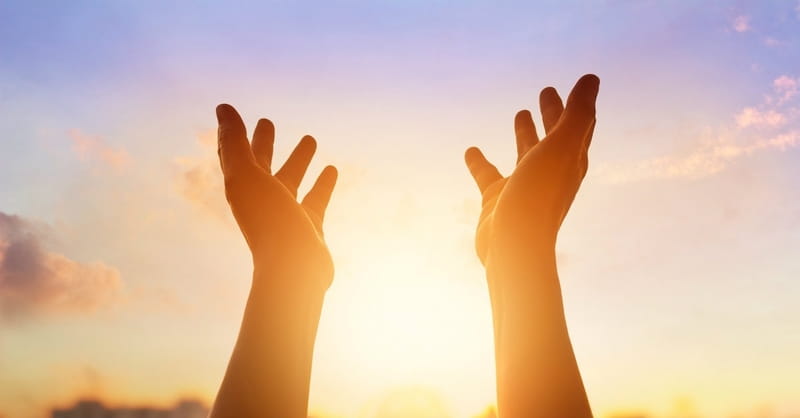 This year, I am setting my heart on adoring the attributes of God. Today I want to share my adoration of His wisdom with you. Meditating and rejoicing over God's wisdom has relationship-transforming consequences!
In Proverbs 8, Solomon paints a picture of wisdom standing next to our Creator as He demonstrated His power in establishing the universe. He shows us that Wisdom served as God's assistant:
"I was the architect at his side. I was his constant delight, rejoicing always in his presence." Proverbs 8:30
God Delights in Wisdom
I'm fascinated by God's constant delight in wisdom. I can just see our Creator standing at the edge of the brand new universe with Wisdom standing next to Him. God is wearing an enormous smile because of what the two of them have accomplished together. His joy overflows toward Wisdom and He can't help but reach out and hug Her tightly, maybe even swinging Her around in celebration. All the while He shouts "Thank You! Thank You! Look what You've helped me do! Isn't it wonderful!" And Wisdom swells with a sense of accomplishment knowing that God's delight in Her will never cease!
Of course, wisdom is not an actual, physical being, but God personifies wisdom to help us understand the very personal role His wisdom played as he created the world. How does this affect your adoration for God's wisdom? It surely makes me celebrate and want to be connected to wisdom at all times.
Wisdom Delights in People
This is the part that has rocked my world in the best way! Look at these words from Proverbs 8:31 describing wisdom:
And how happy I was with the world he created; how I rejoiced with the human family!
Wisdom is happy! Let's wrap our minds around that for a pair of minutes. No wonder the enemy's schemes are often focused on making us afraid that God doesn't like us.
What a CROCK!
The TRUTH is …. God who is perfectly wise rejoices in the human family! He "delights in the sons of men" according to the amplified translation.
God and His wisdom join together to delight in you and me! I hope you can see that friend. It's a life-changing idea for me. Embrace it. Ask God to make it real in your heart, not just in your head.
Here's more good news. God and His wisdom delight in your spouse, your children, you friends and family. He delights in your pastor, your employer, and even that person that seems to rub your heart raw with the grit of industrial grade sandpaper.
Jesus is known as Emmanuel, meaning God is with us. He has chosen to dwell with us because He is delighted with us. He is also our Wonderful Counselor: our ever-present fountain of God's wisdom. He is God's wise Word delivered to us in human form long ago and now present with us by His Holy Spirit.
Are you delighted with yourself?
God longs for us to be united with Him in thought and deed. Choosing to see ourselves through His eyes is a life-changing, joy-restoring act. If we have trouble delighting in ourselves, the Holy Spirit is with us to help us change our thoughts. Here is a simple prayer to help us reach for the help He is ready to deliver:
God, I need help believing that You are delighted with me. Please fill me with Your wisdom and defend me against condemning thoughts about myself. 
This simple change can usher in healing in hearts and our relationships. When we rest in God's love for us, we gain the courage to consider how much He must delight in other people. We can demolish our critical and judgmental habits by practicing saying this to ourselves as we encounter others:
Oh look! There is another soul that my God delights in.
I'm confident that you have had trouble delighting in someone. I surely have. Maybe you are struggling with that person today. Here is a simple prayer to help both of us reach out for the help God promises to provide:
God, I surrender my critical thoughts about _______ to You. I want to cooperate with Your Wisdom that delights in _____. Awaken in me Your good thoughts about _______. Help me deliver life and healing into ______'s life by speaking Your truth about _____ out loud with a pure heart (Proverbs 18:21, Proverbs 12:18, Psalm 51:10).
I choose the joy of delighting in You and everyone You delight in. Amen
Ponder This
Who has made it obvious that they delight in you? Take a moment to thank God for revealing His delight in you through them.
If you can't think of anyone who seems to delight in you, stop right now and ask God to provide you with a divine encounter that will deliver this truth about His delight in you straight to your heart. I pray that Your spiritual eyes will be wide open to these encounters. I pray that you will choose to believe the truth about God's feelings toward you.

Jennifer O. White is the author of Prayers for New Brides: Putting on God's Armor After the Wedding Dress and Marriage Armor for the #PrayingBride. Jennifer is a natural encourager who offers hope from the truths of God's Word at her blog, Prayerfully Speaking. With every blog post, Jennifer is exalts the one true God who can empower us to do more than we can ask or imagine.
Image Credit: Thinkstock.com
Comments