A Prayer for Peace that Transcends All Understanding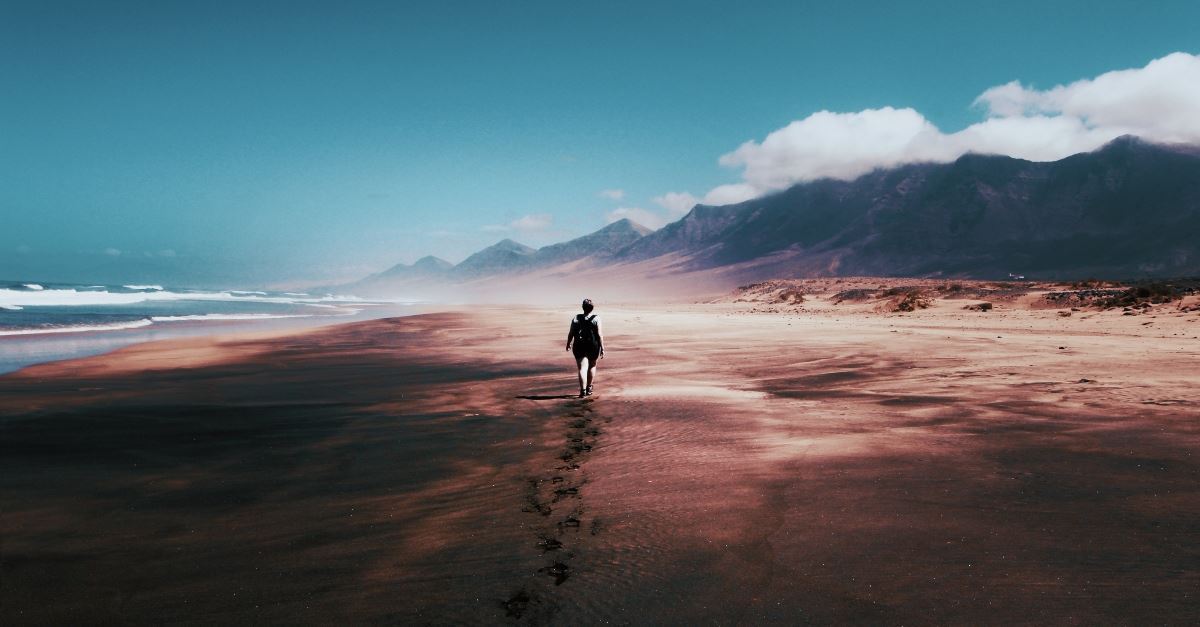 "Do not be anxious about anything, but in every situation, by prayer and petition, with thanksgiving, present your requests to God. And the peace of God, which transcends all understanding, will guard your hearts and your minds in Christ Jesus." - Philippians 4:6-7
In Philippians 4:6-7, Paul reminds us to pray in reverence to God. We are reminded that God is sovereign and that grace was bought by the blood of Christ on the cross. He hears every prayer (Proverbs 15:29), and when we gratefully petition our great God (Phil. 4:6), He is faithful to guards our hearts and minds with his peace, which transcends, or surpasses, all understanding. As we pray to the God of Heaven, may his peace be with us, today and always.
A Prayer for Peace that Transcends Understanding:
You are all-knowing, holding the world as we know it in your compassionate care. Through your Son, Jesus, you made a way for peace to dwell in and among us. Yet we lose sight of it so quickly. At the first crumble of our comfort, we let our trust start to cave in. Peaceseems lost when we don't feel secure. Help us, Father, to believe beyond our fleeing feelings.
Let your truth reign over our circumstances. Stretch our fickle memory to recall your great grace in the hour of desperate need.  Let Paul's inspired words become the framework for our everyday prayers. Calling on you not just in dire straits, but involving you intimately in all of our days.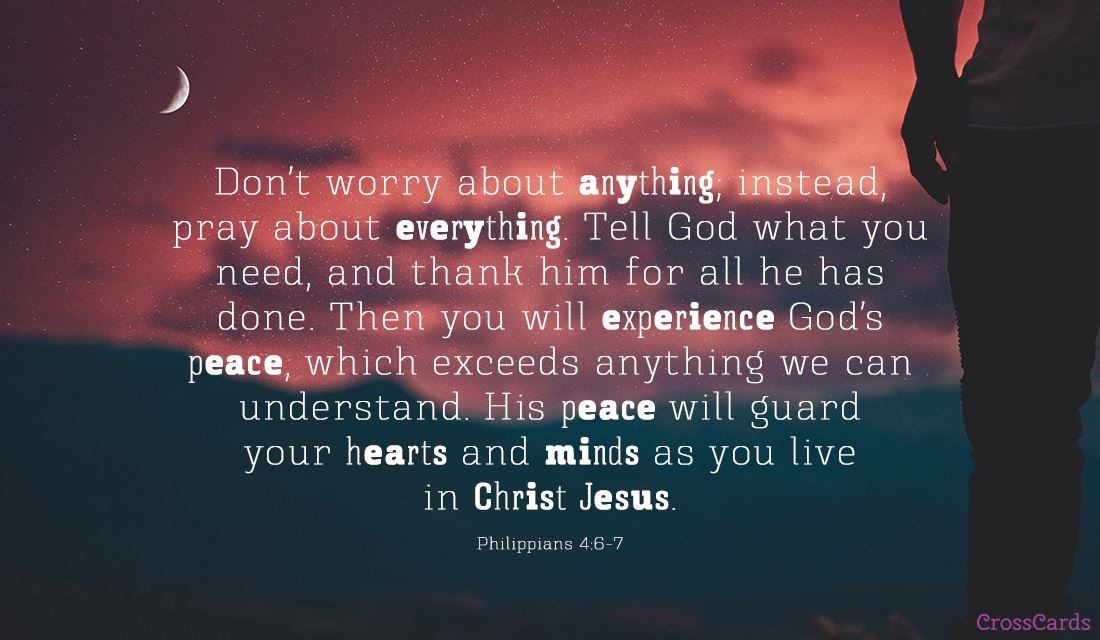 Lord, we pray your Word now:
"Rejoice in the Lord always; again I will say, rejoice. Let your reasonableness be known to everyone. The Lord is at hand; do not be anxious about anything, but in everything by prayer and supplication with thanksgiving let your requests be made known to God. And the peace of God, which surpasses all understanding, will guard your hearts and your minds in Christ Jesus.
Father, let the richness of this truth saturate every crevice of our lives: our professions, hobbies, families, friendships, communities, and churches. Our feelings are fickle, and we ache to feel your presence, God. We pray for more of you. Let your truth permeate our thought life and propel us to move boldly, honoring you in all we do:
Root us in love, Father. Let it guide our every action and lead us to take full ownership of peace. Help us to develop a faith strong enough to withstand trials with grace and authenticity. We're not promised it will be an easy road. There will be times, we know, where peace seems to have deserted us. In those moments, remind us to hit our knees and cry out to You. The God of the universe and creator of all, you are capable of shifting our minds and hearts to remember the peace we have in Christ. When we're tempted to follow fleeting trails that promise a false sense of security, let us hear clearly the voice and conviction on the Holy Spirit. May we not just to hear, but obey, go where you lead us, and do what you call us to do:
Almighty God, you are close to the brokenhearted. you shield us all day long. We can cast all anxiety distracting us from peace onto you, because you care for us. You are mighty to save. You are love defined. In Christ, we can walk through turmoil gripping peace by the hand. Great, wonderful, and incredibly gracious are you, Yahweh.
Now, to him who is able to do farm more abundantly than all that we ask or think, according to the power at work within us, to him be the glory in the church and in Christ Jesus throughout all generations, forever and ever. Amen." (Ephesians 3:20-21 ESV)
In Jesus' Name,
Amen.
More Scripture to Pray Through for Peace:
"For this reason I bow my knees before the Father, from whom every family in heaven and on earth is named, that according to the riches of his glory he may grant you to be strengthened with power through his Spirit in our inner being, so that Christ may dwell in your hearts through faith- that you, being rooted and grounded in love, may have strength to comprehend with all the saints what is the breadth and length and height and depth, and to know the love of Christ that surpasses knowledge, that you may be filled with all the fullness of God. (Ephesians 3:14-19)
Finally, brothers, whatever is true, whatever is honorable, whatever is just, whatever is pure, whatever is lovely, whatever is commendable, if there is any excellence, if there is anything worthy of praise, think about these things. What you have learned and received and heard and seen in me- practice these things, and the God of peace will be with you." (Philippians 4:8-9)
Meg Bucher writes about everyday life within the love of Christ. She stepped out of her comfort zone, and her Marketing career, to obey God's call to stay home and be "Mom" in 2011. From that step of obedience her blog, Sunny&80, was born, a way to retain the funny everyday moments of motherhood. Meg is also a freelance writer and author of "Friends with Everyone."  She loves teaching God's Word and leading Bible study, being a mom, distance running, photography, and the Cleveland Browns. Meg resides in Northern Ohio with her husband, two daughters, and Golden-Doodle.
Image Credit: ©Pexels/TomSwinnen