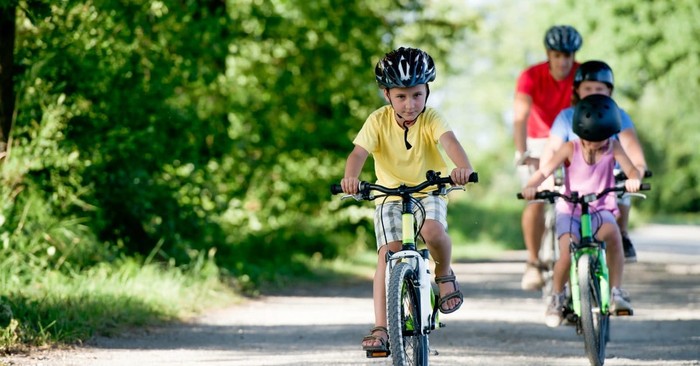 Can you still have a fantastic summer without a trip? Here are five ideas that are so much fun, Disney World will be the last thing on your mind.
The neighbors are packing for a week in Cozumel. Your best friend has tickets to Hawaii. Your sister's family is heading to Disney World. And you… you are wondering what kind of boring summer you'll have without a family vacation.
How can you still have a fantastic summer without the expense of a trip? I'd like to offer five ideas that will help your family have so much fun, Disney World will be the last thing on your mind.
1. Minute-to-Win-It Garage Edition
If you've never seen the Minute-to-win-it television show, you may not realize how contagious the fun can be. Simple items found around the house take on a new meaning when you turn them into mini-competitions in which the whole family can participate. In fact, turn your garage into a Minute-to-win-it studio and invite the neighbors for some fantastic fun!
Check out this list of games to get started: http://www.buzzle.com/articles/minute-to-win-it-games-list.html
2. Slip-n-Slide Kickball
I still remember my first Slip-n-Slide back in 1975. I loved that yellow piece of plastic! Well, there's a new game in town. Slip-n-slide kickball is all the rage. Simply place 4 slip-n-slides or long pieces of plastic in the form of a baseball diamond, put soft-side kiddie pools at each "base" and play kickball!
Not convinced? Betcha you will be after watching this video: https://www.youtube.com/watch?v=QSZJvJ0kg6o
3.  House Swap
This may be out of your comfort zone, but it's an inexpensive way to visit a new city. Swap houses for a weekend with friends or family members. Get a list of museums and points of interest for that area and see the sights! Think of it as an "almost free" vacation.
Here's more information about doing a home exchange: http://www.independenttraveler.com/travel-tips/hotel-and-b-and-b/home-exchange-a-how-to-guide
4. Old-Fashioned Fun
Turn off the video games and teach your kids how to have fun the old fashioned way! Here is a list of things to do that will build fantastic memories and hopefully create new family traditions.
Have a "taffy pull." All you need to know here: http://pioneerthinking.com/cooking/old-fashioned-taffy-pull-party-how-to-host-your-own
Make a lawn-sized Scrabble game. Cut 12" by 12" cardboard squares and use large letter decals to decorate. (found at most dollar stores)
Play driveway games such as hopscotch, four-square, marbles, or beanbags. Include popsicles on a hot day and you've got yourself an afternoon of fun.
Have an ice cream social. Invite neighbors to join you, bringing their favorite ice cream and a topping or two. Let everyone build their own sundae and have a great time.
Have a backyard movie night. With a little ingenuity, you can set up a backyard "theater," complete with popcorn and sodas. Here's a DIY article that shows exactly how to make this happen: http://www.momadvice.com/post/diy-outdoor-movie-night
5.   Become a Fan
Find a local sports team and become their biggest fans. Use fabric paint to decorate shirts and hats with the team colors. Bring coolers of sodas and snacks to every game. Find plastic megaphones at the dollar store and get your family excited. This will provide an activity to look forward to every single week!
You can still have a fantastic summer without a family vacation. Which activity will you try first?
Jennifer Waddle is best known for words of encouragement as an Author, Speaker and Musician for Women's Ministry. She currently has three published books on Amazon and is a regular contributor for WomensMinistryTools.com and GotQuestions.org. Jennifer is committed to sharing authentic messages of hope to women of all walks of life. She loves being a wife of 24 years, mom of four, and nana of two. Most of all, she cherishes her time spent in the Word of God, with a cup of coffee and a beautiful view of the Rocky Mountains. Contact Jennifer here: www.jenniferwaddleonline.com or encouragementmama@gmail.com.
---
---