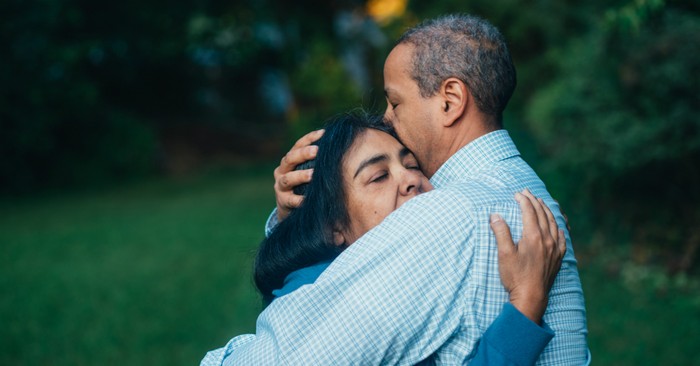 God's heart cries out to us all: Believe in My Son. Receive My love. Come to Me, My beloved child.
Grace is loving-kindness given with no way to repay, earn, or deserve it. It's receiving God's unmerited favor and forgiveness. When perfection reaches down to love helpless sinners. Grace is free and lasts forever.
What an incredible, beautiful gift of freedom yet somehow, we keep returning to chains. Grace by its definition can't be combined with works. The Apostle Paul wrote, "And if it is by grace, then it is no longer by works. Otherwise, grace would no longer be grace" (Romans 11:6).
He also reminds us, "I do not set aside the grace of God, for if righteousness could be gained through the law, Christ died for nothing!" (Galatians 2:21)
Jesus died for us because we could never obtain freedom from sin on our own. We're powerless apart from Him.
Scripture teaches, "It is for freedom that Christ has set us free. Stand firm, then, and do not let yourselves be burdened again by a yoke of slavery" (Galatians 5:1).
Let's look at three burdens God's grace frees us from:
1. The burden of slavery to the law
There are 613 laws in the Old Testament. Jewish leaders added many more, leaving people drowning in detailed law.
Obeying the well-known ten commandments is impossible. Who will never covet another's belongings or put anything or anyone before God? What about always keeping the Sabbath day holy?
We might easily avoid murder or adultery but Jesus took it further when He taught, "Anyone who looks at a woman lustfully has already committed adultery with her in his heart" (Matthew 5:28). He also revealed that hating another person is like committing murder (Matthew 5:21-22). Jesus wanted to make it clear no one can keep the law. He came to set us free from this impossible task.
Some are able to live more righteously than others. One might live an evil life, committing violent acts while another gives their life to serve those in need. The person who demonstrates more kindness might think this earns her a ticket to heaven. The problem is the standard for living in God's presence in heaven is perfection. Scripture instructs us in James 2:10, "For whoever keeps the whole law and yet stumbles at just one point is guilty of breaking all of it."
During the Apostle Paul's ministry to the early church, he continually fought the lie that Gentiles must obey the Jewish law to become Christian. He explained in Galatians 2:16, "Know that a person is not justified by the works of the law, but by faith in Jesus Christ. So we, too, have put our faith in Christ Jesus that we may be justified by faith in Christ and not by the works of the law because by the works of the law no one will be justified."
Jesus came to set us free from the law's immense weight! He promised, "Take My yoke upon you and learn from Me... for My yoke is easy and My burden is light" (Matthew 11:28-30).
2. The burden of being "good enough"
How good is "good enough?" How do you know if you've earned favor with God?
Sometimes, God uses me to bless someone either through words I write, giving encouragement, or offering help. In those moments, I may fleetingly feel virtuous. But other times, ugliness comes out of my heart: jealousy, pride, disdain, deceit, and other offenses. Then I know how weak I am. I can only live a godly life as I rely on Christ in me.
It's impossible to reach heaven through obedience. We may as well try to fly to the moon in a hot air balloon. The Bible teaches, "There is no one righteous, not even one" (Romans 3:10). Jesus once stated, "No one is good—except God alone" (Luke 18:19).
On my best day, when I'm seeking Jesus and have spent time praying and yielding my heart to Him, I still struggle with pride, impatience, and selfishness. To overcome these faults, I must rely on His holiness through the power of the Holy Spirit.
Jesus came to earth and lived as a human to understand our struggle against sin and died to break its power. Without Him, we remain enslaved. My best intentions and greatest efforts can't overcome the seed of sin planted when the first man and woman rebelled against God. By being reborn through the power of the Holy Spirit, we can choose righteousness.
In God's great love, He sent His Son to do what we're incapable of: live a perfect life and pay the price for disobedience. Since sin deserves death, He suffered and died in our place; being fully God, He conquered death and rose as our eternal Savior. He now offers salvation to anyone who believes in Him. Not because we're deserving but because of His grace and unfailing love.
When we trust in Christ and receive His grace, His Spirit dwells in us and enables us to live honorably. When we fail, as we all do, He promises, "If we confess our sins, He is faithful and just and will forgive us our sins and purify us from all unrighteousness" (1 John 1:9).
3. The burden of doubting salvation
The denomination I grew up in taught once you believe in Jesus, you're His forever. But the underlying disclaimer, live by the rules or you probably never truly believed, caused doubt. Therefore, members frequently made multiple professions of faith. I remember one evangelist who proclaimed, "If you're not leading people to Jesus, you're not a Christian!" Fear struck my heart. Being shy and reserved, I lacked such boldness. Seeking to prove my Christianity, I made myself go door to door in my neighborhood. I can't remember what I said but I probably invited them to the revival.
My struggles with doubt usually resulted in conversations with Jesus. Wrestling in prayer with Him after the incident where I went door-to-door, a light came on as I thought, "I know Him." Regardless of what anyone might say, His Spirit lives in me and He's been there for me since the moment I believed in Him. Salvation comes through a relationship. Christianity is knowing Jesus personally and loving Him. Religion is about performance. Yes, He wants us to follow Him and strive to love as He loves but He'll never leave us.
Jesus promised, "My sheep listen to My voice; I know them, and they follow Me. I give them eternal life, and they shall never perish; no one will snatch them out of My hand. My Father, who has given them to Me, is greater than all; no one can snatch them out of My Father's hand. I and the Father are one" (John 10:27-30).
God pours out grace on the undeserving. All people rebel against God yet He gives us every day the gifts of sunshine, nature, food, drink, and life. The Bible says He sends rain on the just and unjust (Matthew 5:45). He gave His Son to offer life to anyone who believes. He welcomes all people. And once we belong to Him, we are held in His embrace of love and grace forever. He blesses us not because we're good but because He loves us.
Grace Made Clear
One incident in my life made grace real to me. I've regularly attended worship services and read my Bible for most of my life but sometime after marriage, my husband and I stopped going to church for a few years. I went days without thinking about God.
In my late thirties, I'd never been pregnant though I wanted a child. My husband, however, felt reluctant about being a father, to the point he had a vasectomy. I agreed with his decision in my head but not my heart. I buried my feelings and thought I could manage. Much later, I found out he made that choice because he didn't think he'd be a "good enough" dad.
Eventually, I began seeing a counselor who suggested we try alternative conception methods such as artificial insemination. Over time, my husband's heart had softened and he realized God would give him what he needed to parent well. We decided to take her advice and I went in every month for almost a year.
After a year of no success, we decided to stop insemination efforts. I remember praying one day and asking God to show me what I should do or to change my desires.
A few days before Christmas, the doctor we'd been working with called and asked if we'd ever considered adoption. I told him we might though my husband and I hadn't discussed that option before. His words taught me a lesson in grace: "There's a baby boy who was born yesterday who's available if you're interested." What?! Twenty-two hours later I held our son in my arms.
I'd been "doing" the least for God I'd ever done and suffered from a choice we made, yet He gave us a miraculous opportunity to adopt. I felt the full meaning of grace more at that moment than ever before. I realized then and know now, God's love for me isn't dependent on my behavior. He simply loves me. Completely, without reservations. No ifs or buts.
Our son is now grown and married and one of the greatest blessings we've experienced. He provides a picture of what God's grace is like. And my husband has been the best dad anyone could have. God's gift to us also brought me back to serve Him, but with joy, and not because I felt obligated.
God's Heart
Grace reveals God's heart and character. From the moment He decided to create mankind in His own image, He planned to redeem us. He didn't want children who were programmed to love and serve Him. He wanted us to willingly come to Him in faith trusting His goodness. He also knew that giving us the choice to rebel meant allowing corruption into the world. Sin destroys whatever it touches. We only have to look around us to see the results of disobedience: pain, chaos, suffering, wickedness, and death. God couldn't allow evil to enter heaven or for sinful mankind to live forever. We faced death and eternal separation from our Father.
But God unfolded His majestic plan. His perfect Son, Jesus Christ, would come to earth as a man, fully God yet fully human, live the perfect life required for salvation, choose to pay the price for our rebellion, and as God, overcome death.
When Jesus rose again, He made it possible for anyone who believes in Him to receive the gift of eternal life. He offers His righteousness in exchange for our sin.
Grace says anyone who calls on His name will be saved (Romans 10:13). God's heart cries out to us all: Believe in My Son. Receive My love. Come to Me, My beloved child.
Photo Credit: ©Unsplash/Gus Moretta
Susan Aken writes devotions and articles for Wholly Loved Ministries, is an Oklahoma native who's lived in Nebraska since 1987 and has been in public education for over thirty years. She and her husband have one son and a wonderful daughter-in-law. Besides writing she has a passion for special needs and prayer ministries. She enjoys time with family, reading, photography, movies, walking in nature, and a nice cup of tea. She believes life is a journey and we're all in different places. Jesus is everything to her and it's all about grace. Visit her at susanaken53.wordpress.com or on Facebook.
---
---