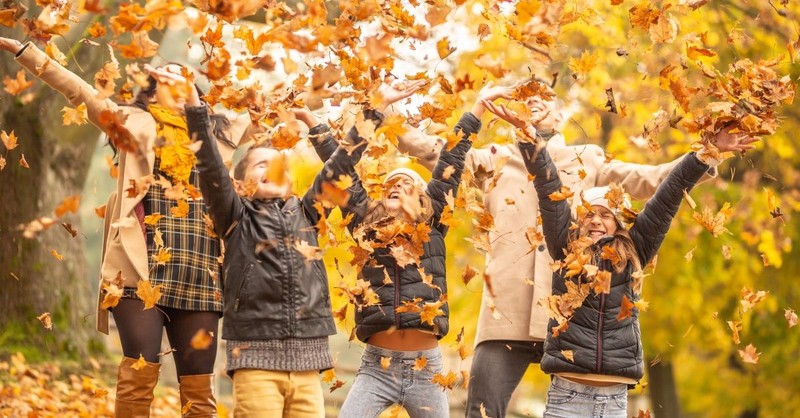 101 Fun Things To Do This Fall
Melanie Moore

Melanie Moore
Have fun with your family in this beautiful fall season! I have 101 easy, fun ideas to make fall special.
This fall, I want to cherish each day! I've gathered some of my favorite ideas for enjoying this beautiful season:
1. Collect and press brightly colored leaves. You could even create a leaf mobile!
2. Watch a high school football game and cheer together! (Loudly!)
3. Create a new door wreath with fall flowers and ribbons
4. Invite friends over for chili night
5. Carve/decorate a pumpkin
6. Go on a hayride
7. Make cards for special friends and mail them *snail-mail*
8. Starbucks Pumpkin Spice Latte or make your own low-fat version with this great recipe!
9. Enjoy a family bike ride
10. Capture breath-taking views from the Blue Ridge Parkway!
11. Try these Top 20 Apple Recipes -- Wow!!
12. Start a family gratitude journal
13. Start a family prayer journal
14. Surprise someone you love with a fall-colored mum
15. Tailgate before a football game with friends
16. Visit the pumpkin patch
17. Create a Thankful Tree -- love this! This would be great with kids!
18. Collect pine cones and create a beautiful garland
19. Decorate your mantel with fall leaves, twigs, and one of these beautiful FREE printables!
20. Volunteer at your local soup kitchen or food bank
21. Create a Christmas shoebox for Samaritan's Purse
22. Go to the library and check out fall-themed books
23. Read spooky "ghost stories"
24. Go to a kids' soccer game and hand out water bottles to the players
25. Prepare a nature scavenger hunt
26. Roast pumpkin seeds
27. Make pumpkin pies
28. Visit a corn maze!
29. Go on a picnic and have smores
30. Make caramel apples
31. Sponsor a child through Compassion International and write a letter to them
32. Candy corn manicure? So cute and fun!
33. Are you ready for some FOOTBALL... cupcakes???
34. Create a hand-made quilt from scraps of clothing your kids have outgrown
35. Host or attend a fall festival with fun games, crafts, and prizes!
36. Read a novel
37. Read to your children
38. Make crockpot apple cider... mmmm, I bet this smells so good!
39. Make Thankful Rolls -- one of my FAVORITE ideas!!!
40. Spend a "offline" day with your family ... no cell phones, no internet, no TV, no texting... just family.
41. Give sacrificially to someone in need
42. Create a fall "bucket list" with your family of the top 10 things you want to do this fall!
43. Purge your closets of old clothes that you no longer wear and give them to charity
44. Create a waffle cone cornucopia filled with M&M's -- so cute!
45. Jump in leaf piles and take lots of photos!
46. Make pumpkin pancakes with cinnamon syrup... yummy!
47.Enjoy fun turkey crafts with your children
48. Make these cute and easy paper plate scarecrows
49. Print out these great FREE fall printables for your preschooler
50. Bob for apples!
51. Have a sleepover in the family room and talk late into the night
52. Plan a day at the park with picnic snacks
53. Invite friends over for a football game and serve any of these great game day recipes!
54. Write a "thank you" note to your children's teachers
55. Bake candy corn sugar cookies
56. Read the story of the Mayflower to your children
57. Visit a local nursing home and ask how your family could volunteer
58. Capture one photo per day (and give your children a disposable camera to do the same!) and create a fall family photo album
59. Start your Christmas shopping early! :)
60. Make pumpkin butter -- this sounds SO good!
61. Enjoy a bonfire with friends and family
62. Slow down... after the craziness of summer, enjoy the brisk autumn air, the smell of the leaves, the coolness of evening, and savor each moment...
63. Make pumpkin rolls... my mouth is watering....
64. Invite a new family at church to your home for dinner
65. Fly a kite!
66. Talk about fire safety with your children and take treats to the fire station
67. Pull out the sweaters, wash them up, and anticipate the coziness to come!
68. Make caramel corn
69. Watch "A Charlie Brown Thanksgiving" with your children
70. .... or, watch "It's the Great Pumpkin, Charlie Brown"!
71. Go for an early morning walk and watch the sun rise on a cool, crisp day
72. Go on a "day trip" with your family
73. Create a list of the top 10 things you love about each of your children ... frame and place in their room.
74. Volunteer to babysit for a single mom
75. Host a fall popcorn buffet -- this looks like so much fun!!!
76. Visit your child's class and read a fun book to them
77. Gaze at the stars....
78. Create acorn-filled mason jar candle holders... so pretty.
79. Pray through the Psalms
80. Make a huge pot of homemade soup and enjoy your cozy home!
81. Visit a craft show with friends (great way to get ideas for Christmas!)
82. Bring out the pumpkin or apple candles!
83. Take a photo of your yard or home in the same place every day/week and watch the time-lapse season changes!
84. Think about the "seasons" of life, and write a letter to yourself about what you will savor about this season.... ten years from now, it will be a sweet reminder...
85. Check out this AMAZING list of Thanksgiving crafts!
86. Hold a food drive
87. Pumpkin Spice Cookies... heaven....
88. Did someone say "Crockpot Baked Apples"? Yes, please!
89. Create these fun kids Thanksgiving recipes! This looks like so much fun!
90. Surprise Daddy with breakfast in bed!
91. Stay at late and watch the harvest moon
92. "Edible Eyeballs" cookies -- so funny! My boys would love this!
93. Decorate your front porch for fall
94. Tackle an outdoor project before winter!
95. Make homemade applesauce in the crockpot -- this looks easy and delicious!
96. Enter a race!
97. Know of someone who can't go home for Thanksgiving? Open your home to them!
98. Play hide and go seek outside with your kids
99. Find a good mystery to get absorbed in on "spooky" nights....
100. Create a beautiful fall centerpiece
101. Start a daily journal of the best part of each day.... and remember to cherish every single day, even the not-so-great ones...
What would you add to this list? What are you most looking forward to this fall?
Photo credit: ©GettyImages/MarianVejcik
Comments
---
---