A Prayer to Trust God's Plan for Us
By: Meg Bucher
"He trains my hands for battle; my arms can bend a bow of bronze." 2 Samuel 22:35 NIV
Confession: I was laughed out of cheerleading try-outs. It came down to a V that didn't look at all like a V at all. I quickly labeled my hyperextended elbows a weakness. For a dancer, cheerleading was a natural next step. Like many awkward tweens, when I didn't make the cut, I felt a little stunned, embarrassed, and lost.
But, I kept trying out for teams, with varying success. Though my dad helped coach my grade-school basketball team, I never took a shot in a game. While attempting to serve at tennis team try-outs, my racket connected with the coach's head. I assumed my dance background would make hurdles easy. It did not. But then -- after I tumbled over one at my first track meet, my coach threw me in the 800 meter run.
When coach threw gangly little "Chicken Wing" (the nickname my high school youth group so lovingly- and accurately- gave me) into the 800M run, it lit a spark. During a collegiate XC practice, I hit my knees and surrendered my life to Jesus Christ.
"He trains my hands for battle; my arms can bend a bow of bronze."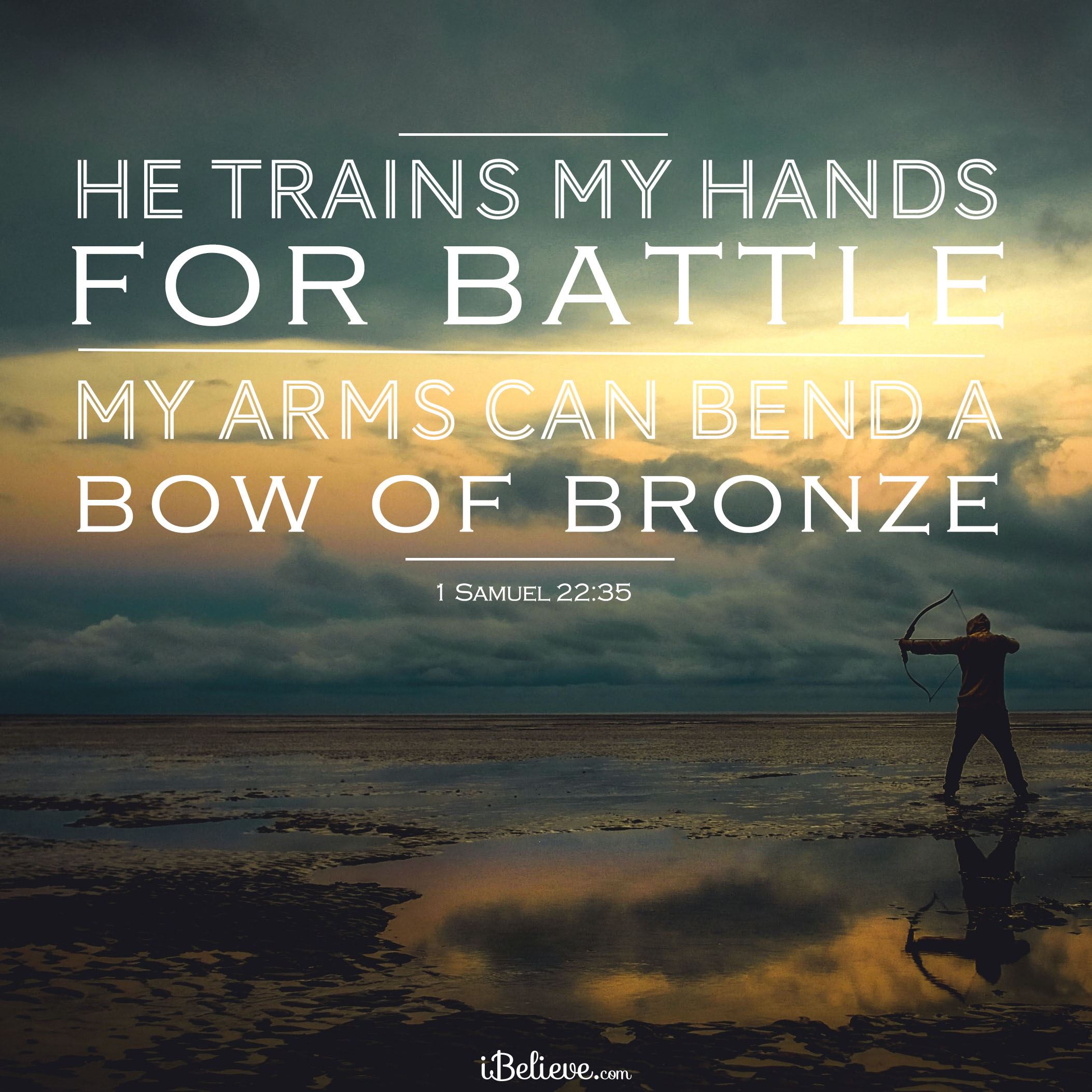 A bow is a symbol of strength.
Life battles us for our passions and threatens to steal victories written for us to claim. When we start to mature in Christ, we begin to realize what we're supposed to fight for.
"He trains my hands for battle…"
Yes, He does. In His own way, with the way He made me, He trained me. Each failed attempt at sports taught me a little bit about who I was… and a lot about who I wasn't.Three years after that first 800 meter, I received an athletic scholarship to attend my dream college.
Lots of life makes no sense, until it does.
"…my arms can bend a bow of bronze."
I believe we're more capable than we can imagine. When we obediently grip Jesus' hand, we begin to see how. He called me to the track to teach me how to fight. Over two decades later, as my body slows down and my legs begin to wear out, God's love and faithfulness remain. Through all of the voices and circumstances in life that continue to say, 'no,' He continues to show me who I am.
Father, we praise you for crooked elbows and knobby knees. Thank you for imperfect parts and Your perfect love. Forgive us for wanting to be anything we weren't built to accomplish, and bless us to be all you have purposed us to be. In Jesus' Name, Amen.
---
Meg Bucher writes about everyday life within the love of Christ. She stepped out of her comfort zone, and her Marketing career, to obey God's call to stay home and be "Mom" in 2011. From that step of obedience her blog, Sunny&80, was born, a way to retain the funny everyday moments of motherhood. Meg is also a freelance writer and author of "Friends with Everyone." She loves teaching God's Word and leading weekly Bible study, being a mom, distance running and photography. Meg resides in Northern Ohio with her husband, two daughters, and Golden-Doodle… all avid Cleveland Browns fans.
Teach Us to Pray is a FREE prayer podcast hosted by iBelieve writer Christina Patterson. Each week, she gives you practical, real-life tips on how to grow your faith and relationship with God through the power of prayer. To listen to her episode on What to Pray in the Morning for a Worry-Free Day, click below!


Now that you've prayed, are you in need of someone to pray for YOU? Click the button below!
Visit iBelieve.com for more inspiring prayer content.
Originally published Tuesday, 29 September 2020.