Title: A Prayer for Hope When Life Seems Hopeless
By: Emily Rose Massey
"For in this hope we were saved. Now hope that is seen is not hope. For who hopes for what he sees? 25 But if we hope for what we do not see, we wait for it with patience. Likewise the Spirit helps us in our weakness" (Romans 8:24-26, ESV).
My husband and I recently celebrated twelve years of marriage. Although I enjoy reflecting and focusing on all the wonderful and joyous memories together over these last twelve years, it can be said that our faith has been tested under waves of chaos and storms and under the weight and pressures of life.
It would be amazing to have a life full of happy times only, but it's in the fire, the trials, and the storms of life that we are truly strengthened. We can choose to rise above the chaos or allow hopelessness and despair to overtake us.
Our faith in Jesus Christ has given us hope to remain steadfast because we know He is faithful. This hope is what has been our anchor through all.
This anchor is what holds you to your trust and faith in the Lord. Hope isn't something that can be created or conjured up. Sure, we can give ourselves a pep-talk when we are feeling downcast or be encouraged by a friend to keep putting one foot in front of the other, but true hope is given to us by the Holy Spirit. He endows us with the faith that God's promises are true; He is not a liar- He can be trusted completely and that ultimately, His sovereign hand is working in our life; we will not be put to shame.
Having an eternal perspective lifts your eyes from the cares of this life and helps you move forward when you are going through a storm to remind you that ultimately, this place is not our home; Being heavenly-minded during earthly trials is what fuels your hope in God. Romans 8 speaks of this kind of hope:
"For in this hope we were saved. Now hope that is seen is not hope. For who hopes for what he sees? But if we hope for what we do not see, we wait for it with patience. Likewise, the Spirit helps us in our weakness" (Romans 8:24-26, ESV).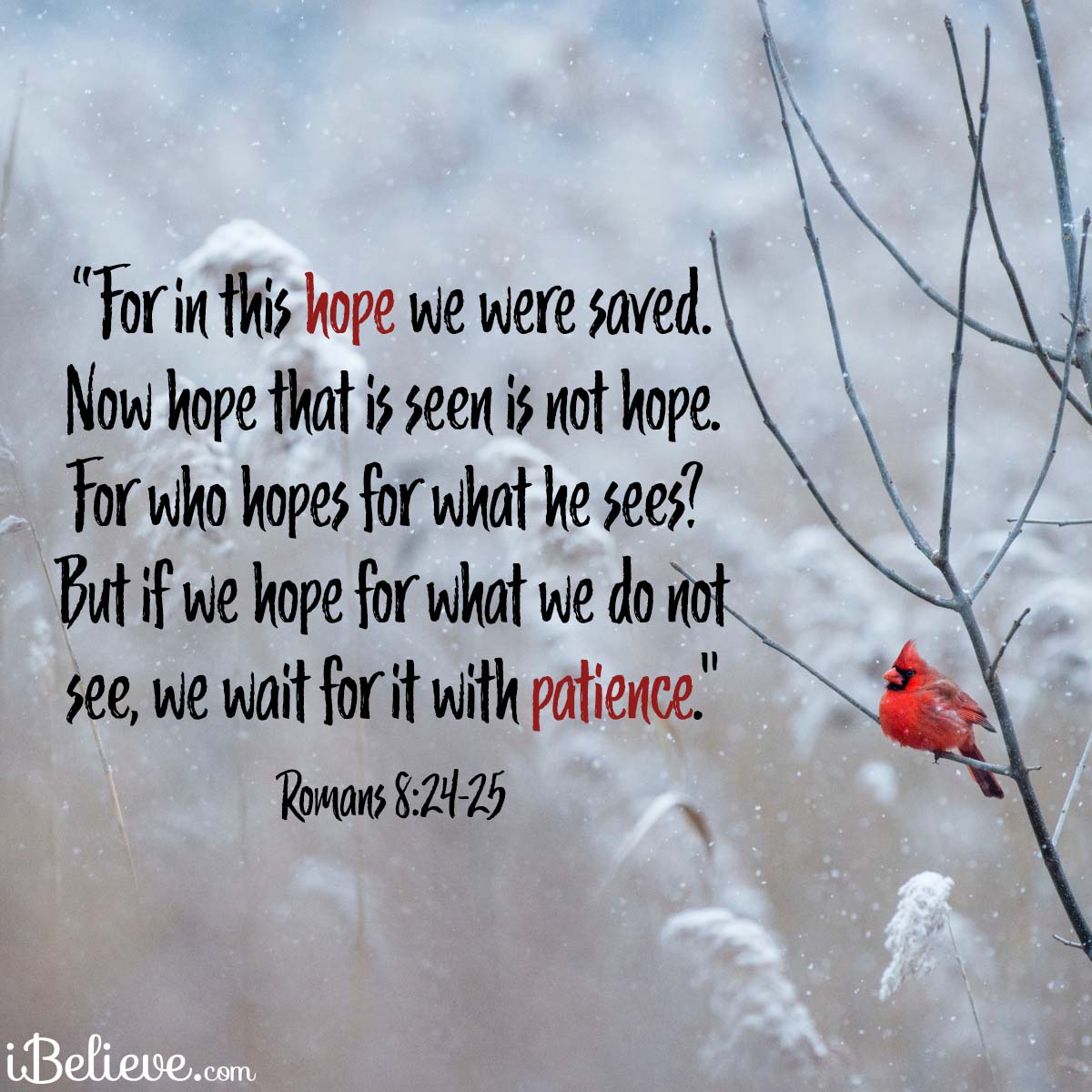 We eagerly wait for the return of Christ and the day we will abide with God forever in our heavenly home. No matter how dark things may become around us in our world or in our personal lives, we must ask the Holy Spirit to fill us with hope. We must renew our minds with God's Word so we will be able to seek and understand God's perfect will in our lives more clearly. He has a purpose for us to fulfill here on earth and that is to share with others His glorious Gospel so that they may also find the hope that is available to God's children.
As a child of God, we may feel a hopelessness in our hearts, but we must move beyond our feelings and remind our hearts of the great hope we have in Christ. The Holy Spirit can help us in our weaknesses. Let us ask Him for help when hopelessness tries to overwhelm us, moving beyond what we see and connecting ourselves to the hope that is attached to our trust in God's promise of eternal life in Christ.
Father God,
I am experiencing a heaviness, a weariness in my soul. Our world is in a constant state of chaos it seems, and my own soul is in turmoil from the weight of the cares of this life. But I refuse to live by what I feel for I know You are faithful and will not let me drown in the waves of the storms of life. Holy Spirit, fill my heart with a hope that can only come from heaven.
Help me fix my eyes on eternity and give me the boldness to share the Gospel with others so they would know of this hope that heaven awaits those who repent of their sin and put their full trust in Christ alone. Thank You for never leaving me in my weakness and for strengthening me with Your grace each day.
In Jesus' name, Amen.
---
Emily Massey began writing short stories and poetry as a little girl, entered the blogging world in her early 20s, and published her first book in 2015. She enjoys being a stay-at-home momma while still being able to pursue her passion as a writer. Believing she has been forgiven much, she loves much, and desires to point others to Christ and His redemptive and transforming power, especially by sharing truth found in God's written word. If you would like to connect with Emily, you can visit www.emilyrosemassey.com
Want more Your Daily Prayer? We also have a podcast! This podcast is different than the written devotional you just read, but carries the same commitment to a closer look at Scripture each day. You can find out more by clicking the link below!
Now that you've prayed, are you in need of someone to pray for YOU? Click the button below!
Visit iBelieve.com for more inspiring prayer content.
Originally published Thursday, 17 February 2022.