September 9
His Witnesses
"…you shall be My witnesses…even to the remotest part of the earth…"
As these departing words fell upon the ears of those who had followed Him day after day, those who ate with Him, prayed with Him, witnessed His miracles up close and personal and touched His nail pierced body living and breathing in their midst, how they must have felt so inadequate, fear gripping them with billowing questions of how they were to accomplish this great commission. If one listens closely, it's almost as if we can hear them saying one to another: the fate of the world is at stake, we must tell them of Jesus, how can we not rise to this great task, fail though we may, we must give it our all. And so these loyal followers, these faithful disciples did give all, even their very lives. They were all martyred except for John and he was placed into a cauldron of hot oil before being exiled to the island of Patmos to live out his natural days. The disciple we know as doubting Thomas was charged through with a spear and the once denying Peter was crucified upside down. These were men who had the power of God resting upon them; for they were chosen and completely abandoned to do His will no matter the cost.
If the Holy Ghost was given right of way in the church today, in your life today, there would be no un-evangelized part of the world, no heathen lands with millions going to the grave without the knowledge of Jesus. How the heart of God must break at the sound of the lost weeping as they go away from His presence because no one told them of Jesus. The complacent answers to this charge: "someone else will take care of it", the hard hearted answers to this charge: "they have their own responsibility to find out about Jesus, for we are all without excuse", the irresponsible answers to this charge: "if they're not chosen then they can't be saved anyway," the naïve answers to this call: "God will send someone if they are meant to be saved."
We will rationalize our excuses as to why we are not the witness to the world that Jesus Himself called us to be. Jesus never got into doctrinal issues of predestination with the disciples when He gave them this great commission, but He did lay the responsibility of witnessing upon His followers. He didn't discuss fear, or failure. He even told them in earlier verses that it wasn't important for them to know certain things, but the one thing they did need to understand was that they were His witnesses all the way to the ends of the earth. Their witnessing was to know no bounds, no religious barriers, no separations of color or race, no limits of distance, and no place for personal agendas or ideologies.
Their commission was very simple when looked at through the eyes of heaven: There is a lost world out there because they do not know about Me. You are to go and tell them. Be the witness today that you were commissioned to be, and may you not rest until all have heard.
"The man who recognizes new duties above those he has been taught to observe, who sees beyond the circle of conventional obligation the dim form of new claimants on his heart and service, is a moral innovator, an enlarger of human life. How many such have still to rise!"
Cotter Morrison.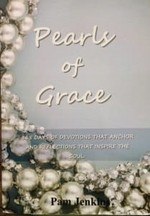 Pearls of Grace Devotional Book
Pearls of Grace is a book of devotions for the entire year, including a read through the Bible in a year calendar, broken down for every day. Beautifully written with encouraging words of hope and empowering words of joy and strength for every woman. Pam draws from the truth and richness of God's Word and gives real life examples in her down to earth style. A must have in your library, click here for more information.
For more from Pam Jenkins and Jabbok Ministries, please visit www.jabbokministries.com!
Listen to Pam Jenkins's daily broadcast on OnePlace.com.