September 7
A Platform of Praise
"…endure all things for the sake of those who are chosen…"
There was an old pack mule that fell down into a deep pit that had been dug. The farmer looking down with great perplexity as to how to get the mule out concluded that it was an impossible task. After much thinking he decided to fill the pit with dirt and just bury the mule alive to put the poor thing out of its misery. A cruel plight you may think, but an amazing thing occurred. As the farmer dropped each load of dirt into the hole the mule began packing down the dirt beneath his feet. With each load dropped the mule inched closer and closer until finally he was close enough to the top to climb out of the hole. The mule took what was given him, made a platform and was brought to higher ground.
God will take our weaknesses and build a platform of praise to His glory. God will take someone who is not gifted in speech and will place them on platforms before kings and governors. The slow of speech will often be heard speaking His words before the multitudes. The unlearned will be found confounding the wise, and the poor will be found among the nobles. God's way is not our way, and the reasoning of man can never explain or comprehend Him. While the worldly minded question God's order, God's ways, and God's Word, He is ever found building a platform for one to stand and sing His eternal praises. Those lofty places are built upon the low ground; the ground that has been brought low by grief and plowed by heartache. It is a ground that none would ever choose to walk upon but a ground that will be used of God to unearth wonders of Himself for all to stand in amazement of.
Use whatever God brings into your life and build a platform of praise to Him. Difficulties are platforms in disguise and are often missed by those who run from them, but are found by those who embrace them. You will find these platforms in many places; your job, your marriage, in sickness, death, physical challenges, wayward children, financial difficulties, heartaches and the list could go on and on. Allow God to set you on the platform that He has designed your feet to stand upon and your life will find joy inexpressible.
This is the platform that You have built for me to stand upon, to raise me up that You may be seen.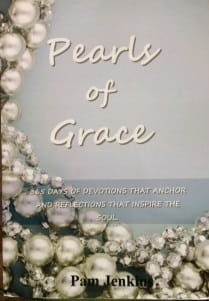 Pearls of Grace Devotional Book
Pearls of Grace is a book of devotions for the entire year, including a read through the Bible in a year calendar, broken down for every day. Beautifully written with encouraging words of hope and empowering words of joy and strength for every woman. Pam draws from the truth and richness of God's Word and gives real life examples in her down to earth style. A must have in your library, click here for more information.
For more from Pam Jenkins and Jabbok Ministries, please visit www.jabbokministries.com!
Listen to Pam Jenkins's daily broadcast on OnePlace.com.
Originally published Wednesday, 07 September 2022.