September 30
Our Heavenly Report Card

"It is by his deeds that a lad distinguishes himself, if his conduct is pure and right."
Like every other child who had not given their best in school, I dreaded report card day. I knew that my grades in math, reading, science and social studies would be fine but there was that one category I was worried about that I failed miserably in every time; Conduct! I went home with a "No No" letter pinned to my shirt just about on a daily basis and the picture on the outside was always the same; a big red sad face drawn across the front. Although my teacher didn't appreciate my giftedness at the time, I was a very talented talker! If I thought it I said it, and being still was something only a rock did. No matter how hard I tried to hide my bad behavior notes from my mother, my report card would always give her the scoop. It never turned out good for me in the "end", if you understand what I mean. I had a good heart but my conduct didn't show it. In other words beloved, my conduct didn't match my heart. 
Conduct is much like a report card, it will tell what we've been up to or have not been up to! If our heart belongs to Jesus then our conduct should line up with that; it should give proof of our faith. As a young Christian I learned quickly on that my behavior had to change if I was ever going to be used by God in the lives of others. Conduct is the label that will reveal what you're made of and all the world will read it! It is the conduct of the child of God that will distinguish him or her from every other being on the face of the earth. It's what sets you apart as holy unto God and separate from the world. The very heart of it cries out; "I'm different!" This is the A+ for God's child.
If God were to grade your conduct based upon your profession today, how would you fair? Is your conduct at home in line with your conduct at church? Does your behavior in the workplace display your love for the Lord to Whom you profess to belong? Once we come to a saving knowledge of Jesus Christ, our pattern for living is changed. We can no longer act as we want but rather we must act in such a way that adequately expresses Who Jesus is so those who see us may come to the same saving knowledge that we have. Our conduct is everything, precious one. By it you can win others to Christ or you can lose them. Paul told the church at, that a women's behavior alone could win over her husband. Words are meaningless unless they are cloaked in action. 
What kind of grade would Heaven give you today dear friend? What areas of improvement would God make note of for you to apply? What does your conduct tell the world?
May my conduct be pleasing in thy sight today in all things.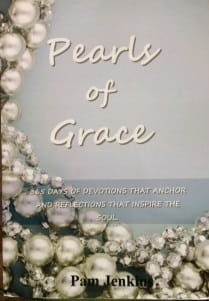 Pearls of Grace Devotional Book
Pearls of Grace is a book of devotions for the entire year, including a read through the Bible in a year calendar, broken down for every day. Beautifully written with encouraging words of hope and empowering words of joy and strength for every woman. Pam draws from the truth and richness of God's Word and gives real life examples in her down to earth style. A must have in your library, click here for more information.
For more from Pam Jenkins and Jabbok Ministries, please visit www.jabbokministries.com!
Listen to Pam Jenkins's daily broadcast on OnePlace.com.
Originally published Friday, 30 September 2022.