September 3
What Can Wash Away My Sins?
"…The blood of Jesus His Son cleanses us from all sin."
One night in a church service a young woman felt the tug of God at her heart. She responded to God's call and accepted Jesus as her Lord and Savior. The young woman had a very rough past, involving alcohol, drugs and prostitution. But, the change in her was evident. As time went on she became a faithful member of the church. She eventually became involved in the ministry, teaching young children. It was not very long until this faithful young woman had caught the eye and heart of the pastor's son. The relationship grew and they began to make wedding plans. This is when the problems began. You see about one half the church did not think that a woman with a past such as hers was suitable for a pastor's son. The church began to argue and fight about the matter. So they decided to have a meeting as the people made their arguments and tensions increased, the meeting was getting completely out of hand. The young woman became very upset about all the things being brought up about her past. As she began to cry the pastor's son stood to speak. He could not bear the pain it was causing his young wife to be. He began to speak and his statement was this, 'my finance's past is not what is on trial here. What you are questioning is the ability of the blood of Jesus to wash away sin. Today you have put the blood of Jesus on trial. So, does it wash away sin or not?'"
Author Unknown
If Jesus' blood cannot wash away the vilest of sinners then it cannot wash away your sin beloved. If His blood has not power to cleanse us from every sinful stain then we are without hope in this world. But His blood is able! His forgiveness is not selective, it is never partial and it is not temporary, it is full and it is free. His saving power is to the uttermost and the gutter most! Amen? There still remains full forgiveness of sin and a cleansing of all unrighteousness for the life that has been cleansed by the blood of Jesus. Who then shall bring a charge against God's elect? (Romans 8:33) There is no soul that God has given the right to walk into the presence of holiness and bring before Him the sins of one of His children! If God justifies, who can condemn?
No one, absolutely no one has the right to bring up the past of another! If and when we do, we are challenging the very cleansing power of the blood of Jesus Christ. If God be for us beloved, then who can be against us? If you are His child, it matters not what your past is, it's been taken care of, it's as if it has never happened. To secure your future, God satisfied your past and to accomplish your future, He is working in your present.
"There is a fountain filled with blood drawn from Emanuel's veins. And sinners plunged beneath that flood lose all their guilty stain."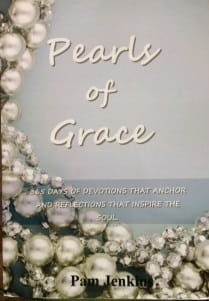 Pearls of Grace Devotional Book
Pearls of Grace is a book of devotions for the entire year, including a read through the Bible in a year calendar, broken down for every day. Beautifully written with encouraging words of hope and empowering words of joy and strength for every woman. Pam draws from the truth and richness of God's Word and gives real life examples in her down to earth style. A must have in your library, click here for more information.
For more from Pam Jenkins and Jabbok Ministries, please visit www.jabbokministries.com!
Listen to Pam Jenkins's daily broadcast on OnePlace.com.
Originally published Friday, 03 September 2021.