September 26
There Are Angels Among Us

"For He will give His angels charge concerning you, to guard you in all your ways. They will bear you up in their hands, that you do not strike your foot against a stone."
Who can forget the popular TV series, "Touched by An Angel" or "Highway to Heaven"? The shows had one thing in common that drew thousands of followers; a show about angels. People have long since been fascinated by angels and any stories concerning them because they are a mystery to us. Most everyone at one time or another has hoped to encounter an angel in their life. Angels are spiritual beings sent by God to give assistance, protection, information, strength, comfort etc…during certain times of people's lives. Hebrews 13:2 warns us; "Do not neglect to show hospitality to strangers, for by this some have entertained angels without knowing it." And in Psalm 103:20 the Psalmist writes, "Bless the LORD, you His angels, mighty in strength, who perform His word, obeying the voice of His word!" Angels are, we are told, strong and mighty who perform God's commands and obey His voice. They are responsive to the will of God and carry out whatever it is His heart desires.
One such desire that God has is that His children are taken care of, sheltered, strengthened, encouraged, protected, guided and more. Their number is beyond what we could begin to count in this lifetime and their supernatural powers are incomprehensible to the finite mind. I believe that we will encounter them in life and most of the time we will never know who they are. But one thing is for certain, they are very real and God assigns them to us. It's not that we are to depend upon them or give them our worship, but God makes it clear in His Word that we are to be aware of their presence at all times and in every situation. They come and go in the presence of God and behold His face so we do well to respect their positions and be reminded of their activities and involvement in the lives of God's children and His earth.
But one thing we can know, when we are in a desperate situation, we can cry out to God to give His angels charge concerning us to guard us in all our ways and to strengthen us for the task at hand. And when we find ourselves knocked down, weary and in a place where we have no strength to carry on, they will pick us up and carry us so we do not fail in our journey of faith. God has not only given all of Himself to you, but He has also given to you the supporting presence of His angels. And when it's your time to take that Heavenly flight you will not go it alone; they will take you by the hand and give you a personal escort home. What a wonderful gift they are to our lives. They are with us even now. Give God the glory and be mindful that there are angels among us!
Remind me of the unseen presence that keeps company with me.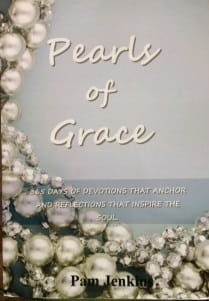 Pearls of Grace Devotional Book
Pearls of Grace is a book of devotions for the entire year, including a read through the Bible in a year calendar, broken down for every day. Beautifully written with encouraging words of hope and empowering words of joy and strength for every woman. Pam draws from the truth and richness of God's Word and gives real life examples in her down to earth style. A must have in your library, click here for more information.
For more from Pam Jenkins and Jabbok Ministries, please visit www.jabbokministries.com!
Listen to Pam Jenkins's daily broadcast on OnePlace.com.
Originally published Sunday, 26 September 2021.