September 24
The Dwelling Place of Holiness
" Or do you not know that your body is a temple of the Holy Spirit who is in you, whom you have from God, and that you are not your own? For you have been bought with a price: therefore glorify God in your body."
I Corinthians 6:19-20
God's looking for a temple not built by human hands so no man can get the glory!  God's temple is being built, fashioned one stone of truth upon the other, supernaturally by the Master Carpenter Himself.  Only God can build a temple for Him to dwell in.  Who else could undertake such a feat and be successful?  God tells in the infallible words of His Scriptures that He has built a temple to house the presence of holiness and that temple is the heart of the believer.  It's the beautiful mystery of grace and untold power dwelling together in perfect unity.  Our bodies were fashioned in such a way that until it houses the presence of God, it will find no rest.  We are longing to have the nearness of God in unbroken and unfailing communion.  He made us to want Him!
The beauty of your life and my life will not be according to what we look like on the outside or through our accomplishments of earthly positions and titles.  True beauty comes when a life reveals the inner residency of God.  When He has taken up residency in one's life, it will not be hidden.  God's presence is too powerful to be restrained and too grand to be cloaked behind intimidation and fear.  He will consume His quarters with the fire of His holiness.  There is no lodging that God chooses where He does not declare it to be holy ground.  It's this rare place of descent that God does His greatest work. 
What kind of temple are you?  Is your life a living reality of God's presence?  Is your heart the lodging place of God the Father and if it is, have you given Him full access to all of you?
Give god the keys to your temple.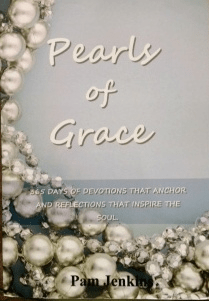 Pearls of Grace Devotional Book
Pearls of Grace is a book of devotions for the entire year, including a read through the Bible in a year calendar, broken down for every day. Beautifully written with encouraging words of hope and empowering words of joy and strength for every woman. Pam draws from the truth and richness of God's Word and gives real life examples in her down to earth style. A must have in your library, click here for more information.          
For more from Pam Jenkins and Jabbok Ministries, please visit www.jabbokministries.com!
Listen to Pam Jenkins's daily broadcast on OnePlace.com.
Originally published Saturday, 24 September 2016.