September 23
The Anxious Soul
 "Be anxious for nothing, but in everything by prayer and supplication
with thanksgiving let your requests be made known to God"
No anxiety should ever be found dwelling even for a single moment in the heart of a child of God.  Though our trials be great, difficult, unsettling, varied, it matters not for the child of God is in the mighty hands of a Heavenly Father.  To be anxious is to distrust God and to doubt Him and His Word.   It is God's very joy to guard and take care of His own and He hastens to their side from just a whisper from the lips of one of His children when they cry to Him for help.  God tells us that in everything we are to pray to Him with a thankful heart and let our requests be known to Him.  "In everything" means not just the valleys and difficulties, but in the smallest and tiniest things of life, we are to share with Him, and look to Him for whatever it is we may need at that moment for any and every situation.  This is holy unbroken communion with God, bringing to Him everything that concerns us, whether it be sleepless nights, job worries, financial difficulties, health, relationships, church issues, sin, confusion, moving to a new place or anything else that may cause our souls unrest.
It's becoming the one who searches the chambers of the heart for any disquieted place that may be hidden there, so that it may be laid bare before the throne of grace.  God desires for His children to be at perfect peace with Him at all times.  God takes the beggar, adorns him in clothes of royal splendor fit for a king, feeds him and loves him until he wants for nothing more,  He forgives him of all his debts,  sets a crown upon his earthly brow, and declares him an heir to His throne.   There is no need to be anxious, for at your disposal is the royal household of the living God.  In His presence fear  cannot remain and the heart is forever settled.
May you be in perfect peace this day, anxious for nothing, for you have found Him to be all you need.  He will never fail you, He will never disappoint you, and He will never ever leave you nor forsake you.
The beggar receives the King's reward.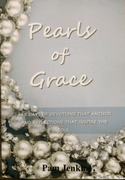 Pearls of Grace Devotional Book
Pearls of Grace is a book of devotions for the entire year, including a read through the Bible in a year calendar, broken down for every day. Beautifully written with encouraging words of hope and empowering words of joy and strength for every woman. Pam draws from the truth and richness of God's Word and gives real life examples in her down to earth style. A must have in your library, click here for more information.          
For more from Pam Jenkins and Jabbok Ministries, please visit www.jabbokministries.com!
Listen to Pam Jenkins's daily broadcast on OnePlace.com.