September 2
Stronger Than Even Death
" Who is a God like Thee,, who pardons iniquity And passes over the rebellious act of the remnant of His possession? He does not retain His anger forever, Because He delights in unchanging love."
This is one of my favorite verses in the Bible!  There is a sweetness embedded in the wording as the prophet Micah describes God's preferred love.  Ask most women, this question and their answers will stay pretty consistent no matter where they live, what they believe, where they work, their age or marital status etc: "what kind of love do you want to have from the one you love?  How do you want to be loved by them?  The list might be long  but I believe most of them would cover some of the same ground in their descriptions.  We all want someone to love us and even more so, we all want someone to love us the way that we want to be loved!  Most of us want security.  We want to be loved unconditionally, to be loved completely where we are, just like we are, and no strings or conditions attached.  Most women will all agree to these things.  Security in love is a big factor for most women.  They want a  constant, unfailing and unconditional love.  Anais Nin wrote this concerning love:
 "Love never dies a natural death.  It dies because we don't know how to  replenish its source.  It dies of blindness and errors and betrayals. It dies of illness and wounds; it dies of weariness, of witherings, of tarnishings."
Anais Nin
There is a rich abiding truth in her words.  Love dies by cause because love was established by God in the very beginning of time to be eternal.   Love will never remove itself from God's world.  People can tarnish it, neglect it, wound it, betray it, reject it, and even hate it, but love in and of itself will not walk away.  It is God who established love because He is love.  And the love that God finds delight in is love that is unchanging, constant and steady.  This is God's preference in the love He gives and desires to receive.  Unchanging love is the heartbeat of God's will.  He has extended this rare and beautiful gift because we have been created with the capacity to love.  But we must choose to nurture, strengthen, promote, applaud, give, protect, respond and receive God's unchanging love.  It's His desire to give and His to receive. 
How are you loving God with your life?  Is your love unchanging toward Him?  Are you bringing His heart delight with your choice of love?  There is only one kind of love that God wants.  Will He find it in you?
Be unchanging.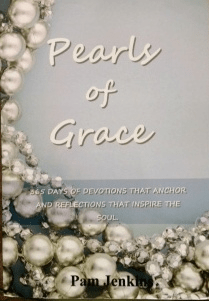 Pearls of Grace Devotional Book
Pearls of Grace is a book of devotions for the entire year, including a read through the Bible in a year calendar, broken down for every day. Beautifully written with encouraging words of hope and empowering words of joy and strength for every woman. Pam draws from the truth and richness of God's Word and gives real life examples in her down to earth style. A must have in your library, click here for more information.          
For more from Pam Jenkins and Jabbok Ministries, please visit www.jabbokministries.com!
Listen to Pam Jenkins's daily broadcast on OnePlace.com.
Originally published Friday, 02 September 2016.