September 17
A Woman Hidden
 "…Sir, if you have carried Him away, tell me where you have laid Him, and I will take Him away."
A woman who sets herself to find and do the will of God,  a woman so determined to live every one of  life's moments in the very center of God's will that nothing will sway her off her course.  No torrent storm though waves crash around about her, nor valley deep no matter how dark, no unexpected tragedy, or deep well of sorrow though the waters are bitter, will prevent her sail to set and her lamp will never go out.  For her life is swallowed up in the very will of God.  She has hungered for it since the day she was born for He has been her destiny before one day of her life ever existed. Before she ever breathed her first breath of life she was alive in Him for He is her heartbeat.  Her heart beats for Him and Him alone.  She desires but one thing, to love Him and to give herself completely unto Him.  This is God's woman.  This is the woman that the world longs to see.  The woman that God longs to support, longs to use, and to display His glory through.    
It has been said that the world has yet to see a man wholly and utterly sold out to God for His Kingdom.  But has the world seen this woman?  Where is the woman who can no longer be seen, for her life has been fully enveloped into the life of God?  Are you that woman?  Has your life been fully set upon the altar of surrender unto God?    Oh that the world could see this woman, how the world NEEDS to see this woman.  That this woman would rise from her slumbering state to show forth in awe and splendor the glory of God to a lost and dying world.  A world dying because they know not of Calvary's love and Calvary's forgiveness.   Oh that this woman would rise up in you this very hour, this very day, laying aside all that is earthly, petty, and temporary.   The world would never wonder what God was like for they would learn of Him through her. 
Have you ever wondered if this woman could ever be found in you?  Will she ever be found in you?  This woman is in you if Christ lives within your heart!   May she be set free this very moment for all the world to see. 
Jesus, be my cloak today.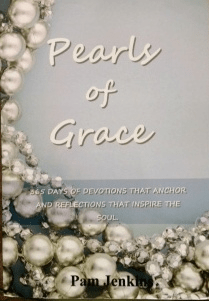 Pearls of Grace Devotional Book
Pearls of Grace is a book of devotions for the entire year, including a read through the Bible in a year calendar, broken down for every day. Beautifully written with encouraging words of hope and empowering words of joy and strength for every woman. Pam draws from the truth and richness of God's Word and gives real life examples in her down to earth style. A must have in your library, click here for more information.          
For more from Pam Jenkins and Jabbok Ministries, please visit www.jabbokministries.com!
Listen to Pam Jenkins's daily broadcast on OnePlace.com.
Originally published Saturday, 17 September 2016.