September 14
The Fear of the Soul
"And fear not them which kill the body, but are not able to kill the soul: but rather fear him which is able to destroy both soul and body in hell."
Matthew 10:28 (KJV)
Do not fear the day you've never seen!  I've loved these words since I first discovered them.  It gives a lion's roar to the heart!  As children of God, we are commanded not to fear any man or situation we may face.  There is no fear of death for the Christian and in the day of battle we do not have to take flight.  Why?  Because God is our protector.  Our Father in Heaven has given us the promise of His presence to be with us wherever we go.  He is an unfailing God and because He never fails us, His promises never will either!  The child of God can live apart from fear upon the earth simply for this reason alone.  But there is a fear that each child of God should respect and even embrace: the fear for the soul.  Eternity for each of us will depend upon this fear.  So should we have no fear of the day we've never seen? 
The seasons are fleeting before us and the clock of time is winding down to the final hours.  But what happens when time fills its allotted portion?  Every soul that has graced the timeline of the world's history will stand before the Living God of the universe, face to face.  There will be no cloak to hide us from His holy view or the scrutiny of His gaze.  No one will be called to represent us, defend us, or even explain for us.  In the finality of that moment, it will be just us and our Creator.  Everything we will do today will be present in that day as well as everything we have done in days past.  These will bear witness of us. 
This, precious daughter, is the fear of the soul.  Nothing anyone says about you or does to you will matter or have weight with God on that day, only what you have said or the things you have done.  This is the fear every Christian should have, A reverent respect and honor for that moment in the future when we will give an account of our living.  Those who prepare, plan and stay the course will stand unashamed before Him.  Will you be that woman?  Will you be ready? 
Fear only the moment of accountability.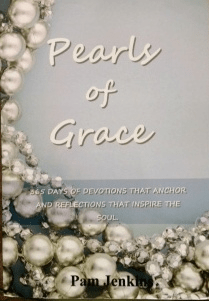 Pearls of Grace Devotional Book
Pearls of Grace is a book of devotions for the entire year, including a read through the Bible in a year calendar, broken down for every day. Beautifully written with encouraging words of hope and empowering words of joy and strength for every woman. Pam draws from the truth and richness of God's Word and gives real life examples in her down to earth style. A must have in your library, click here for more information.          
For more from Pam Jenkins and Jabbok Ministries, please visit www.jabbokministries.com!
Listen to Pam Jenkins's daily broadcast on OnePlace.com.
Originally published Wednesday, 14 September 2016.