September 11
His Hand Is Secure

"…who are protected by the power of God through faith for a salvation ready to be revealed…"
A traveler, following his guide amid the Alpine heights, reached a place where the path was narrowed by a jutting peak on one side and a deep crevice on the other. The guide passed around and then holding on to the rock with one hand outstretched and the other out over the crevice for the traveler to step upon, and so to pass around the jutting rock. He hesitated, but the guide called back saying, "that hand has never lost a man!" The traveler stepped on to the hand and was soon past the danger.
Charles Cowman
Moments of trust come hard for the doubting heart and faithless traveler. To trust God in the places of uncertainty means remembering what you know to be true of Him; His Hand has never lost a man. He is faithful and He will not fail you when you put your trust in Him. Are you at the jutting rocks looking at the great fall just waiting for you on the other side? Since eternity, God's Hand has been outstretched to you. When you extend your hand to Him who sits upon the throne above, who established the foundations of the heavens and the earth, you will always find His Hand waiting for yours. Your hands were made to hold to His for He gave you fingers to wrap tightly around His palms. He will never let you go when you place your hand into His nor will He ever pull it away from you when you are wholly His. You are His most priceless treasure and He promises to never leave you nor forsake you.
In moments of fear we, by nature, reach out for that which we can touch, see, and feel in our flesh. God's Hand is the unseen one, beloved; the unseen hand we take hold of through faith believing in His saving power. Who are you reaching out to today to meet your needs? What are you holding onto, trusting in? What is holding onto you? Whatever you're holding onto you will find that it holds onto you. Never will you be holding onto God and He not be holding onto you. When at a place of trust, remember, He has never lost a soul. God's hand is the only surety we have in this world. Why would we ever want to look to another?
My hand is outstretched, reaching for thy Hand to hold
Securely placed in yours, will you my fears enfold
I fully trust thy saving power, for you have never lost a hand
But by thy loving kindness, brought them to thy chosen land
PJ
His Hand Will Never Let You Go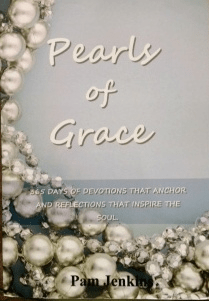 Pearls of Grace Devotional Book
Pearls of Grace is a book of devotions for the entire year, including a read through the Bible in a year calendar, broken down for every day. Beautifully written with encouraging words of hope and empowering words of joy and strength for every woman. Pam draws from the truth and richness of God's Word and gives real life examples in her down to earth style. A must have in your library, click here for more information.          
For more from Pam Jenkins and Jabbok Ministries, please visit www.jabbokministries.com!
Listen to Pam Jenkins's daily broadcast on OnePlace.com.
Originally published Sunday, 11 September 2022.