September 1
Weeding Out Your Fields
"Lay aside every encumbrance"
When I was a little girl, I would often help my papa work the fields planting and picking during Harvest time. Planting was always very laborious and by the end of the day your back muscles were screaming for relief! But this was the most interesting time to me out of all the work that farmers did. When planting, be it seeds or seedlings, you would always plant one or two more plants or seeds than you needed in case some didn't grow. After a few weeks, you would go back and pull out the extra ones, always choosing the weakest of the bunch leaving the strong plant to bear the fruit for that season. The rest were tossed aside because they were no longer needed. They were only a backup plant!!! It was kind of a heart wrenching process for anyone who takes pride in their planting.
One day I asked my papa about it because it seemed like such a waste to me of good days work that had gone into planting them in the first place. He was quick to explain that if we didn't take out the extra plants then the growth of the strong plant would be restricted, it would be limited. Too many plants in one area will limit growth so the excess must be removed. The plant that was to be left would need the room for growing and spreading out if he was going to yield a productive fruit for the farmer. Unless the extra was weeded out, the strong plant would never reach its full potential. The extra plants would only take nutrients and water from the soil never being able to give back.
Weeding is necessary in our spiritual lives as well. If we are ever going to reach our full potential for the Lord we must learn the secret of the hardworking farmer. Accessing the soil and then uprooting everything that is not needed and that will only hinder or bring us down spiritually. The Psalmist said; "extract the priceless from the worthless". This is what the farmer does and what we must do as well. We must be extractors! Often times we prioritize our lives so that we don't miss the good all the while missing the better! This is why Paul told Timothy to, "Lay aside every encumbrance". We can be doing good and still miss God's best. Even good things can cause us to miss God. Listen precious one, we can be about the Lord's work and miss the Lord altogether. Good works are not necessarily God's work for you. When His calling for your life is first and He is the center of your life, He will take care of the rest. We must trust Him with this.
The stress and pressures of everyday life can and will choke out our spiritual growth unless we learn to weed them out and lay them aside. When God is first, there is peace of soul. Whatever God has called you to, whatever gifts He has given to you He fully intends for you to be using them. Never does He tell us to work on our time schedules and only we can fit it in or do the great job we know we should. He calls us immediately, instantaneously to serve Him. It's a reckless abandonment of all else, hating brother, mother, sister, father, as Jesus said which means He comes before all. We will stand before the Lord one day, all by ourselves, with no excuses and no support, and give an answer to this one question; "did you finish the work I gave you to do"? What will be your answer on that day dear friends? What is in your life today that is crowding you in, keeping you from reaching your full potential in the Lord? What steps are you willing to take to correct them? Most of us have things we need to uproot and cast away, good things beloved. But oh the harvest He has for us to bring forth upon our fields!
Lord, help me to weed out all that is crowding in on the work you have for me to do.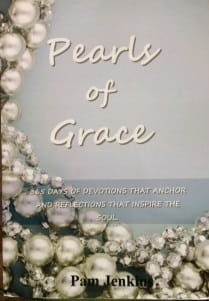 Pearls of Grace Devotional Book
Pearls of Grace is a book of devotions for the entire year, including a read through the Bible in a year calendar, broken down for every day. Beautifully written with encouraging words of hope and empowering words of joy and strength for every woman. Pam draws from the truth and richness of God's Word and gives real life examples in her down to earth style. A must have in your library, click here for more information.
For more from Pam Jenkins and Jabbok Ministries, please visit www.jabbokministries.com!
Listen to Pam Jenkins's daily broadcast on OnePlace.com.
Originally published Thursday, 01 September 2022.