October 7
When We Run from God
"The word of the Lord came to Jonah the son of Amittai saying, 'Arise, go to Nineveh the great city, and cry against it, for their wickedness has come up before Me.' But Jonah rose up to flee to Tarshish from the presence of the LORD."
Most of us grew up hearing the story of Jonah and how God sent a big fish to swallow Him up. In our wildest imagination, I don't think we could even begin to understand what it must have been like for Jonah to be in the belly of a whale for three days. How horrific this experience would have been and the physical pain his body must have suffered because of it. Jesus likens Jonah's experience in the belly of the great fish to that of His own death and burial in Matthew 12:40. Jesus was giving a picture of His own death on a cross; likening Jonah as a dead man who had been swallowed up by the earth for three days. But just like our precious Savior, the story of Jonah is not about a man that was swallowed up in death but rather it is about a people who were so engraved upon the heart of God that He went to great lengths to save them.
When God called Jonah to go to the people of Nineveh, their soul was at stake; it was a critical hour in history for their lives. God knew the urgency of the hour and His heart is always to save. Jonah, in his flesh, had no compassion on the city of Nineveh, a people, which he failed to realize, were weighing heavy upon the heart of his God. Obedience must look to the heart of the one who is summoning. Jonah looked to his own heart rather than that of His God. The platform for obedience in our lives is to build upon the very foundations of the Heart of God. If we don't, beloved, we will end up like Jonah paying a price we never thought we would pay. It's never about what we want but what God wants; always. Our "want tos" will end us up in death every time when we act upon them.
The course of disobedience to God will take us to a place where God, in His love, will have to correct us. Sometimes it takes great corrections, that speak very loud and clear so we have no doubt they are from God. Other times, these corrections may be subtler and less obvious but nonetheless from God. Just like the "woodshed" of old, God will take us to His shed until we have seen the light! God had to bring about death in Jonah, death to self, death to his opinions, death to his cold heart, death to all that was contrary to His will and His way. And there in that woodshed of repentance, Jonah cries out to the One Who had the right to do as He chooses saying; "that which I have vowed I will pay; salvation is from the LORD." Are there places of disobedience in your life precious daughter?
I SAY YES LORD, YES!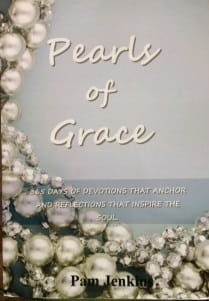 Pearls of Grace Devotional Book
Pearls of Grace is a book of devotions for the entire year, including a read through the Bible in a year calendar, broken down for every day. Beautifully written with encouraging words of hope and empowering words of joy and strength for every woman. Pam draws from the truth and richness of God's Word and gives real life examples in her down to earth style. A must have in your library, click here for more information.
For more from Pam Jenkins and Jabbok Ministries, please visit www.jabbokministries.com!
Listen to Pam Jenkins's daily broadcast on OnePlace.com.
Originally published Friday, 07 October 2022.