October 6
Here Comes the Bride
"Let us rejoice and be glad and give the glory to Him, for the marriage of the Lamb has come and His bride has made herself ready."
The church was beautiful and the music was captivating as the bridal party made their march down the aisle one by one. The ring bearer and flower girl looked up at me as if to ask, "is it our turn to go"? They looked petrified standing before me as the aisle runner was being rolled out. Just as I was about to hasten them down the aisle on their appointed queue, I realized that the bride was missing! This was a very special situation because the bride was waiting in the building next to the church. Someone was needed to go and get her when it was time and I was the only one available at that moment. Needless to say I took off like a flash outside and across the parking lot but only after I had sent the ring bearer and the flower girl to make their grand entrance.
I'll never forget what I saw when I rounded the corner and into the doorway of the room where the bride was waiting. I had never met her until that moment but it was as if I had known her my while life. She was stunningly captivating as she stood in middle of the room all alone, so stoic yet petrified all at the same time. We really didn't need words. She knew why I had come and there was no question she was the bride. No one needed to tell me who she was. I loved her instantly simply because of her smile that lit up the room when I walked in to take her to her groom. She knew that he was waiting on her and all she wanted to do was get to him. At that moment we both heard the wedding march beginning. I said, "if you're ready, then let's go"! And off we went.
There is nothing more beautiful than a bride waiting in her chamber until the wedding song announces its time for her to come. This young woman had made herself ready and when the time came to join her groom, she had no reservations; no regrets. It's a day that they both had been waiting and preparing for; the day when they would united as husband and wife forever. Just as this bride and groom were waiting for each other, so are we waiting to be with Jesus who is our bridegroom. It's a longing so deep and purposeful that when we hear the call of His wedding march, our soul will smile and off we we'll go! But He won't send another to get us; He will come for us Himself and claim us as His own.
Will you be ready?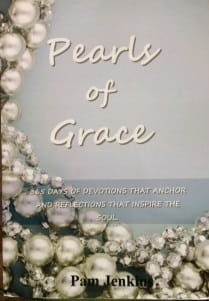 Pearls of Grace Devotional Book
Pearls of Grace is a book of devotions for the entire year, including a read through the Bible in a year calendar, broken down for every day. Beautifully written with encouraging words of hope and empowering words of joy and strength for every woman. Pam draws from the truth and richness of God's Word and gives real life examples in her down to earth style. A must have in your library, click here for more information.
For more from Pam Jenkins and Jabbok Ministries, please visit www.jabbokministries.com!
Listen to Pam Jenkins's daily broadcast on OnePlace.com.
Originally published Thursday, 06 October 2022.