October 29
What Are You Jealous Over?
"for you shall not worship any other god, for the LORD, whose name is Jealous, is a jealous God."
What are you passionate about? What holds your thoughts captive? How do you spend your free time, when you are finished with the responsibilities of the day? If we could plummet the depths of your emotions, the very desire of your heart, what would we hear resonating with every beat? At the core of us all is one overwhelming passion that stands above all others; it's what pervades our emotions in the day and commands our dreams in the night. We all have them; some are noble, others may be solely for pleasure or selfish ambition. Whatever the motivation, we can know this; what fills our thoughts will dictate our lives. It's here on the threshing floor of our heart that we must, after careful inspection, allow the Word of God to sift out all that is not of Him, all that is not Christ centered. He is a God Who is jealous FOR His children.
God is not content to share your heart with anyone; He wants full ownership, total allegiance, and absolute unconditional love for Him. He wants your world to revolve solely around Him; not your spouse, not your children, not your job, not your church, not your activities, not your friends, not your health, not your money, not anything but Him. Just because something or someone is a good thing, doesn't mean our life should center around it. God should be the central, the focus, the source, the goal, the everything!! And when He is, then all that is good and beautiful in His sight will fall into perfect place. When He is in the proper place so will everything and everyone else be. You'll have no problem being a godly wife, a godly mother or godly co-worker or friend when the Lord is at the helm of your soul. It's the driver that determines the destination and the surety of the ride!
Whose driving your life beloved? Where are you headed and why? Is God your goal, your destination or is it someone else? Unless God is the goal of your life, you will find an ending to your life that will leave you sorely disappointed. Long for Him today and remove every other object that might be blocking your view of Him.
Only one can satisfy your deepest longing.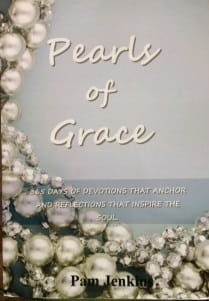 Pearls of Grace Devotional Book
Pearls of Grace is a book of devotions for the entire year, including a read through the Bible in a year calendar, broken down for every day. Beautifully written with encouraging words of hope and empowering words of joy and strength for every woman. Pam draws from the truth and richness of God's Word and gives real life examples in her down to earth style. A must have in your library, click here for more information.
For more from Pam Jenkins and Jabbok Ministries, please visit www.jabbokministries.com!
Listen to Pam Jenkins's daily broadcast on OnePlace.com.
Originally published Friday, 29 October 2021.