October 28
Evidence Not Seen
"Then the woman said to Elijah, 'Now I know that you are a man of God, and that the word of the LORD in your mouth is truth'."
I Kings 17:24
People are not impressed with how much we know about God, how many Bible verses we can quote or the number of ministries we are involved in at church. What will have a lasting impression upon them is how much you know God, how much of God's Word you are living, and the love of God you give to others. The woman speaking to Elijah said she knew that he was a man of God and that his words about the Lord were true. Elijah's life was living proof of His confessions. There was no room for question, no doubts made comfortable and God was honored in His speech and conduct. From Elijah's life and words God was brought to life, evidence was given. There was no need for God to be seen in with the natural eye or heard with the ear; Elijah was evidence not only that God existed but that he was His man. There is no more powerful testimony than this!
Too many today proclaim the name of God with no power, no proof, no zeal, and no evidence in their way of life backing what they proclaim. Many proclaim that God is a God who forgives but have difficulty or refuse to forgive others; or speak of God's unconditional love but withhold love themselves. It's one thing to acknowledge Who God is but it's another thing to live Who He is. If God is all-powerful then should we live weakly? If God is all knowing should we ever lack for wisdom? If He is a God Who is merciful can we ever withhold mercy from another? And if God is love, can we hate? Much of the world is denying God's very existence because there is no evidence seen of Him; and if they're not denying His existence they refuse to believe the truth of Who He is.
Where is the evidence of Who God is beloved? How can the world believe in Him Whom they do not know? Our lives, our circumstances, our battles, our relationships, our thoughts, our actions, are all opportunities given to us by God to prove Who He is and that we belong to Him; everyone an occasion to prove He is real. The realness of God should equal the nearness of you beloved. Let me ask you a heart-searching question: Would others, even strangers as this woman was, recognize that you are a woman of God, believing the words you say about Him? Are you a woman of God? Do you speak truth concerning Him?
Declare Who You Are Through Me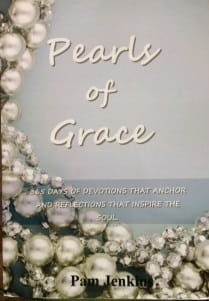 Pearls of Grace Devotional Book
Pearls of Grace is a book of devotions for the entire year, including a read through the Bible in a year calendar, broken down for every day. Beautifully written with encouraging words of hope and empowering words of joy and strength for every woman. Pam draws from the truth and richness of God's Word and gives real life examples in her down to earth style. A must have in your library, click here for more information.
For more from Pam Jenkins and Jabbok Ministries, please visit www.jabbokministries.com!
Listen to Pam Jenkins's daily broadcast on OnePlace.com.
Originally published Thursday, 28 October 2021.