October 21
There is One Who Never Abandons
"I will not leave you as orphans; I will come to you."
A woman, who had taken care of her daughter for many years, was overcome by grief when her daughter passed away. The loneliness and depression was more than she could bear day in and day out. Her home was quiet and dark for her soul. There was no one to care for, talk with, or share her day with. Her daughter gave her purpose every day for living. But now that she was gone, there was no reason to live; no meaning in her days. Her family and friends noticed how isolated she became and how the loss of her daughter had completely engulfed her life. They tried everything to comfort and help her but nothing seemed to work. Out of their concern, they asked a pastor in town to go and speak with the woman to try and encourage her in the Lord.
The young pastor went to see the grieving mother and in his conversation with her he gave her the following advice. "Place a chair in every room of your house that is noticeable and in the center so you see it when you walk in. Whenever you come into a room, I want you to talk to the chair seeing it as a reminder that Jesus is in the room with you. Put a chair by your bed and let His presence be the last thing you see and the first thing you see every day. Talk to Him about everything. Share your thoughts, your ideas, all your concerns and sorrows. Whatever you are thinking or doing in that room you are in, talk to Him about it." And with that the pastor left.
The woman took the pastor's advice and before long her countenance began to change. She was seen out in public more often and began to invite people over and be involved in things in the community she had never been able to do before. Her whole outlook in life changed simply because she invited Jesus into her everyday life. The is power for the soul and purpose found in everyday living when we simply choose to acknowledge that Jesus is with us in it. His very name means, "God with us". Whatever our day holds for us, small or big things, He is there with us every minute. We are never alone because He is wherever we are!
There is no room in your house that you can enter that you won't find Jesus already there waiting on you. He is with you in the doctor's office; rocking your baby to sleep, the loneliness of night, a walk at the park, cooking dinner, working in the yard, or even if you are fast asleep. He's there beside your bed watching over you. Jesus is our constant companion and eternal friend. Have you spoken with Him today? He would love to fellowship with you.
Wherever I am, he is.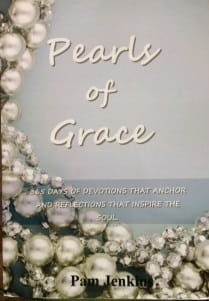 Pearls of Grace Devotional Book
Pearls of Grace is a book of devotions for the entire year, including a read through the Bible in a year calendar, broken down for every day. Beautifully written with encouraging words of hope and empowering words of joy and strength for every woman. Pam draws from the truth and richness of God's Word and gives real life examples in her down to earth style. A must have in your library, click here for more information.
For more from Pam Jenkins and Jabbok Ministries, please visit www.jabbokministries.com!
Listen to Pam Jenkins's daily broadcast on OnePlace.com.
Originally published Thursday, 21 October 2021.