October 18
Hopeful, Redeemed Pure & Zealous
"…Looking for the blessed hope and the appearing of the glory of our great God and Savior, Christ Jesus, who gave Himself for us to redeem us from every lawless deed, and to purify for Himself a people for His own possession, zealous for good deeds. These things speak and exhort and reprove with all authority. Let no one disregard you."
God had great intentions when He redeemed you! You were loved, absolutely and without doubt this was God's motivating factor. But salvation is only the beginning. Beyond salvation there is a plan of such wonder and providential detail that we can't begin to even peer into its end. It's end is beyond the reach of our imagination and comprehension. The beginning point, as glorious and beautiful as it is at the moment in life when we surrendered our life to the Lordship of Jesus Christ, can't begin to compare to the fullness of God's plan for our lives. The journey of transformation to become like Jesus begins at salvation but God's work within us will take a lifetime. But it will come, we can bank everything we have on the completion.
It's this completed work that Titus exhorts us to set our attention upon. We are to dig our heels in deep and holding onto God with everything we have, let go and let God! Give up the fight of self and fall head long into God's plan and work of grace which He started the day we were saved. God has a lot of work to do within us before He comes to call us home. He wants us to be ready and when He does call, He wants to find us living fruitful lives full of purpose and intent on bringing Him glory. This will mean for us separation from the world and loyalty to God above all others. We cannot say yes to God if we have not said not ourselves and to everyone else first.
Unless we are completely like Jesus in every area; thought, deed, heart, soul and mind, then we can take no rest. We cannot quit until the finished work of Christ is seen within us. It's true, Jesus did finish the work of redemption at Calvary, but our sanctification which is the transformation into Christ likeness, is a process. It's not until the finished work of Calvary is seen in us that we can rest. When the end comes for us, whenever that will be, God will want nothing more than to find us 'finished'!
You are God's life work.
What BIG plans God has for you and for Him on this journey together. It will be a long and painful road of intimacy, brokenness, loss, courage, trust, relentless surrender and insane faith! But in the end, God will draw your life right up to His eyes of love and mercy and there in the unmistakable gaze of holiness declare of you: "This is my Son, in Whom I am well pleased." Make it your aim to become like Jesus! If He's your aim, then you'll always be in transformation mode!!!
DON'T REST UNTIL ALL THAT IS SEEN IS JESUS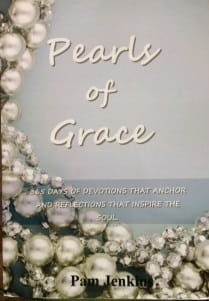 Pearls of Grace Devotional Book
Pearls of Grace is a book of devotions for the entire year, including a read through the Bible in a year calendar, broken down for every day. Beautifully written with encouraging words of hope and empowering words of joy and strength for every woman. Pam draws from the truth and richness of God's Word and gives real life examples in her down to earth style. A must have in your library, click here for more information.
For more from Pam Jenkins and Jabbok Ministries, please visit www.jabbokministries.com!
Listen to Pam Jenkins's daily broadcast on OnePlace.com.
Originally published Monday, 18 October 2021.