October 13
Seasons of Life
"Be ready in season and out…"
II Timothy 4:2
There was a man who had four sons. He wanted his sons to learn not to judge things too quickly. So he sent them each on a quest, in turn, to go and look at a pear tree that was a great distance away. The first son went in the winter, the second in the spring, the third in summer, and the youngest son in the fall. When they had all gone and come back, he called them together to describe what they had seen. The first son said that the tree was ugly, bent, and twisted. The second son said no it was covered with green buds and full of promise. The third son disagreed; he said it was laden with blossoms that smelled so sweet and looked so beautiful, it was the most graceful thing he had ever seen. The last son disagreed with all of them; he said it was ripe and drooping with fruit, full of life and fulfillment.
The man then explained to his sons that they were all right, because they had each seen but only one season in the tree's life. He told them that you cannot judge a tree, or a person, by only one season, and that the essence of who they are and the pleasure, joy, and love that come from that life can only be measured at the end, when all the seasons are up. If you give up when it's winter, you will miss the promise of your spring, the beauty of your summer; the fulfillment of your fall. If we let it, the pain of one season of our life can destroy the joy of the seasons to come.
Unknown Author
There is a purpose for every season under Heaven beloved. It's when we learn to look beyond the season we are in to the coming one that our lives will begin to bear fruit for God's Kingdom. Seasons of pain will bear the fruit of comfort in time and seasons where our faith is challenged will yield a harvest of enduring trust. Whatever season you are in or someone you love is in, know that though you may not see it now, there is a coming harvest. He will send workers into the very fields of your life to plow and toil that you may live a fruitful life for Him. Seasons don't last forever, they only fulfill their purpose so the next one may follow. Trust Him, yield unto Him and watch your life overflow with abundance.
This is Your season for me.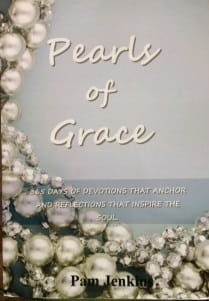 Pearls of Grace Devotional Book
Pearls of Grace is a book of devotions for the entire year, including a read through the Bible in a year calendar, broken down for every day. Beautifully written with encouraging words of hope and empowering words of joy and strength for every woman. Pam draws from the truth and richness of God's Word and gives real life examples in her down to earth style. A must have in your library, click here for more information.
For more from Pam Jenkins and Jabbok Ministries, please visit www.jabbokministries.com!
Listen to Pam Jenkins's daily broadcast on OnePlace.com.
Originally published Wednesday, 13 October 2021.