November 7
Is Your Light On?
"Nor do men light a lamp, and put it under the peck-measure, but on the lampstand; and it gives light to all who are in the house."
They stood in beautiful array down the median of the vast highway. They were shiny and erected high, in order to light up the darkness for motorist as they journeyed to their intended destination. Endless hours of labor and cost had been invested in these magnificent lights and the final product seemed to be worth the expense but, there was only one problem; when darkness fell, the lights never came on. As motorists zoomed by in the pitch darkness. The light poles, although massively built, were unrecognizable because they blended into the dark canopy of night. They stretched for miles taking up land space, contributing nothing and offering no help to the countless lives that sped past them every day. The intended beacons were useless and were not being used according to their design. I wondered how many travelers missed their mile markers or lost their way because there was no light to guide them? No doubt the lack of light affected many lives.
Jesus told His disciples in this same chapter of Matthew (5:14&16); "You are the light of the world…let your light so shine before men in such a way that they may see your good works and glorify your Father Who is in Heaven". So valuable is light to God's creation, that He brought it forth first; light was His priority, beloved, because He knew that we would not have life without it. It is the same today, not only in the physical realm, but in the spiritual as well. He made us lights in a world engulfed in darkness. How many of us are not radiating the light of the Lord, while countless souls pass us by every day longing for direction, yearning to find their way home, only to miss their turn? Jesus said that no one lights a lamp only to hide it under the peck-measure but, rather, they set it out in the middle of the room in order to light up the entire house giving light to all. When there is no light in our lives, then there is no evidence of God before the eyes of the world.
We must choose every day to light up the darkness with the presence of Jesus. Time is precious because it is the midnight hour and never have we needed light more than we do now. Every time we reveal the character of Jesus, every time we prove His existence by living Him out in flesh and blood we are shining the light of Him in the darkness of the world. Could people sitting in darkness see a great light in you and find their way out? Your life is your candle and no one can light it for you. Listen to Paul's words to Titus, "They profess to know God, but by their deeds they deny Him."
Light up the world with my life oh Lord.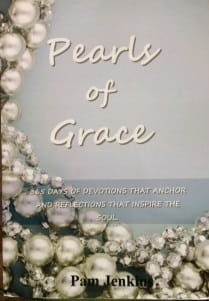 Pearls of Grace Devotional Book
Pearls of Grace is a book of devotions for the entire year, including a read through the Bible in a year calendar, broken down for every day. Beautifully written with encouraging words of hope and empowering words of joy and strength for every woman. Pam draws from the truth and richness of God's Word and gives real life examples in her down to earth style. A must have in your library, click here for more information.
For more from Pam Jenkins and Jabbok Ministries, please visit www.jabbokministries.com!
Listen to Pam Jenkins's daily broadcast on OnePlace.com.
Originally published Sunday, 07 November 2021.