November 3
Living to Bless God
"A Psalm of David. Bless the LORD, O my soul, And all that is within me, bless His holy name."
Bless the Lord oh my soul and all that is within me, I will bless the Lord. Bless the Lord at all times, blessed be the name of the Lord! To bless the Lord means to recognize Who He is, to bestow upon Him all that is holy and pure and honorable and befitting to Him. Every time we bless the Lord we are acknowledging that He is worthy of our all and is due nothing less. To bless the Lord is to give thanks to Him, to recognize that He is your source of joy and strength; your everything, knowing that all you have been given has come from Him; it's taking no credit for yourself because He alone is worthy. Giving God what is due Him is, in itself, bringing Him glory but withholding what is due Him is a dishonor to His name.
For years I allowed my circumstances to rob God of the blessings He was so worthy of. Circumstances can be the thieves of God if we allow them to. So often our emotions are controlled by our surroundings rather than our blessings controlling our emotions. Blessing the Lord in the midst of our lives, no matter what is happening around us, will not change our circumstances but it will harness our emotions bringing them back under the control of the hand of God. God is the keeper of the heart that blesses His name in all things! This is the secret to having stability in the midst of all things; it's learning, it's choosing to bless His Holy name, not for the circumstances, but for Who He is.
God doesn't ask us to praise Him for the valley, but to praise Him in the valley! We praise Him in all things! This is the difference, precious one. We rejoice over Him not our circumstances. Why; because our circumstances change and God doesn't. Our circumstances are not always good; God is. Our circumstances are not our source of joy, strength or comfort; God is. Circumstances come and go like seasons, but God is enduring, everlasting and eternal. He is faithful and He is able. When we make the choice to give Him praise, to bless His name for Who He is then, we are bringing Him glory and honor in all things. This pleases the heart of God and it lifts the heart of his child. Praise and Blessings will bring a spiritual uplifting in your life that will lift you above your circumstances.
I don't know where you are today, but I can give you a potent antidote for whatever you face; give blessing to God above in and through each one and you will not be ruled by your emotions. Praise is the most powerful weapon we take up and take out the door with us every day. Honor God in all things and bless Him no matter what. You'll see your heart rise above every situation and your will soar on the wings of praise.
I Will Bless Thee While I Live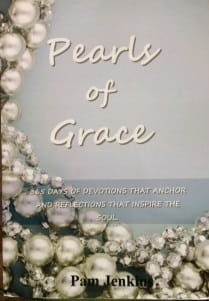 Pearls of Grace Devotional Book
Pearls of Grace is a book of devotions for the entire year, including a read through the Bible in a year calendar, broken down for every day. Beautifully written with encouraging words of hope and empowering words of joy and strength for every woman. Pam draws from the truth and richness of God's Word and gives real life examples in her down to earth style. A must have in your library, click here for more information.
For more from Pam Jenkins and Jabbok Ministries, please visit www.jabbokministries.com!
Listen to Pam Jenkins's daily broadcast on OnePlace.com.
Originally published Thursday, 03 November 2022.