November 29
A Passing Grade
"…always learning and never able to come to the knowledge of the truth."
Praises learned in the night draw back the curtain of light for the anxious soul that has lost its way in darkness. Circumstances can cut a path straight through our emotions leading us to places that God never intended for us to go. But God, in His heart of love for us, will teach us in a way that will ensure learning takes place in our life; through sufferings, trials and tests of our faith. When everything is ripped out from underneath us, we find what we're standing on! This is when you and I will learn what's inside of us: fear, doubt, mistrust, weak faith and much more. Truths about ourselves, beloved, are the most difficult to bear. No one is comfortable looking into the mirror of their soul because we usually don't like what we see.
But God desires to hold up the mirror before us, no matter how painful because He knows that, in order to become all that He desires for us to become, He has to build our faith. It's through faith and faith alone, that those infinite possibilities are born. God has no limits; His power is unmatched and His resources can never be exhausted. He wants us to tap into these infinite resources and unleash His power in our lives. It's through the journeys of our lives that the Lord gives us these marvelous revelations; little by little, dose by dose until we arrive at the place of fullness in Him. He will not rest until He has all of us, and until we have all of Him. You see, my beloved friend, words are not enough for our soul to grasp the fullness of God's truths. We must live them, breath them, walk them, experience them and arrive at a place of such desperation that without His fullness, we will surely perish. Until God becomes our very life we will never know life.
What's keeping you bound in unbelief, doubt fear and anxious thoughts that breed worry and keep us in bondage? The very place God has you in right now can be His greatest schoolhouse of faith in your life, if you will but surrender to Him by becoming His student. Take Him in and trust His goodness to you in all things, no matter how hard. Every place that we find ourselves, every difficulty we are faced with, every relationship torrent, is an opportunity for learning and growing in our relationship with God. You will never learn praise until you have known tears, and your will never know true victory until you've experienced loss. God's school of learning is housed in the days of our lives and written out in the textbooks of our circumstances. I pray you will become a most prized student, learning, until you have attained to the fullness of faith.
May We Fail Not In The School Of The Lord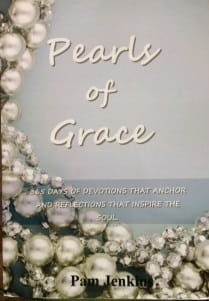 Pearls of Grace Devotional Book
Pearls of Grace is a book of devotions for the entire year, including a read through the Bible in a year calendar, broken down for every day. Beautifully written with encouraging words of hope and empowering words of joy and strength for every woman. Pam draws from the truth and richness of God's Word and gives real life examples in her down to earth style. A must have in your library, click here for more information.
For more from Pam Jenkins and Jabbok Ministries, please visit www.jabbokministries.com!
Listen to Pam Jenkins's daily broadcast on OnePlace.com.
Originally published Monday, 29 November 2021.