November 28
Believing Despite Outward Circumstances
"By faith we understand that the worlds were prepared by the word of God, so that what is seen was not made out of the things which are visible."
Faith is seeing the promises of God at a distant, through the eyes of the present, and living as if it were so; it's being persuaded from a far off and embracing God's promises for living today because, tomorrow is already secured. Faith is hope in those things which we cannot see; it believes against all odds, believing for a move of God despite outward circumstances. God moves in the supernatural realm and our present circumstances do not dictate nor do they limit His acts. No matter the present, beloved, God is able to save, deliver, keep, subdue, overcome, bless, restore, empower, enlarge, defend, build up, tear down, fill, provide, heal, and work all…all things out for His glory. Satan whispers right to the very heart of our desperation, through the eyes of our circumstances, with words of despair, hopelessness and loss. Our enemy wants our gaze fixed upon our surroundings, rather than, upon the promises of God, which are yea and amen!
It matters not what surrounds you, what your eyes see or do not see, whether there is any sign of hope or answered prayer for God is able! He is Faithful! He is the I Am; He is everything you will ever need. God is never, absolutely never limited by people, emotions, or circumstances! Our flesh seeks for a sign, any life form that declares to our heart and mind; "God is at work"! When God's work begins behind the scenes, it's wrought in the secret places, the hidden valleys of sufferings, concealed in the thorns of pain, imbedded in sorrow and then, in His time, He unveils the truth, giving way to the evidence that our soul so desperately longs to see. When we cry for evidence, He whispers; trust. When we long for hope, He speaks; believe. And when we yearn for understanding He declares, STAND.
What situation are you living with that you find unbearable, hopeless, with no sign of change? How are you dealing with circumstances beyond your control, outside of your reach or ability to change? Where do you turn when life is a mess and those you love and depend on are gone, or unable to help you? One word; God. Believe God for healing, for restoration, for renewed hope, for life, for strength, for any and everything you need. Turn your eyes away from your hopeless situation and look to the One Who is hope. Set your face like flint to Him Who sits upon the throne and there, resting in all that He is, cease trying to fix it. Faith is not the things we can see but, those things which are not seen, those things that only God can do. Stop striving, stop planning, stop running hard to find solutions to your problems. Put up your fix it kit and hand it over to God. Have faith, precious one, have faith in God and in God alone taking your eyes off your surroundings, off of people and off looking for a sign! He is working.
God Is Able, I Am Not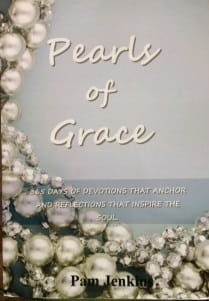 Pearls of Grace Devotional Book
Pearls of Grace is a book of devotions for the entire year, including a read through the Bible in a year calendar, broken down for every day. Beautifully written with encouraging words of hope and empowering words of joy and strength for every woman. Pam draws from the truth and richness of God's Word and gives real life examples in her down to earth style. A must have in your library, click here for more information.
For more from Pam Jenkins and Jabbok Ministries, please visit www.jabbokministries.com!
Listen to Pam Jenkins's daily broadcast on OnePlace.com.
Originally published Sunday, 28 November 2021.