November 22
Spiritual Guardians
"Watch yourselves, that you might not lose what we have accomplished, but that you may receive a full reward."
The paternal apostle took pen in hand to write these words of warning to his beloved children in the Lord. It was written as a father to his child who was on the brink of spiritual failure; all the warning signs were there and out of love he could not ignore them. God's heart is the same toward His children, always, because He loves us too much to keep silent. His warning to us is the same as John's was when he wrote this epistle to God's people. The warning is clear: Watch Yourselves! Watch means guard, look carefully at what's going on in your life because there could be grave consequences if you don't. What exactly did John want them to watch? The same thing God wants us to keep an eye on; our spiritual endurance. We all need these spiritual guardians in our lives.
Spiritual endurance was waning and God's people were beginning to slip backward in their walk with the Lord. Spiritual ground can won and it can be lost. It's easy to slip into the mentality that, once we've made spiritual headway in our lives it's there to stay but, in reality the opposite is true. We may run out of God's presence but, we won't run back in". It's often a quick exit but a very slow and painful return when we turn from God. Heavenly rewards are at stake and nothing is worth losing eternal investments. But, in order for this safeguard to be put in place, first they had to heed his warning and understand that as Christians, we can lose spiritual ground. Beloved, there is no neutral in the vehicle of faith.
It's an awesome privilege to be a child of God and still greater is the truth; God desires for us to be like Him. He's willing to go to great lengths to mold us and shape us into the likeness of His Son and even more astounding is the boundlessness of His patience, as does this. He's not content to leave you and me the way we are but He is intent on pursuing you to the fullest until every area of your life belongs solely to Him. All along our spiritual roadside are heavenly caution lights warning us to slow up and look hard at the direction we are headed. Holy shouts of "don't lose what God has done thus far" resound from the portals of eternity. Endurance is God's heart; God doesn't want us to be quitters, beloved; He expects us to finish our course, no excuses.
Where are you today, precious one, in your spiritual growth? Have you continued to grow and mature into the holy woman God desires for you to be. Heed the heavenly warning still ringing forth today; its message is timeless. Guard your heart and mind, enclosing God's investment in you. You are God's greatest investment.
Keep Me Moving Forward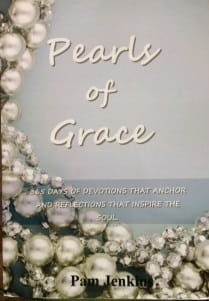 Pearls of Grace Devotional Book
Pearls of Grace is a book of devotions for the entire year, including a read through the Bible in a year calendar, broken down for every day. Beautifully written with encouraging words of hope and empowering words of joy and strength for every woman. Pam draws from the truth and richness of God's Word and gives real life examples in her down to earth style. A must have in your library, click here for more information.
For more from Pam Jenkins and Jabbok Ministries, please visit www.jabbokministries.com!
Listen to Pam Jenkins's daily broadcast on OnePlace.com.
Originally published Monday, 22 November 2021.