November 21
Green Pastures and Satisfied Hearts
"I cared for you in the wilderness, in the land of drought. As they had their pasture, they became satisfied, and being satisfied, their heart became proud; therefore they forgot Me."
Pride is not a subject we are comfortable discussing with one another yet, pride is the most hidden sin of all among Christians. We excuse it away with comments like: "well God wants my best" or "I have to look good because I'm created in the image of God". While it's true God does want our best and we were created in His image, the truth is: a haughty heart God will despise. Pride in our heart will rob us of intimacy with God and He will have to take us out into the dessert to remove the obstacle of it in our lives. Pride is not easily removed, beloved, and it will not leave in the fertile lands; those seasons where our lives are plentiful and easy. Pride is vanquished only in the wilderness, when it's just you and God among the thorns, beside the dried up cisterns. It's there in the hour of your greatest need that pride will be stripped away and your need for God will emerge as a dessert flower. How priceless are these wilderness journeys; they are immeasurable in the spiritual realm.
Wilderness journeys are seasons in which God so circumstances our life so that, we will have to depend upon Him completely if we're going to make it. These seasons of growing are often painful trying our faith to the very core. But, it's here in the barren lands that, God will cause our souls to thirst for the living waters that only He can give; and here among the wastelands, out of our thirst, God will teach us to drink.
This is what God has done in the lives of His people for thousands of years. When Israel had their green pastures they became satisfied and with contentment came a proud heart; the proud heart will forget God, every time. It's the humble heart that remembers Who God is for they are needy, they are thirsty. Pride is washed away by the thirst for God and in the drinking will
Keep Me Thirsty Lord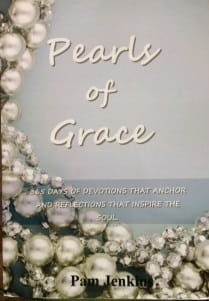 Pearls of Grace Devotional Book
Pearls of Grace is a book of devotions for the entire year, including a read through the Bible in a year calendar, broken down for every day. Beautifully written with encouraging words of hope and empowering words of joy and strength for every woman. Pam draws from the truth and richness of God's Word and gives real life examples in her down to earth style. A must have in your library, click here for more information.
For more from Pam Jenkins and Jabbok Ministries, please visit www.jabbokministries.com!
Listen to Pam Jenkins's daily broadcast on OnePlace.com.
Originally published Sunday, 21 November 2021.