November 18
Godly Confidence or Worldly Confidence
"Put no confidence in the flesh…"
The secular world holds a plethora books, CD's, and seminars on self-confidence in the workplace, in relationships and every other area of life. Self-confidence is the world's formula for success and the remedy for life's issues. We're told that we need to feel good about ourselves, speak positive thoughts, envision success; see that promotion in your mind and you can achieve it! Simply put; if you can visualize it you can achieve it. It's all hype, beloved; plain and simple and a grave misconception. Sad to say, this philosophy can be found within the "Church World" also. This "see it be it" mentality couldn't be farther from the truth found in the Word of God. When Paul said; "put no confidence in the flesh" that means our own too! The reality is that what we need is not more confidence in self but, confidence in Jesus and who we are in Him; confidence in Who He is, not in who we are apart from Him.
Thinking, envisioning or speaking will not bring abiding strength beloved, believing does; believing in the Lord's promises knowing that with Him and only with Him are all things possible. Sure, we can stir the pot of our emotions revving up the engine of our inner self until we believe we can accomplish anything on sheer will power alone. Reality is that I can will all day long that I become a successful writer but true success in any area will not come apart from God and who I am in Him through His Son. True success in God's eyes is accomplished when one knows apart from God they are absolutely nothing. When we reach this understanding we then begin the journey of true success, a success story written by the hand of God. Many today have lifted up their ladder of success climbing with all they have believing that reaching the top will bring them happiness and fulfillment, only to find misery and emptiness. This climb is usually a costly one demanding a price the climber did not plan on paying.
In our success driven world the child of God must make every effort to stay off the secular road of self-sufficiency by planting their feet upon the paths of dependency. Independence of God will only lead to shallow living. God desires much more for us than those things we can accomplish on our own; He wants to pour Himself out upon our lives that we may be more than conquerors, valiant and strong women of faith and courage in the face of any storm; woman who radiate God's supernatural attributes that thrive in their lives. A woman who is utterly hopeless without her God, without her Jesus will be successful in Heaven. The stars in heaven will be those who have burned themselves out here upon the earth for the Kingdom of God fully dependent upon Him. I want to be more than a shooting star that burned itself out way too fast because I relied on my own abilities.
God is my confidence.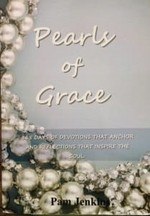 Pearls of Grace Devotional Book
Pearls of Grace is a book of devotions for the entire year, including a read through the Bible in a year calendar, broken down for every day. Beautifully written with encouraging words of hope and empowering words of joy and strength for every woman. Pam draws from the truth and richness of God's Word and gives real life examples in her down to earth style. A must have in your library, click here for more information.
For more from Pam Jenkins and Jabbok Ministries, please visit www.jabbokministries.com!
Listen to Pam Jenkins's daily broadcast on OnePlace.com.