November 16
When God Can Work
"The Lord said to Gideon, these people who are with you are too many for Me to give the Midianites into their hands, let Israel boast about themselves against Me, saying, My own hand has delivered me."
The Midianites were a fierce enemy that had come up against the nation of Israel. They had already lost against them previously and they were constantly tormenting God's people; they were an enemy that showed no mercy. Now, God was calling a man by the name of Gideon to lead His people to war once more, but this time to defeat the Midianites. This brought great fear in the hearts of the people and rather than telling Gideon that He was going to send him more men God told him he had too many men for victory! It's not what Gideon had expected to hear from the LORD, I'm sure. This battle with the Midianite army is a beautiful picture of how God brings deliverance for His people. Surprisingly enough, God delivers through our weaknesses rather than our strengths. God has to position his children in such a way that their only hope for victory is through Him and Him alone. Our strengths are usually our greatest downfalls. Knowing this God will rip them out from under us in order to cause us to depend solely upon His strength to make it through. Often times we have too much going for us for God to help us; if we don't need Him we won't depend on Him!
We cannot receive a miracle when we are strong, beloved, and the trophies of God's victories are fashioned in the furnace of weakness. Gideon had assembled all the men of war that he possible could and they totaled 32,000, which, in Gideon's eyes was no match against the Midianite army. Yet, God told him that he had too many and to reduce the number down to 10,000 men. When you are outnumbered, you don't reduce your army by 22,000 men do you? But God didn't stop there, He went further and reduced Gideon's men all the way down to 300 men. In the natural realm, this would seem irrational but, in the heavenly realm, this is an opportunity for the supernatural. What was God doing? He was making them weak so, He could be strong. God's greatest work in your life will be, when you are at your weakest, outnumbered, out powered and out matched! It's only when we are placed in such a vulnerable, uncontrolled situation that God can take over because, we have no alternative! This is when God gets all the glory. Here in lies one of the greatest truths for God's child, listen carefully beloved: God cannot get the glory when you are strong.
Maybe you are facing a battle today that you are trying to fight in your own strength, your own resources and wisdom. It does not matter the amount of strength that you have beloved, even if it were 32,000, you will never win apart from God. This is what God is trying to show us through the life of Gideon; it's not in numbers that battles are won, but rather, it's in Him. He is the strong one and He needs no army to bring you to victory. Trust Him in your battle today and remove your strength. Your strength could be the very thing that is keeping God from moving on your behalf. Maybe you are too strong precious one? Maybe you are fighting your own battles rather than casting yourself into the mighty arms of the living God. It's only through your weakness that He can be strong; your weakness is His strength.
I Am Weak But You Are Strong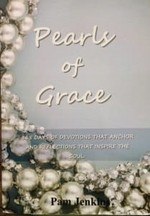 Pearls of Grace Devotional Book
Pearls of Grace is a book of devotions for the entire year, including a read through the Bible in a year calendar, broken down for every day. Beautifully written with encouraging words of hope and empowering words of joy and strength for every woman. Pam draws from the truth and richness of God's Word and gives real life examples in her down to earth style. A must have in your library, click here for more information.
For more from Pam Jenkins and Jabbok Ministries, please visit www.jabbokministries.com!
Listen to Pam Jenkins's daily broadcast on OnePlace.com.