November 15
Expressions of Love
"always offering prayer with joy in my every prayer for you al."
A timely word, receiving a card in the mail, a phone call or bouquet of flowers sent to you for no special occasion but because you were special to someone else is a boost to the soul. How uplifting these are to the weary soul or the one who feels they are of no worth or just feeling low thinking they have been forgotten. The apostle Paul too the time to tell these precious saints at Philippi how much they meant to him. In fact they were so important to him that he took the time to thank God for them personally. The thought of them brought praise for God to the heart of Paul that overflowed into his prayer time. Paul had discovered a wonderful spiritual secret to influencing the lives of others; express your love and appreciation for those who are meaningful in your life and forget them not.
Paul was facing his final days upon the earth before being martyred for his faith in Jesus Christ and he believed in the power of the expression of one's heart in the lives of others. Though he had faced persecution and sufferings at every turn this was his greatest hour of faith. In our final hours of life, when we are privy to know it, we will have no problem with prioritizing our time. We will reach out to do those things that are most important for us and remember those we love most in this world. How we spend our final days will define for us those things of value. At the forefront of Paul's heart was not death but, the choice to impart life into the life of his brothers and sisters in Christ that held special honor in his heart. His words are laced with a message drawn straight from the well of Paul's heart; "you are valued and I love you". Death bears fruit by identifying to us our utmost treasures; what has value and what does not. As this fruit of impending death surfaced Paul turned right around and poured it out into praise.
Pour Out Your Love Through Me That Others May Know Their Worth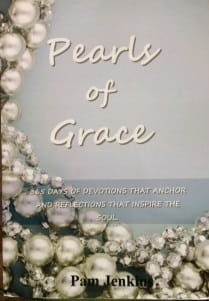 Pearls of Grace Devotional Book
Pearls of Grace is a book of devotions for the entire year, including a read through the Bible in a year calendar, broken down for every day. Beautifully written with encouraging words of hope and empowering words of joy and strength for every woman. Pam draws from the truth and richness of God's Word and gives real life examples in her down to earth style. A must have in your library, click here for more information.
For more from Pam Jenkins and Jabbok Ministries, please visit www.jabbokministries.com!
Listen to Pam Jenkins's daily broadcast on OnePlace.com.
Originally published Monday, 15 November 2021.