November 13
Bringing Our Emotions Through The Fire
"But, O LORD of hosts, who judges righteously, Who tries the feelings and the heart…"
Emotions are like the waves of the ocean; they can overtake us without notice, they can dash against us and all those around us like mighty breakers over the reefs of life many times bringing harm to all in their path. Our emotions will put our very heart on parade in pomp and circumstance for all to view. Some will cheer from the sidelines finding great amusement at the spectacle before them, while others will raise their trumpets of judgment from the sideline of self-righteousness. Whatever platform we have placed ourselves upon or even buried ourselves beneath, we all have emotions that we have to deal every day; in and through every situation. I don't believe any of us have been, or are, immune from the affects of our own feelings or the feelings of others. Emotions affect every area of our lives and none of us can escape encountering them. We can't get away from ourselves, no matter how far we run! Many have set out to "find themselves" as if they could run away and not know it! It's not like we can send a message to ourselves saying: "hold on, I'm on my way"!
God created us as emotional beings; to feel, think, react and act. We can feel love, warmth, comfort, hope, joy and inner peace. But we can also feel, anger, hurt, fear, hate and lust. But, what are we to do with these, how are we to harness them for good? I believe Jeremiah 11:20 gives us the answer when he says; God, the Lord of Hosts, is the One Who scrutinizes our emotions and our hearts. He tries them, He weighs them in His holy scales and if necessary He even sends them through the fire to purge out what is harmful. It's not always the emotion itself that is bad but rather how it is expressed, used or shared. Every emotion God gives us we can use for good but, in order for us to do that, we must allow God to try them and search them. God will not scrutinize our emotions without examining our heart. The heart is the well that our emotions flow from.
Purge my emotions that I may be found as gold in thy sight.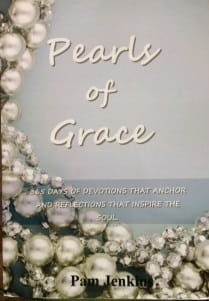 Pearls of Grace Devotional Book
Pearls of Grace is a book of devotions for the entire year, including a read through the Bible in a year calendar, broken down for every day. Beautifully written with encouraging words of hope and empowering words of joy and strength for every woman. Pam draws from the truth and richness of God's Word and gives real life examples in her down to earth style. A must have in your library, click here for more information.
For more from Pam Jenkins and Jabbok Ministries, please visit www.jabbokministries.com!
Listen to Pam Jenkins's daily broadcast on OnePlace.com.
Originally published Saturday, 13 November 2021.