November 12
There is a Kinsmen Redeemer
"I went out full, but the LORD has brought me back empty. Why do you call me Naomi, since the LORD has witnessed against me and the Almighty has afflicted me?"
The bitterness of soul rings strong through the words of Naomi. Naomi and her husband Elimelech were natives of Bethlehem but, due to a severe famine they were forced to take their two sons and journey to the land of Moab where food could be found. Soon after their move Elimelch died and Naomi was left widowed with two sons. They both took for themselves wives from the land of Moab and ten years later they both died. Naomi's loss was great, she had no grandchildren, no husbands, and now she had to bury her two sons. Although Naomi had no husband and now no sons, God had given her something amazing in the gift of her daughter-n-law Ruth. Ruth swore an oath to Naomi that she would never part from her all the days of her life. So, the two of them entered into Bethlehem and as Naomi entered, the people were amazed to see that she had returned. But Naomi's testimony was one that none of us want to hear or say; "I went out full, but the LORD has brought me back empty". Naomi had experienced such a great loss that the only word she could muster to describe it was, "empty". Have you ever been there beloved? It's a very dark place to be but God was up to something more wonderful than Naomi's heart could ever imagine.
There, in the heart of Bethlehem, was a man named Boaz and was the man God had chosen to marry the widow Ruth. In the days of Ruth and Naomi a relative could step in and marry the widow of their loved one, in order, to raise up the name of the deceased through his seed. They were called a "kinsmen redeemer". There in the beloved city of Bethlehem a kinsmen redeemer would be raised up to restore the life that Naomi had lost. Boaz was God's man; chosen by divine sovereignty because, Ruth and Boaz would be given a son named Obed; he was the father of Jesse, the father of King David. God was up to something. He was bringing into the world of hopelessness and darkness, His Kinsmen Redeemer"; the One Who would give life to all. One also born in the city of Bethlehem; Jesus Christ.
If you have gone out full and the Lord has brought you back empty, then know that He is bringing you back to your homeland; the land of your spiritual birth, in order that, your Kinsmen Redeemer may be given new life in you. He is your sustainer of life even into your old age. He is the restorer of life when it has been stripped from us. May you run home today, the land of hope, life and sustenance and may you raise your voice among the women; "Blessed is the LORD Who has not left me without a redeemer today". You may come into God's presence empty precious one, but you will leave full! Praise His name with me today!
Blessed be my God who has not left me without a Savior.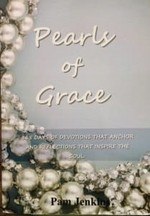 Pearls of Grace Devotional Book
Pearls of Grace is a book of devotions for the entire year, including a read through the Bible in a year calendar, broken down for every day. Beautifully written with encouraging words of hope and empowering words of joy and strength for every woman. Pam draws from the truth and richness of God's Word and gives real life examples in her down to earth style. A must have in your library, click here for more information.
For more from Pam Jenkins and Jabbok Ministries, please visit www.jabbokministries.com!
Listen to Pam Jenkins's daily broadcast on OnePlace.com.