May 27
Walking In Self Sufficiency
"in Him you have been made complete..."
After the Lord saved me, I determined to be the "perfect" Christian woman.  I attended every service at church, I was involved in everything I could possibly sign up for.  I prayed daily, I read my Bible from cover to cover.  I polished my halo every week and marched, head held high, into the service taking my seat where I did every other Sunday, right on the front pew.  In my mind's eye I was wonderfully Christian-like, the personification of what a godly woman should be.  After all, I never missed a service, I tithed, I served, I was "in" good with the preacher, I sung in the choir, and I was absolutely "it" in the church world.  I mean, after all who wouldn't want to be me?  Right?  I didn't need anyone and I had it all together in my newfound life with Christ.  In other words I was complete in "Me".  What a lie from the devil and what a huge miserable wretch I was!  
I thought I knew everything because after all I read my Bible.  Then one day the Lord showed me Colossians 2:10, and what a bombshell that went off in the trophy case of my ego.  I had been made complete in Jesus, my good works and "sister angelica" attitude had nothing to do with it.  I was absolutely nothing apart from Jesus.  I quickly looked up the meaning of the word "complete" and here is what I discovered; It means, to render full, to fill to full measure as to overflow, nothing lacking.  In other words, Jesus was the "it" and I was the nothing.  What a life-changing principle for me and what a painful attitude adjustment.  God ripped away the veil of pride and self-sufficiency so I could see my neediness for Him.  We cannot see our need for Him until we see ourselves in need!  
I had good intentions, I had good works, and I had adopted a pretty "good" view of myself from all of it.  One of Satan's greatest destructive vices for the Christian is the lie of self-sufficiency.  By feeding us a good dose of ourselves, we turn away from dependency upon the Lord and we begin walking in the limited power of our flesh which will fail us every time.  This is why so many new Christians take a fall and quit on the Lord shortly after they are saved.  The Lord never intended for us to walk in our own strength and in our own dependency.  He saved us and He who began this good work will be the One who perfects it, not us.  What freedom comes when we understand that we are nothing in ourselves and He is everything to ourselves.  We no longer have the pressure of success.  God is not about performing but transforming. 
Are you trying in your own strength to become what God wants you to become?  Are you serving in your flesh, your way, your own power?  Have you placed your security in your good works?  Do you feel good about your busyness for the kingdom of God?  Are you perfecting yourself only to find you are wearing down quickly in defeat?  Then, embrace this truth ; "in Jesus, you have been made complete"
In Jesus, I am complete.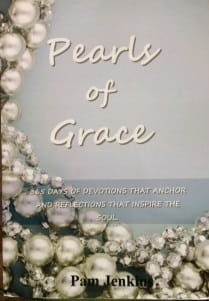 Pearls of Grace Devotional Book
Pearls of Grace is a book of devotions for the entire year, including a read through the Bible in a year calendar, broken down for every day. Beautifully written with encouraging words of hope and empowering words of joy and strength for every woman. Pam draws from the truth and richness of God's Word and gives real life examples in her down to earth style. A must have in your library, click here for more information.
For more from Pam Jenkins and Jabbok Ministries, please visit www.jabbokministries.com!
Listen to Pam Jenkins's daily broadcast on OnePlace.com.
For more from Pam Jenkins and Jabbok Ministries, please visit www.jabbokministries.com!
Listen to Pam Jenkins's daily broadcast on OnePlace.com.
Originally published Friday, 27 May 2022.