May 22
Live for the Homecoming
"But just as it is written, "THINGS WHICH EYE HAS NOT SEEN AND EAR HAS NOT HEARD, AND which HAVE NOT ENTERED THE HEART  OF MAN, ALL  THAT GOD  HAS PREPARED  FOR THOSE  WHO LOVE  HIM."
I Corinthians 2:9
It was her homecoming day, the invitation had been sent long before she was born.  She had been waiting for 94 years, endless days of anticipation preparing for her arrival.  So many loved ones she could see standing there on the shores of her  sweet homeland, all waiting for her.  She saw tiny feet running toward her, arms swung open wide, a smile like the sun, her voice echoing through the heavens;  "mommy, mommy."   She knew that voice.  It was her sweet little Becky who arrived many years earlier.  Empty arms now filled with the joy of her baby girl that she had said good-bye to so very long ago.  Following close behind she saw her eldest son.  He's not struggling to walk, his head is held high, his youth renewed, it was the son she remembered, yet he was strong and full of life.  It was her Bobby, and he's running to meet mama. 
A touch is felt on her arm and she turns.  She knew that touch.  It was a handsome man.  His eyes lit up like the night sky when she looked into his. She recognized those baby blue eyes – it was her sweetheart.  He's not sick anymore. his memory is sharp, his body strong and young.  He reaches to take hold of her hand as he did on their first date when she knew her heart belonged to him.  The shores of heaven were filled with familiar faces gathered to welcome her home and she could hardly contain herself.  The sound of singing filled the air, singing like she had never heard before.  They were singing for her!  She was drawn to it, moving closer and closer she could now make out the words they were singing;  "Welcome home my child".  She stepped up into the cloud of angelic singing, tears streaming down her cheeks, hands raised and  her heart could no longer be silent, spilling forth the words, "I'm home, I'm finally home".  
This tabernacle of praise shook all of heaven and the streets began to fill with people from every tribe and every nation.  Something was happening.  She could feel her soul leap within her, hearing the words spreading through the streets of heaven; "The King is coming…the King is coming…." The praise swelled, summoning all the angels of God and all those who attend His throne, the twenty four elders and the cherubim rose to their feet; the King was coming. He was coming to welcome His child home.   A holy hush fell over the ocean of faces as all began to bow.  Light flooded in bold and beautiful, magnificent in appearance, completely encompassing the scene taking center stage.  There stood the Lion of Judah, the Savior of the world, the Redeemer of all mankind, the lily of the valley, the bright and morning star, the Lamb of God, the star of David,  the Faithful One, the I AM, Jesus, God with us.  
There before Him, she could do nothing but fall at His nail pierced feet and wash them with her tears of gratitude, worship, and love.  He had been waiting for His daughter to come home and now she was finally there.  He had so much to show her; so much He wanted to say to His precious child.   He reached down, taking her by the hand and lifting her up until she stood face to face with Him, the One who loved her and gave Himself up for her.  Cupping her face in His hands He said: "You fought a good fight, you kept your faith, and you finished your course." 
My precious granny went home today.  Among her papers were written these words, penned in her own handwriting.  May we leave such a legacy, belovedt.  May heaven swell with praise when our feet step upon its golden shores.  What will your homecoming be like?
I'm going home; may I be ready.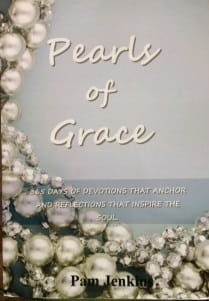 Pearls of Grace Devotional Book
Pearls of Grace is a book of devotions for the entire year, including a read through the Bible in a year calendar, broken down for every day. Beautifully written with encouraging words of hope and empowering words of joy and strength for every woman. Pam draws from the truth and richness of God's Word and gives real life examples in her down to earth style. A must have in your library, click here for more information.
For more from Pam Jenkins and Jabbok Ministries, please visit www.jabbokministries.com!
Listen to Pam Jenkins's daily broadcast on OnePlace.com.
For more from Pam Jenkins and Jabbok Ministries, please visit www.jabbokministries.com!
Listen to Pam Jenkins's daily broadcast on OnePlace.com.
Originally published Sunday, 22 May 2022.